Thank you from the Gwapa Team!
Children are the world's most valuable resource and its best hope for the future. 

  - John F. Kennedy
Logline
Gwapa (Beautiful) 
is a documentary that follows a poor Filipino familys struggle for a healthy future and a mothers remarkable journey to help her three kids with facial deformities.
About The Film
Gwapa, meaning beautiful in Visayan, is the fitting title of this vibrant, real-life story that follow two Filipino families and their struggle for a healthy future. Every year, 4,000 - 5,000 Filipino children are born with cleft lip, cleft palate, or both. Cleft lip and palate are two the most common and curable of birth defects. Sadly, most clefts go unrepaired in developing countries. Just one surgery can change a child's life forever. Gwapa (Beautiful) is
Thirsty Girl Films
' first feature length documentary dedicated bringing awareness to the high number of children born with cleft deformities in the Philippines and the great need for free reconstructive surgeries among the Filipino islands. This stunning and remarkable film will draw you into a powerful tale of strength, love, determination, and hope. 
Since many children need more than one reconstructive surgery, Gwapa (Beautiful) is told in two parts. Filming for the first part is complete, depicting the first round of successful surgeries that took place in early 2011. We're raising funds to complete the film and come full circle. We want to go back to the Philippines this coming January to revisit that families as they undergo their second round of surgeries.
Synopsis
Gwapa (Beautiful) is a vibrant, real-life story about two unlucky Filipino families and their struggle for a healthy future. This is a stunning and remarkable tale of faith, will, and love that spans over a year. Teodoro Bulabos and his wife, Violetta, live near the southern coast of Pitogo Island with their five children, three of which were born with severe cleft lip and cleft palate deformities. Teodoro and Violetta are very poor, but they are hard-working and loving parents. Sadly, the Bulabos children do not socialize much with the other kids in their village for fear of getting teased. As a mother, it has been Violettas long-term hope to get their clefts fixed as it hurts her to see her children ridiculed. Beyond that, kids born with cleft deformities, especially open palates, are far more susceptible to disease that can result in serious illnesses and death. 
Like many other Filipinos, Teodoro and Violetta have little access to medical care. They certainly cant afford the expensive surgeries their children so desperately need. The dream of a healthy future for their family is a distant one until Violetta hears about a free surgical clinic on a neighboring island. Teodoro cant afford to miss a day of work, so Violetta and her eldest daughter must make the long journey with the young kids alone. There is no guarantee that the children will receive the surgeries they need, but the hope alone drives a mothers ambition. The same goes for Lucy Alac, the mother of a teenager born with severe facial deformities and mental retardations to a poor family. Her daughter, Irene, cant speak or dress herself. She has lived most of her 19 years indoors. Due to lack of education, Lucy was previously unaware of the reconstructive surgeries and now hopes that Irene will be chosen as a patient. But just like the Bulabos kids, there is no guarantee, especially considering Irenes weak mental condition. 
If all goes well, both families must relive these same nerve racking events again just one year later, when the children are scheduled to be reevaluated and hopefully proceed with another round of abrasive, but much-needed surgeries. However, a lot can happen in a year and the surgeons can't guarantee the surgeries during their 2012 mission. In a country where children with clefts are often abandoned or shunned from society, Gwapa (Beautiful) follows two incredible families that refuse to give up. Despite desperate poverty, this documentary depicts a mothers will to do whatever it takes to give her children the brightest future as possible. The Filipino culture is wonderfully rich. Its people are as beautiful and caring as the stories they share. Gwapa (Beautiful) is a powerful story of family, hope, strength, and determination.
WATCH THE TEASER: http://www.gwapafilm.com/Videos.html
READ THE PROPOSAL: http://www.gwapafilm.com/Proposal.html
Why Donate To This Project?

Supporting this film is a reflection of the willingness to promote and encourage the awareness of cleft issues in poor and developing countries. It is a direct contribution to helping families in need and spreading the word about the importance of free surgical missions like Faces of Tomorrow. This is a collaboration to create a unique, dramatic, educational, and revealing story about two remarkable Filipino families and how their struggles are indicative of the amazing Filipino culture as a whole. Ultimately, this is a chance to get involved with a very special project that will document and create a historic record dedicated to bringing this incredible journey to life for generations to come. Thus ensuring many more healthy futures for children born with facial deformities in developing countries.
The Impact

Awareness:
Gwapa (Beautiful) is a feature film dedicated to bringing awareness to the high number of children born with cleft deformities in developing countries and the imminent need for free reconstructive surgeries in the Filipino islands. Every year, 4,000 - 5,000 Filipino children are born with a cleft lip, cleft palate, or both. Many families have multiple kids affected by severe clefts. There are many factors that can produce these deformities. Diet, heredity, and inbreeding are among the known causes for clefting. Higher rates of clefts are found in poor, developing countries, where mothers-to-be are malnourished with little milk to give their newborns and little food to feed themselves. Many babies are fed just water. Children with clefts are often abandoned or shunned from society. The lucky ones are accepted into their families, but rarely leave home or attend school. Likewise, children with cleft lips and palates run a higher risk of dying of disease and illness. Cleft lip and palate is one of the most common and most curable of birth defects, but surgical repair is almost unheard of on the smaller islands. Sadly, most clefts go unrepaired in poor countries like The Philippines. Just one surgery can change a childs life forever. Awareness for this cause through a feature film will ensure bright and healthy futures for many more generations of children affected by cleft deformities. 
Education:
Gwapa (Beautiful) will serve as an educational resource to help perpetuate local, national, and international discussions pertaining to cleft issues in developing countries like the Philippines. Since many people in wealthy countries arent aware of the problem, this documentary will shed light on a culture hardly explored and how its poorest deal with personal strife. Not only will this film spread awareness to other countries, but it will act as a tool for families affected by cleft deformities in developing areas. The main cause of clefting starts with lack of information and medical care. This film will serve as a beacon of hope and a positive resource for achieving a healthy future for all families affected by cleft deformities.
Faces of Tomorrow - Surgical Mission:
Faces of Tomorrow is a non-profit organization based out of Davis, CA. Their mission is to provide medical and surgical services to children with facial deformities around the world. They are culturally responsive and compassionate to the patients, their families, and the communities in which the organization serves. Each mission, they successfully perform around 55 free surgeries to children in need, while also providing free speech therapy and dental care. Without organizations like Faces of Tomorrow that travel long distances to serve others, there is little hope for the future of children with cleft deformities born into poor families. Gwapa (Beautiful) will serve as a platform to spread the word and raise funds for cleft missions. Learn more at www.facesoftomorrow.org.  Thirsty Girl Films plans to travel with Faces of Tomorrow on their mission back to the Philippines in January 2012, to spend two weeks filming the Bulabos and Alac families.
The Timeline
Gwapa (Beautiful) is a time sensitive project that spans over a year and two trips to Bohol, Philippines. The principal photography can only be completed in January 2012 when Faces of Tomorrow, a non profit organization that provides free cleft surgeries for children in need, will travel back to the Filipino islands for their second mission. They plan to reevaluate their previous patients, specifically the Bulabos and Alac families, and consider them for another round of much needed surgeries, as well as provide comprehensive speech therapy for the families in need.

Since many children need more than one reconstructive surgery, Gwapa (Beautiful) is told in two parts. Filming for the first part is complete, depicting the initial round of successful surgeries in early 2011. The second part of the documentary will revisit the Bulabos and Alac families one year later as they prepare for another long journey to the surgical mission in Tagbilarin City, Bohol. Goals for part two are to document yet another remarkable journey, but also to explore the daily lives of these families, including school, work, religion, and tradition.
We Need Your Support!

We mean business! Every dollar donated will go toward completing this documentary, not paying high industry standards. In that fashion, the entire production crew is working pro-bono. Thirsty Girl Films is out to tell an amazing story without spending a fortune. We don't mess around with our money, so we won't mess around with yours! 
We're raising funds to cover the cost of finishing the film. Luckily, the documentary is already partially finished. But we're still a long way from home! Funds will go to travel expenses to take a small crew to the Philippines for two weeks, including hotels, food, transportation, etc. After principle photography is complete, we'll need to cover the costs of post production, including editing, color correction, sound design, and score composition. 
Special Perks!

Donating never felt so good! Gwapa (Beautiful) is a story that needs to be told because every child deserves the chance at a beautiful and healthy future. And because of YOU, we can all make this a reality. In honor of our generous donors, we have secured AMAZING perks from companies like Dyson, SodaStream and Crosley, and even a cruise of two! Stay tuned as we release these perks over course of the campaign. Look out for announcements on our Twitter and Facebook pages and your chance to earn some really cool bonus perks. Get 'em before they're gone!

Speaking of Crowd Funding...
We are proud veterans of the Indiegogo fundraising platform and speak about our experiences publicly and online. Back in May, we ran a successful campaign to raise funds for our next award-winning project, Feast of the Foolish.  In keeping with our theme of powerful imagery and unique stories, Feast of the Foolish is a high-concept short period thriller shot on the RED One. Set in the gangster era of the 1930s and 1940s, Feast of the Foolish follows a young outlaw lost in the desert who seeks answers about a his future from a dark enchantress. Bold and beautiful, this film has already received wide acclaim and we havent even screened at festivals yet! Thirsty Girl is currently developing a feature film based on this concept.
So, the ultimate question is, where is your money going? We invite you to see for yourself! Watch the TRAILER for "Feast of the Foolish" and visit www.feastofthefoolish.com for more information. Our first crowd funding campaign was an amazing and unforgettable experience, one that we weren't quite ready for. Although trying at times, it turned out to be the best thing that's happened to Thirsty Girl Films yet! Most importantly, we made so many wonderful new friendships and we hope to continue this tradition with our Gwapa (Beautiful) campaign!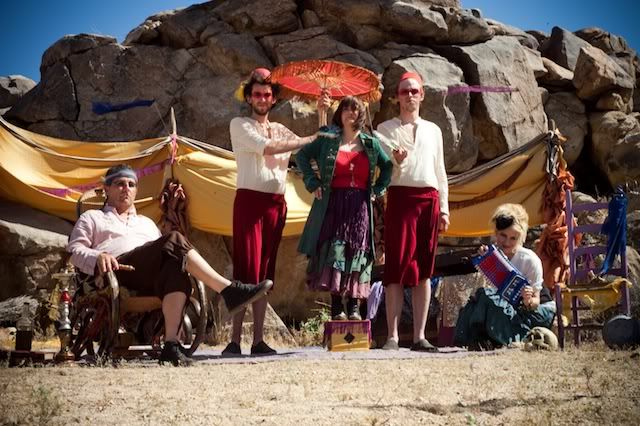 Our Story

Thirsty Girl Films is a gritty group of passionate and award winning filmmakers specializing in everything from cultural documentaries to high concept narratives to stop motion animation. We take pride in our ingenuity and resourcefulness in getting the job done right, without spending a fortune. Through powerful imagery and experimental techniques, Thirsty Girl strives to awaken the wonder and curiosity that hides within all of us, while pushing the boundaries in the art of the storytelling. We are dedicated to bringing together talented individuals of diverse backgrounds that share the common goal of creating quality entertainment outside the studio system. We believe that where there is a camera, there is a way. In early 2011, Thirsty Girl partnered up with Mubi Garage, a comprehensive indie filmmaking online resource, as a semi-exclusive content provider and to help cross promote independent filmmakers alike. Making waves in the indie scene, weve been featured on websites like Film Courage, Indiegogo, Film Radar, and Atypical Tales, just to name a few. For more information, please visit www.thirstygirlfilms.com. Find us on Twitter and Facebook too!
Some of our awards include: Thirsty Girls stop motion animation, A Lost Love Story, won the 2010 Filmmaker of the Year award from RAW: Natural Born Artists, 2nd Place in Animation from 2011 Los Angeles ArtHouse Film Festival, Merit Award for Animation at the 2011 Los Angeles Cinema Festival of Hollywood, Honorable Mention at 2011 Los Angeles International Underground Film Festival. Likewise, Thirsty Girl loves the festival circuit, screening at venues like the Sacramento Film and Music Festival, San Diego Indiefest, and Bootleg Film Festival, just to name a few. Other awards include Best Documentary at 2010 Octaedro Film Festival and nomination for 2010 Maverick Movie Award for Best Short Chronicle.
Help Get The Word Out!
If there's one thing we've learned the last few months it would be that viral "buzz" is priceless! If you can't donate monetarily, then please consider posting a few comments on
Facebook
,
Twitter
, and whatever other social network you prefer. Spreading the word about this remarkable story is the most vital part of making this film a reality. Tell your friends!
Another big way you can help out is by hitting the LIKE button on the 
Gwapa (Beautiful)
 Facebook
Fanpage
. This small gesture means the world to us and it only takes a quick moment! Remember, share this film with your friends and help us spread the word!
A Very Special Thanks
Thirsty Girl Films would like to thank you for taking the time to read through our campaign and caring about this important cause. We are eternally grateful for any monetary or networking donation you can offer. We are honored and touched by the support for this subject and we look forward to sharing this film with the world! We hope you'll consider becoming part of the Thirsty Girl family! 
Official Website 
Company Website
Twitter
Facebook Fanpages