Just a few days left! Please help us spread the word!
Here's look at our GTG Tour stop leaderboard as of 9/3: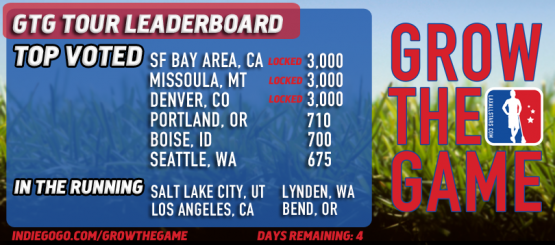 Check out our recent updates below!
- Easton Lacrosse Joins Grow The Game Tour
- GTG Tour Fundraising Updates
The Grow The Game Tour is an opportunity for Lacrosse All Stars to visit passionate lacrosse communities, celebrate the growth of the sport, thank our fans for all of their support over the years, and inspire the next generation of lacrosse enthusiasts.
We are raising a minimum of $12,000 to travel to country, starting with the Western region, and throw GTG Celebrations with passionate lacrosse communities. 
GTG Celebrations include:
a tailgate style BBQ with real lacrosse all stars
a GTG Clinic
an Equipment Drive
other fun activities for male and female lacrosse lovers of all ages
(the more we raise, the better each town's celebration will be!)
We'll immerse ourselves in each community and showcase our experience on LaxAllStars.com for the world to see.
Joined by some of the best and brightest players in the game, LAS will shine a light on the sport in your town and help it stand out on the lacrosse map.

LaxAllStars.com is both the #1 independent source for lacrosse online and a start-up company. We put every penny back into the business so that we can continue to provide lacrosse fans with the best content on the web and successfully grow the game.
We hope that you will consider joining us for the first ever Grow The Game Tour. Whether you can contribute $1 or $1,000, we appreciate every level of support and are so grateful to call you our readers, fans, fellow players, and Game Growers. Thank you in advance for your time and consideration. Together, we can take this game further than anyone has ever imagined.
Lacrosse All Stars is dedicated to the sport of lacrosse, and we can't wait to meet you.
IMPORTANT NOTE: If we exceed our original goal of $12,000, we will expand our plans for each event and extend the GTG Tour to visit more locations across North America.

Lacrosse All Stars is dedicated to growing the game of lacrosse. Our first web property, LaxAllStars.com, is the #1 independent source for lacrosse online. Our 12 blogs, 300k+ readers, and 50k+ followers across social media form one of the strongest online lacrosse communities in existence. We are a news source, specialty shop, and community powered by hardcore lacrosse players and fans. Grow The Game!