What is GRIND?
Wanna be a part of the next cult rock/pop classic? GRIND is a new short film starring ANTHONY RAPP (yes, Rentheads, Mark from "Rent") singing his heart out?
GRIND is a short film musical that takes a sexy and artistic look at the ways we connect in today's multi screened hook up culture and asks, "Do you REALLY know who you're talking to?"
Created by a multi-disciplined team from a wide spectrum of backgrounds.  Musical Theater, Film, Pop Music, Classical Dance, Psychology, and Technology are all represented and this project will take advantage of them all as it explores the emotional vulnerability and danger involved in connecting with others in the irreversably intrusive world we sign on for willingly.
Nobody makes these types of short films because, well, they're not going to be blockbusters. But if you love "Rocky Horror" and "Dr. Terrible" or even the all-singing episode of "Buffy," this is the project for you...
What's it about? 
Vincent is uncomfortable in his own skin but he's witty and adroit on his favorite hook-up app.
Thane is hot (like...incredibly hot) but he's dumb and can't express himself.
When Thane asks Vincent to grind for him by combining his own underwear model pics with Vincent's flirty texted banter, he's certain the partnership will attract the clever guys who don't take him seriously.
Thane is introduced to a new class of men but Vincent gets addicted to the rush he's always assumed the beautiful people feel as they all navigate the competitive, multi screened hook up culture of New York City's Hell's Kitchen. 
As their paths run through darker territory both men will question: Is a monster created or revealed?
Who's in it?
STARRING: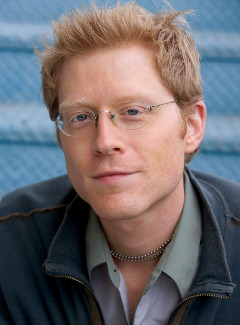 ANTHONY RAPP (Rent, A Beautiful Mind, Dazed & Confused) @albinokid
 CLAIR COFFEE (NBC's "GRIMM", "General Hospital", "The West Wing") @clairecoffee
ALSO STARRING:
DREW BRODY (Indie rock band M-LAB)
ADAM HALPIN (Broadway's Glory Days, Dogfight)
DANNY BLU (Lead singer of The Factory Blu)
MAX RHYSER (Chaser)
JONATHAN CHANG (Violet Tendencies)
TREY GERRALD (NBC's "Next Caller")
JENNIFER BABIAK (Broadway's Fiddler on the Roof)
With more announcements to come!
Seriously though...what are we going to do with the cash?
Make no mistake this is a passion project with a very slim budget and we need even more money than our Indiegogo goal.  We're trying to do this on a shoestring pulling in as many industry favors as we can for equipment, personnel, and locations.  There are some things you just can't beg, barter, or steal.  You just have to pony up the dough.
These are the parts of filmmaking that nobody writes glamorous articles about or features in DVD extras.  Insurance, equipment rental, feeding people and cleaning up after them all cost money and nobody wants to provide them for free.
A film like this ends up being a communal project with everyone working together for the art of it before we all go back to our film industry factory gigs.
We've tried to set up incentives relevant to our project and enjoyable for both those who know us and short film enthusiasts alike.  And we're offering a couple of fun "thank you's" to encourage you to help us along toward our goal.  We want you to join our bigger family on this project.
Every penny is going toward the larger goal of presenting this exciting new work to an audience beyond our rarified New York supporters and share the bigger story that is universal to anyone searching for someone in the digital age.