OUR PROJECT
This may be a story about a national basketball team, but it's actually about more than that. It's about standing together through thick and thin. It's about dealing with unforeseen challenges as a team. It's about not giving up on those desired dreams because in every game, success will come sooner or later.
It's also a story about Lithuania - a country of three million hearts beating strongly to the rhythm of basketball. A country the size of West Virginia is the only nation along with USA who since independence have competed in every semi-finals at all Olympics for the last two decades. This movie captures their way of attempting to repeat this long-running success. For the sake of the London Olympics. It's a film all basketball lovers should see. A film which gives hope for a nation.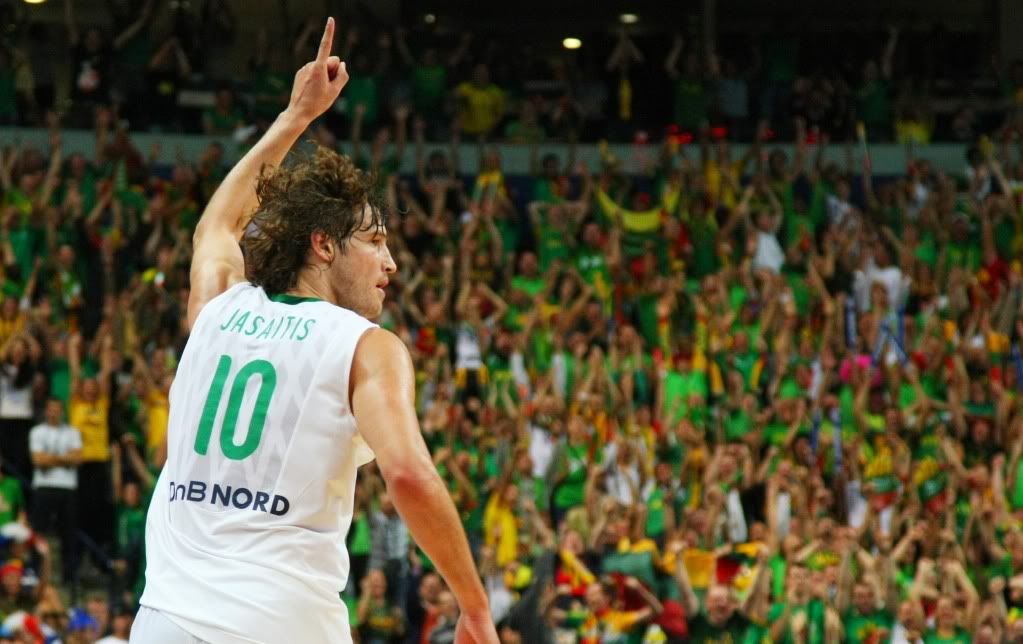 Known as probably the only country in the world where basketball is routinely described as a religion, it's finally Lithuania's turn to host the most important basketball event of the year - the European basketball championship or EuroBasket 2011. As the nation's biggest pride, Lithuania's national basketball team has a big winning tradition. And all of Lithuania is waiting only for gold. But this time, the team's star player Linas Kleiza has suffered a serious injury and will not be playing for the championship. The players attempt to countervail the absence of the leader with a dedicated coach, who encourages believing in team spirit, a will to win and securing a place at the London Olympics.
Viewers will witness the intense preparation which players go through for EuroBasket 2011 with exclusive footage from the locker room along with challenges encountered by players in a sometimes dramatic and sometimes comical situations. At last, the moment arrives - it's match day and the energy is high. The crowd is waiting for the winning team. And after months of preparation, tension, and enormous pressure, the fate of 3 million are now in the hands of twelve...
But fate has brought a twist. And the team will need to rise again to become heroes of their nation...
We've completed with the actual shooting and have almost completed the rough cut but we still need to license the rights to the game footage and music. So we're seeking post-production funding to complete this feature-length documentary. And as the fate of 3 million is in the hands of twelve, the fate of this film is now in your hands! Help us finish this story to get it told to the world!
WHO'S IN THE FILM?
Shot in four countries (in arenas of cities including Istanbul, Moscow, Madrid and, of course, all over Lithuania) our movie features footage of the entire Lithuanian national team as well as interviews from star players such as Linas Kleiza (Toronto Raptors), veterans like Sarunas Jasikevicius (ex Pacer & Warrior, now Panathinaikos, Greece), future NBA stars like Jonas Valanciunas (5th pick in 2011 NBA draft by Raptors), and even players who didn't make it to the championship team like Renaldas Seibutis (drafted by Mavs, now Lietuvos rytas, Lithuania). Together with coach Kestutis Kemzura, permanent national team players such as Mantas Kalnietis, Robertas Javtokas, Martynas Pocius, Lavrinovic brothers, and staff member Juozas Petkevicius (legendary physiotherapist who helped Arvydas Sabonis through all his career.)

Also features game footage from world stars such as Pau Gasol, Tony Parker, Dirk Nowitzki, and many more. Includes behind the scene footage from Lithuania's team locker room before, during and after the games at the EuroBasket 2011.
OUR GOAL FOR THE FILM

Simply put, we'd like to see this film go global - it's why we've started a global crowdfunding!

It's a film with a universal message of standing together no matter what, taking place in the world of basketball but carrying over into all facets of life. We believe it is a story which will inspire all who sees it. We're planning on taking the film on a festivals tour around the world.
We need to raise  a total of 60 thousand Lithuanian litas or approximately 23,000 US dollars for the completion and release of the film. And for anyone who's ever held a basketball ball in his/her hands, they'd know that 23 is more than just a number. We believe that 23 is hardly a coincidence of currency rate - it's also the spirit that will lead us to reach our aims! 

HOW YOU CAN HELP

This film is only going to be possible with your help. From basketball fans, independent film fans, to anyone who loves an inspiring story, we'd like this to be your film just as much as it is ours. The more people who participate, the more chances of us getting the story out. And if you can't donate monetarily, you can simply Tweet about it, "Like" us on Facebook, or email this IndieGoGo link to your friends, teammates, supporter groups, and co-workers so they know about the film and this campaign too. Spreading the word is the most vital part of making this film a reality. So take a second to share our story with your friends!

We would love to see people get involved on a local level too. Email gameofthenation@gmail.com to get more information to be involved. Everything helps!

Upon meeting our goal, we'll begin licensing the rights and completing the editing so we can send you the DVDs and merchandise by next year's London Olympics.
CLICKABLE LINKS TO ARTICLES AND OTHER GOOD STUFF:
SOCIAL MEDIA SITES:


Game of the Nation Facebook

Game of the Nation Twitter

BASKETBALL IN LITHUANIA:

Wikipedia
   
ESPN


WHEN WE REACH OUR GOAL THIS IS WHAT THE FUNDS WILL BE USED FOR:

First of all, the team will personally leave everyone with a thank you shout out video for all the amazing support. And to celebrate our achievements, we might even sing the Lithuanian national anthem too!
The filming has already taken place and we used 2/3 of the final budget for that. Funds collected from IndieGoGo will be used for post-production which entails editing, sound mixing and subtitling. Also to obtain the licensing rights for footage and photos as well as license the music.

COMPLETION INCLUDES:

    Licensing the rights to EuroBasket 2011 footage
    Licensing the rights to Photographs
    Finishing the musical score and licensing songs
    Producing the trailer
    Graphics for film
    Marketing budget
    Finishing the sound design, sound editing and sound mix
    Finishing picture elements like colour correction
    On-line editing and mastering
    Subtitling the film in English
    IndieGoGo.com monetary processing fee of 4% (or 9%)
    Additionally, a portion of funds will be used to purchase dvds, tshirts, and other merchandise as well as shipping costs for rewards.

As the fate of 3 million is in the hands of twelve, the fate of this film is in your hands!