Update - Perk Photos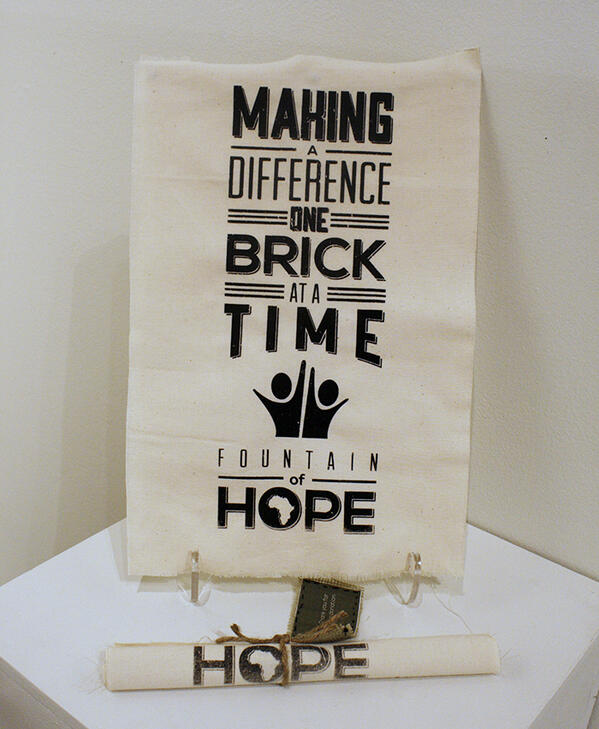 $15 - Fountain of Hope bracelet.
$100 - Fountain of Hope branded T-shirt.

$50 - Fountain of Hope Hand Printed Poster.
Fountain of Hope Rural Community Resource Center
We are a class of graphic design students, most of us entering our last semesters here at Central Michigan University. We were given a choice of what kind of project we wanted to work on for our capstone. David Stairs, our professor, came to us with the idea to help a community in Uganda that he has gotten to know over the years. None of us has ever had the opportunity to do something bigger than ourselves, so we were all in.
This project became important to each of us when we started going through the material that David had collected and began to build our campaign. If we achieve our goal of raising $15,000 in 50 days we will know that all the hard work will have paid off. You can help us and Fountain of Hope construct a rural community resource center in Wakiso District, Uganda. 
James Lutwama
The organization Fhope was started in 1990 by a man named James Lutwama. It is located within the infamous Luwero Triangle just north of Uganda's capital Kampala. This area is known for its 300,000 casualties of the 1981-1986 civil war that brought Yoweri Museveni to power.
James, a teacher by training, has purchased more than 15 acres of land in a fertile valley called Arcadia. He accomplished this by raising money through the planting of cash crops like pineapples and bananas. Also, with the help of a group called Designers Without Borders. With this land he hopes to eventually have a full rural community resource center for the people.
These people have been through a lot and they need help in order to build a community center allowing them a space for learning and growth. Together with DWB (http://www.designerswithoutborders.org/) we are attempting the improbable.
What We Need And What You Get
One of the problems in this district is the lack of access to education. James has been assisting war orphans and children of misfortune with tutoring and tuition assistance for many years. Another major underlying issue is poverty, a result of the past civil war and constant struggle against AIDS. In 2012 Fountain of Hope received a donation of 20,000 coffee starts from the Ugandan Coffee Development Authority for a local poverty alleviation project. James acquired architectural floor plans for a community space large enough to accomodate local gatherings.
In addition to one of our cool perks, you get the satisfaction of knowing you've helped James jump start this project and begin to realize his dream.

Don't have the funds to donate?
Don't worry. You can help us out by simply spreading the word. We are utilizing social media in order to bring knowledge about our campaign. Every like on our Facebook page (http://www.facebook.com/FountainOfHopeUganda) and every follower on Twitter (@FHopeUganda) will help. Indiegogo also has one-click social media integration, direct email and announcement features make it easy to spread the word, raise awareness and help us increase funding.