ABOUT THE DOCUMENTARY
FISHING FOR HOPE follows Iraqi-American photographer Wesaam Al-Badry as he journeys back home for the first time to see what's happened to his extended family and others in the marshes of southern Iraq. Al-Badry fled his homeland in 1991, when he was eight, with his parents and six brothers and sisters just as Marsh Arabs began an insurrection against Saddam Hussein. Saddam crushed the rebellion and then drained the marshes, causing a humanitarian and environmental catastrophe. Twenty years later, the marshes are starting to make a comeback. FISHING FOR HOPE will chronicle Al-Badry's journey and the journey of the Marsh Arabs. 
After leaving Iraq, Al-Badry spent more than six years living in a tent in a Saudi refugee camp before he and his family landed in Lincoln, Nebraska. The young Al-Badry carried with him the rage of a boy uprooted and dispossessed, a child forced to fend for himself and his family first in the violence and anarchy of the refugee camp and then in a cold and strange land. He took up boxing and fought frequently inside and outside the ring, often landing in the police lockup. Photography has been his ticket from violence. 
Al-Badry will capture the story of the Marsh Arabs through the lens of a world class photographer, shooting video of his journey and stills of the images he finds in the place he once called home. He will interview members of his extended family, who have endured hardships under Saddam and during the recent occupation, as well as widows, orphans and others who are only now feeling the first sense of hope.

WHY WE NEED YOUR HELP

We cannot make this documentary possible without you. We need your help. Our goal is to raise $20,000 which will be used for travel to and from Iraq, travel documentation, filming licenses, transportation and accomadations for the crew in Iraq, fees for the local Iraqi guides/fixers, and post-production editing. 
This is a large undertaking given that the filming will take place in another country, and we are asking for just enough to cover our costs. If you have more questions or require a further breakdown of costs, message us, and we will be happy to provide you with a cost allocation schedule.

WHO WE ARE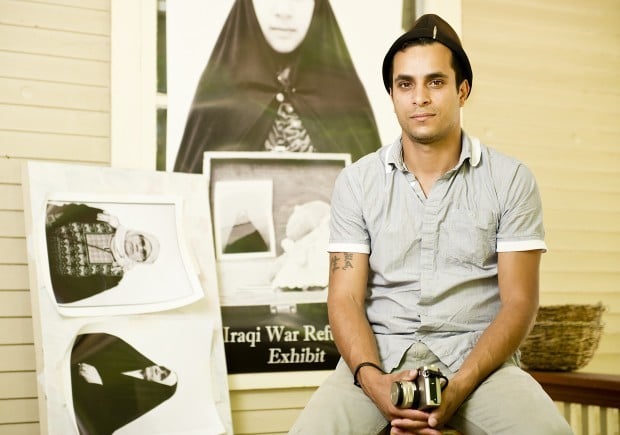 Wesaam Al-Badry: Director & Photograher/Videographer. Al-Badry, largely self taught, spends much of his time taking pictures of the invisible and forgotten and freelancing with CNN. His striking portraits of Arab women in the United States attracted the attention of gallery owners in the Midwest and has been featured in The Huffington Post and in newspapers across the Globe. www.wesaamphoto.com
David Steen Martin: Writer & Executive Producer. Martin has almost twenty years of experience making documentaries at CNN on a wide range of topics. Many of these won national and international awards. Some of which include: Executive Producer of The Last Heart Attack, with Dr. Sanjay Gupta and former President Bill Clinton, in 2011; Executive Producer of Toxic Towns USA, an Emmy nominated documentary, in 2010; and, Executive Producer of Delivering Grace, a documentary in production, scheduled for release in 2013. www.dofortheonemovie.com/#!about/c14qb
Tamara Abdul Hadi: Photographer. Tamara was born to Iraqi parents in the UAE and raised in Montreal, Canada. After graduating with a Bachelor of Fine Arts she has worked as a photojournalist for Reuters, New York Times (UAE), and The Gaurdian to name a few. www.tamarabdulhadi.com
Maliha Zuberi: Accounting, public relations, and post-production. Maliha has a Masters of Science in actuarial science with a specialization in finance. She currently works in dispute and litigation consulting.
THE IMPACT
As someone who speaks Arabic and whose family has deep roots in southern Iraq, Al-Badry has unique access to this story. It's important to tell this story now – the 20th anniversary of the draining of the marshes.
FISHING FOR HOPE raises issues of home and homeland, about what constitutes a culture – and what obligation we all have when a way of life falls victim to the forces of war. 
OTHER WAYS TO HELP
We know it's hard with the current economic times but any help counts! If some people just can't contribute, it doesn't mean they can't help. Here are other ways to help us out:
Please consider taking a moment to tell your friends, family and colleagues about our project and the IndieGoGo Campaign
You can use the Indigogo Share Tools to get the word out about our project

We thank you for your time and appreciate all your help from the bottom of our hearts. Every donation will help

to give voice to the voiceless and the oppressed

!
Thank You,
"Fishing For Hope" Production Team