UPDATE
Check out this and other new pictures in our Gallery!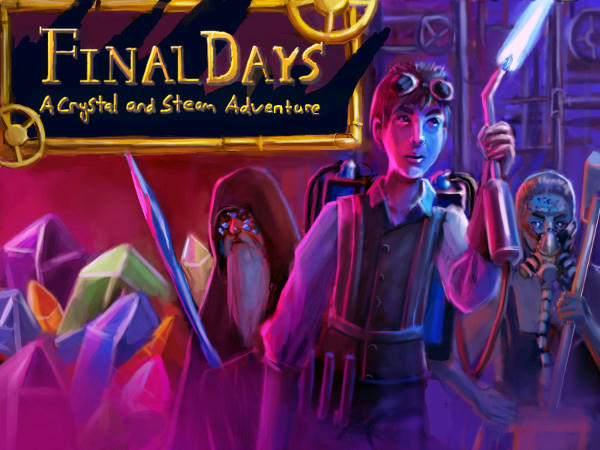 Final Days: A Crystal & Steam Adventure harkens back to a simpler time, where story and characters were placed above fancy graphics, advanced lighting effects, and PhysX engines. With this project, I plan to present a solid game with engaging characters, a story full of intrigue and adventure, and an experience that can be savoured and enjoyed.
You will play from the perspective of an apprentice Steamsmith, Samuel, who is striving to learn his craft. Unfortunately, like most adventures, things begin to get strange very quickly and nothing is what it seems on the surface.
You will travel through crowded, steam-cloaked streets, visit temples of crystal and stone, explore the dark, nearly-forgotten sewers beneath the city, and even stranger locales! 
Beyond the story and characters, the game will feature:
an exhaustive crafting system, combining different ingredients to create tools, contraptions, and even clothing, that will be needed to solve many of the puzzles and progress the story
meaningful choices that can alter the flow of the story and have far reaching consequences
optional paths of adventure that further expand upon and explore the lore of the city and the people in it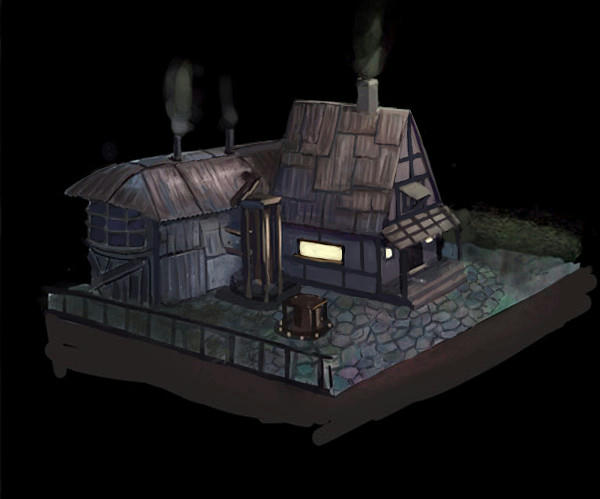 The Crystals were there long before us. Beneath the waves is where we found them. From there, we brought them to the city and studied them with our greatest minds. In them, there was discovered a power that could rival even the great influence of the Steamworks.
The Keepers, as the scholars who studied them came to be called, received their chance to prove this as word reached the city that our enemies came in a grand fleet from across the sea. In desperation, the Council came to them as the Steamsmiths could find no way to stave off the impending annihilation. From the Crystals they sought salvation... and so it was given.
Through their manipulation of the crystals, the Keepers took a drastic course that would change the very nature of our city forever. They raised the city from the surface of the waters and as our enemies closed in for the kill, we disappeared into the clouds themselves.
As the city rose, so did the influence of the Keepers. For their aid, they were given honored status and license to expand their studies into further uses of these powerful gems. Their presence grows even now, outward from the source within the Crystal Temple and they vie for dominance of the city against the Steamsmiths.

Let me begin by saying that this game will be produced; it's only a question of scale.
Currently, this game is being produced solely through my own funds. The design work is done by myself, along with some of the more minor art, sound, and programming. For what I cannot do myself, I utilize independent artists, musicians, and programmers. 
These hardworking people do amazing work and I'm thankful for each and every hour that they dedicate to this project. However, there is so much that could be improved upon with the availability of additional funding:
an overhaul of our existing sprites to add more animation frames to their movements and actions, including brand new actions and poses. Currently, each sprite(game character) is made up of 3 frames of animation for each direction of movement. We will expand this with both functional(jumping, using tools, crawling, etc) and aesthetic(emotional reactions, speaking animations, swappable clothing and equipment)
additional tiles and sprites to bring out the depth and variety of our existing game areas. Things like a greater variety of houses and street surfaces, some with cracks, puddles, or stains
entirely new graphical tilesets to expand the scope and playtime of the game. There are several other areas of the game that I'd like to explore, such as the surrounding islands, but at the moment I need to pick and choose due to costs
Each of these items can and will be addressed with the initial funding goal of $3000 in the order that I've listed them. If your support pushes beyond this goal, there are definitely additional features I would like to develop as well:
voice acting for all dialogue to bring the character interactions to life. This would be done by professional voice actors.
an additional playable character with their own storyline, quests, and way of solving puzzles. It's always been my idea to provide multiple points of view to any story and this character would be a perfect counterpoint to Samuel
My aim is quality over quantity, but a large quantity of quality is also completely ok too! So if you want to make a larger contribution, feel free to contact me and we can discuss it.

My name is Mike Jennings and I'm an independent game developer. At least, in my off hours. In order to fund this mad obsession, I work for the Canadian Department of National Defence as a Simulations Administrator, involved primarily in the design, administration, and support of Serious Games.
I've never released a game commercially before, but have been playing them for over 20 years. This is my passion and I hope that you'll all come with me on this journey and we can make a great game that we can all enjoy!