Note, any and all preorders can opt for a digital download instead. This will include a download of the soundtrack in place of shipping.
We also recommend viewers are 16+ or have their parents permission.
Update 2/18/2013 -
Thanks to everyone for making this possible! I'll be contacting those with character based roles (for acting/adding, not the personal messages yet) in the coming weeks.
Update: 1/12/2013 - The Bay Observer has posted an interview with Les Major! Check it out right now on BayObserver.ca

Update: 1/2/2013 - Thanks to everyone who has spread the word out there so far! Please, continue to do so! I didn't expect such huge support already and we definitely appreciate your assistance. For any interview inquiries please contact me at press@darkainarts.com
Like our Facebook page here: http://www.facebook.com/FantaSize2
----------------------------------------------------------------------------------------------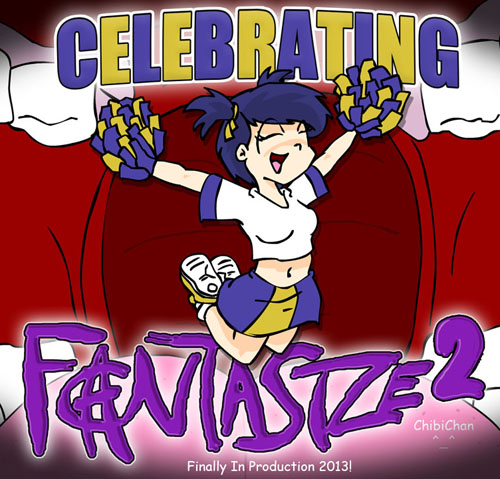 An Animation To Grow On
   I'm Les Major, a long time independent animator looking to get a budget for my latest project. To date I've produced two twenty-four minute animations practically on my own and have even been through several pitches with local TV stations that have proceeded successfully but always get caught up in red tape.
   Unfortunately I've lost my day job, and with it what little free time I have to continue working on my animation. So I'm coming to you to ask for whatever you can contribute toward me being able to focus on my art to bring the second episode of my FantaSize series to life.
   The idea of this is to make FantaSize 2 the greatest animation yet from Darkain Arts. To give me the time to produce an amazing animation that will show the world that Darkain Arts is a unique and creative start up that you'd like to see progress forward.
   FantaSize 2 continues the story of Misery, a goth girl who came home after a bad day to find shrunken people in her apartment. The original focused on Misery becoming paranoid and eventually hunting down the tiny people in her home. In the sequel, Misery finds herself dealing with the reality that the shrunken people were real, and as she continues on with her day she comes across more at her night job in a variety store. Who is behind all of this and what is their back story? That is also revealed during this episode in full detail.
   Fans can look forward to much more of the content they loved in the original, as well as more character interaction in this sequel. The tiny people also have to deal with customers during Misery's night shift this time, such as the two girls waiting outside the store in the trailer above. Here's just some of the main points:
- More detailed and frequent eating scenes!
- At least two slow process growth scenes in this episode!
- A mix of main characters rather than just Misery and Roxy.
- POV scenes!
- Back story for both Misery and Amanda.
- Roxy side story featuring tinies from Misery's apt finally getting eaten!
- Additional detail overall making the interaction more intense!
--------------------------------------------------------------------------------------------
Where Will Your Money Go?
   This campaign is all about helping me get the time to produce this. I've been producing video and animation for over a decade now and I have all the tools I need. The only thing I need now is time. With this project covering my living expenses I can focus on my art.
   Best of all if you contribute at least $25, that counts as a preorder for the animation. You'll recieve FantaSize 2 when it's complete. Not only are you funding the production, but you'll recieve a copy of it as well!
   Update. The funds from this campaign are mainly to support just under a nine month development cycle for FantaSize 2. This would mean the episode would aproximately be completed around Halloween. The rest of the funds would go towards hiring the extremely talented Joel Steudler to once again compose the soundtrack for us.
   If by some chance we earn more than our requested total, I will begin looking at ways to improve upon FS2, as well as reaching out to other animators to join in the production.
--------------------------------------------------------------------------------------------
Meet Our Team.
   Darkain Arts is a collaboration of of online talent from around the world. I'm based out of Hamilton, Ontario, but we have contributors from Pittsburgh to San Francisco.
   Joel Steudler has been with us from the beginning composing the soundtrack for Luftwaffe 1946, Ninja High School: Time Blast, and even FantaSize! His musical talent is one of the biggest gifts we've ever received and we are lucky to have him with us.
   Brandon Newton is a more recent addition to the team. A video game mod community veteran who was part of an official Starsiege Tribes mod that unfortunately was never released. For FantaSize 2, Brandon created 3D models of a few characters. We have since however moved back to 2D animated characters, but his designs are still used as reference. He still remains as a wonderful consultant on 3D and animation matters.
   Stephanie Jones was a fan from years ago who contacted me to share her drawings of my characters. Since then she has progressed to add flair to my character designs, creating a unique looking cast for the shrunken people in both FantaSize 1 and 2. I didn't want to have the same generic look to the tiny people, and Stephanie helps breathe life into them.
   I am Les Major, an animator and video editor of over a decade now. From 3D modeling to lead animation, most of Darkain Arts projects have been put together mostly by myself. I spend a lot of my time creating video, or hosting animation panels at anime conventions. I'm completely independent and looking to share my stories with the world, as I have before.
--------------------------------------------------------------------------------------------
What This Means To Me.
   Your contribution will allow me to put all my effort into this animation. Instead of just putting in what little time I can, this will allow me to completely focus on making FS2 the best animation I've made to date!
   This is a stepping stone for Darkain Arts as well. I've spent the last five years producing a lot of video work. I hope to use FS2 as a high end demo reel to promote the company and begin looking at larger venues to produce animation for. This project is all about showing how far I've progressed and what I can do given the chance to focus on animation alone.
--------------------------------------------------------------------------------------------
What Extras Do Fans Get?
   Want more than just the goodies for contributors? If this succeeds I'll be more than greatful to stay at my drawing board and continue to produce more artwork for all of you fans out there! This means lots of free FantaSize based artwork that I just wouldn't have time to produce otherwise. You're not just contributing to keeping me animating, you're keeping me drawing in general.
   Also, ALL contributors have the option of adding their name to the credits. If you'd like that, let us know!
   Custom animations! Some of the tiers include custom animations. What does this mean? Well considering the concept of FantaSize, we're looking to produce some sort of interaction like that. It's probably best to place a request first so we know what you have in mind and if it sounds reasonable. Obviously we can't do something like animate a girl eating a million tiny people or else we'd never get the main animation done. However something like even an original character eating another original character, that's cool! Just try to stick within the genre as much as possible with your request.
Other Ways You Can Help
   SPREAD THE WORD! I can't stress this enough. Get the word out there! Tell your friends! Show them the artwork I'm sharing along with this campaign! There's lots more to come and it's a party everyone is invited to! Even if they just want to look and spread the word themselves, I'm an artist and I want people to enjoy my creations! So go nuts! Post on your favourite blogs, tweet about it, whatever social media you want to take it to! We even have a Facebook page you can join at: http://www.facebook.com/FantaSize2
   ANIMATORS! Want some volunteer experience and you can draw in the FantaSize style? Keep in mind, there's no motion tween animation here. This is old school frame by frame goodness. You'll need your own copy of Flash or similar software that you can replicate the look in. Full credit will be given to all volunteers. From there, who knows! It's upward and onward for Darkain Arts. I have an audience, I just need a feasable way to produce animation for them.
   AGENTS! Do you know any? Are you one? I'm looking for someone to represent Darkain Arts as we continue to persue bringing new and original projects to the mainstream networks. I've got the stories, TV stations have the interest (we have gone through pitches before), I just need all those little details in between to make a deal happen!
   We need all the attention we can get for this campaign! Let everyone you know about this. Share the news about this project! I want to start here and expand so hopefully someday I can help support other animators and we can all make something original for the world. I have the fan support, now I need the financial support to help get this off the ground. When you contribute to this campaign, you're not just contributing to FantaSize, you're contributing to Darkain Arts.