Exchange the World!
Amsterdam based artist
Dadara
started a new bank - the Exchanghibition Bank - in times when governments spend billions on preventing banks from falling, but those same governments are cutting back drastically on the Arts. A project which raises questions about the value(s) of Art and Money
The bank already has popped up at various spots in Amsterdam. In cultural venues, such as Paradiso and the Nuit Blanche festival, but we also did some
Guerilla Banking
in the main hall of Amsterdam Central Station, where we provided visitors with the opportunity to exchange their euros for our banknotes of Zero or One Million.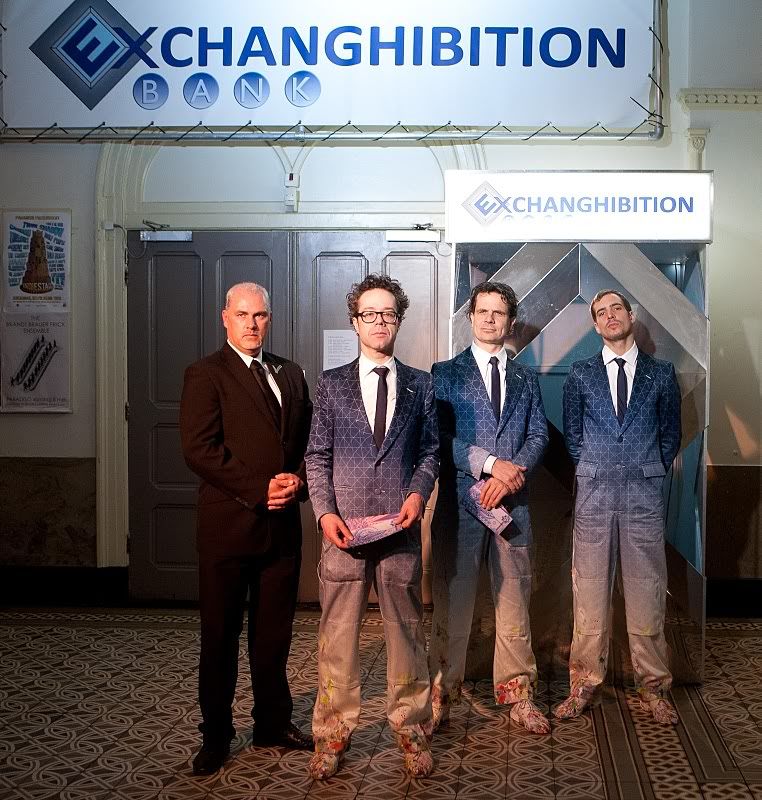 Recently we introduced our new banknote - the Infinite one - and presented the very first banknote to Larry Harvey, founder of Burning Man, which is based on a gift-economy and where money doesn't exist. And we did that in the Magna Plaza shopping center, which seems rather based on shop-till-you-drop! (Photos
HERE
)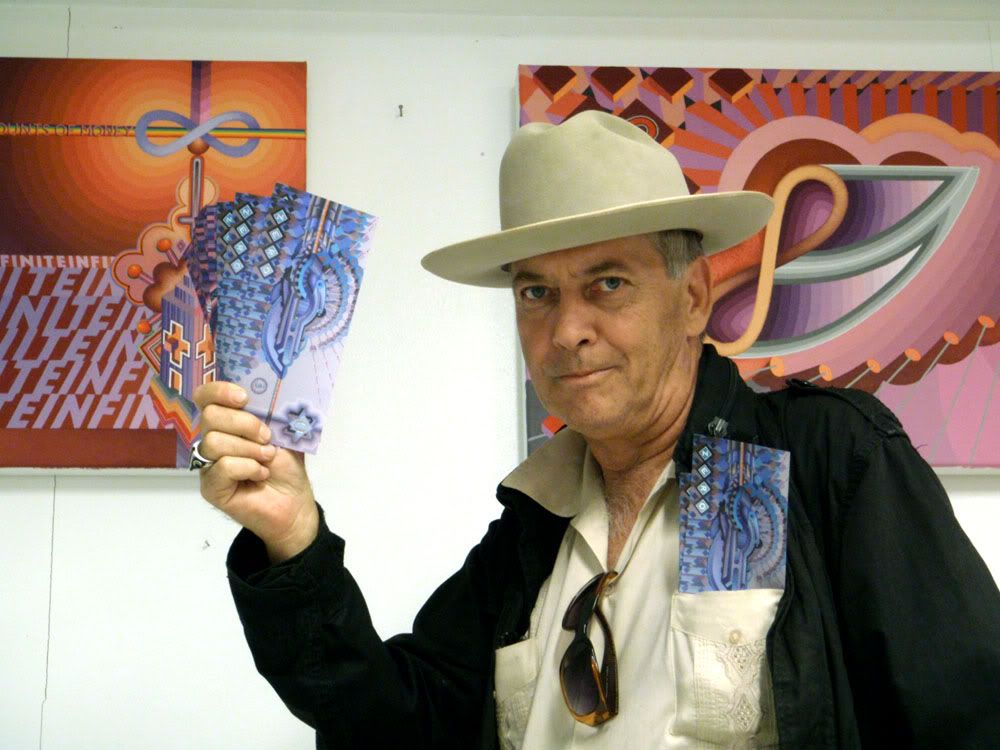 And now we are going to bring Banking to Burning Man.........
Money at Burning Man ??????
The Burning Man festival in the Nevada desert presents an excellent ground to begin rethinking values. During that moneyless week in the desert the Exchanghibition Bank will confront the participants: a confrontation, which might introduce the possibility of a transition into another frame of thought, turning that week into more than just a week void of currency.
We are planning on popping up every day at a different unexpected location, which will add another layer of meaning to this project and every time will question those values of art and money.
Dadara has built some big interactive art projects in previous years as well, such as the
Fools Ark
, a wooden threemaster shipped from the Netherlands to the Nevada desert and then burnt, the
Burning Greymen
, an altar surrounded by 140 paper mache Greymen, and
Checkpoint Dreamyourtopia
, a border control checkpoint to enter your own Dreams.
Spiritual Karma Laundering Contract
Obviously no real money will change hands in the desert. We will gift the money to visitors, BUT only after our bankers have discussed the values of Art and Money with them AND only after those visitors have signed the required 'Spiritual-Karma-Laundering-Contract'.
Every transaction will be an interaction as well.
We would love to be able to finance all with our Infinite amounts of money, but......

unfortunately that won't work. We made what we think are amazing suits, which gradually transform from painting overalls into pinstripe suits, printed the banknotes, and all of them are numbered and have details printed with silverfoil, and built an exchange booth out of glass, metal and mirror.And now we'll even have to spend more money in order to transport all to the States and the desert, so we are asking you to help us.

And in return you could become a Millionaire or even get to own an Exchanghibition Bank suit of your own!
Eventually we also hope to finance a pool filled with money - the Pool of Plenty  - but that's for next year.......

What else would we like to have?
Part of the project is a blog, which deals with the value of Art and Money.
And we are always on the lookout for fresh talent to write/blog/dream/draw about those topics.
check the
Art as Money
blog to find out more.
And of course you can find lots more info on our
website
.
'Like' our
Facebook
page and help us spread the word about the Art of turning Art into Money!