We've reached our goal!
Thank you all for you generosity and support.
The February JEP "Apprentice Challenge" is now fully funded and with time to spare.  So not to waste this wonderful opportunity we are going to keep fundraising and use any amount over the initial goal to fund the next stage of Young Entrepreneurs of Paraguay, our national business plan competition.
Come July, graduates of the "Build your Dreams" business course will be submitting business plans to be considered for seed funding from Young Entrepeneurs of Paraguay in order to make these businesses happen.  The entrepreneurs present their plans to a panel of Paraguayan business leaders during another three day event. At the end a young Paraguayan will receive over $1,000 in seed funding to start their business.  By continuing to support us, you will literally be investing in a future business in Paraguay!
Please play our updated video above to see a message from Carmen Benitez, winner of last year's business plan competition.
Thank you so much for your support!
"Young people don't just learn how to fill jobs, but rather how to create them." - José Méndez, President of the Young Entrepreneurs Association of Paraguay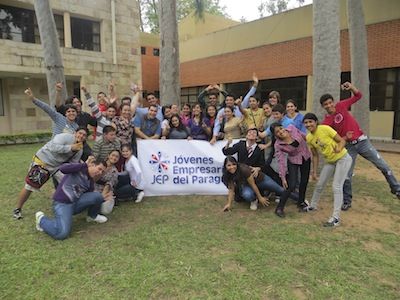 THE PROBLEM:
Paraguay is a developing country with over half of the current population under the age of 25. A recent publication from the United Nations Development Programme reported that there is a 70% unemployment rate amongst Paraguayan youth ages 15 to 29. Additionally, there are only 8,000 job opportunities for the 40,000 youth that are entering the labor market every year. Youth face limited academic opportunities and lack available technical training in their communities.
THE OPPORTUNITY:
Many Paraguayan youth are eager to change their lives, but they lack guidance and the tools to develop their entrepreneurial spirit. Paraguay's biggest resource is its people, and youth make up the largest percentage. They can move Paraguay forward by addressing needs in their communities through entrepreneurship. 
WHAT WE WANT TO DO:
Youth Entrepreneurs of Paraguay (JEP) and Young Entrepreneurs Association of Paraguay (AJE Paraguay) are hosting a nationwide business plan competition in July 2013. The participants, from all over Paraguay, will have participated a 4-month "Build Your Dreams" business course and created viable business plans that address needs in their communities. Each community will select the best business plan and bring their youth to compete in a national competition to win over $1,000 in seed funding to start their own business, enabling them to make their venture a reality. 
SUCCESSES:
Now in its second year, the JEP initiative has already helped many Paraguayans become entrepreneurs. Last year's competition resulted in over 30 business plans and 10 start-ups created all over the country. Start-ups have included an organic lettuce business, a brick factory, a photography and design company, and a clothing store. Each venture has addressed needs in their communities, provided infrastructure, and created jobs. 
HOW YOU CAN HELP:
We need your support to make their ventures a reality! Your donation will go directly towards seed funding. The funds raised will create a truly transformative experience for youth looking to change their lives and create their own opportunities. 
You can also help us by sharing this campaign on social media and with your family and friends. To learn more about this inspiring event and see your donation in action, visit our website: http://jovenesempresariosdelparaguay.wordpress.com/ 
Thank you for your support, and for helping us kindle the entrepreneurial spirit in Paraguay's youth. 
Jóvenes Empresarios del Paraguay (Youth Entrepreneurs of Paraguay), is a joint national initiative between Peace Corps Paraguay and the Young Entrepreneurs Association of Paraguay (AJE Paraguay), focused on developing entrepreneurial skills in Paraguayan youth. 
_____________________________________________________________________
"Los jóvenes aprenden no sólo a buscar trabajo sino a crear trabajo." - Jose Méndez, Presidente de la Asociación de Jóvenes Empresarios del Paraguay.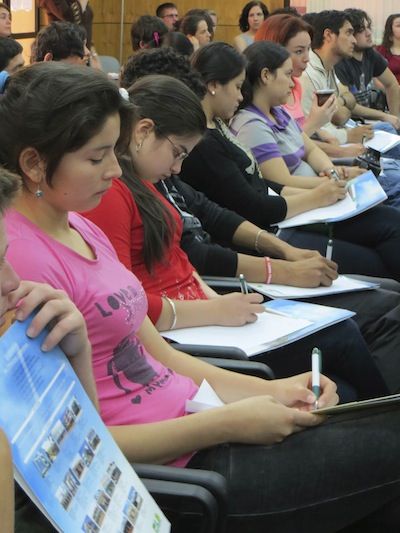 Jóvenes Empresarios de Paraguay (JEP) es un proyecto nacional, en conjunto
con la Asociación de Jóvenes Empresarios del Paraguay (AJE) y Cuerpo de Paz, que apoya, alienta y desarrolla destrezas emprendedoras, de resolución de problemas y de planeamientos a futuro en la juventud paraguaya.
AJE y JEP están realizando un campamento nacional llamado "EL DESAFIO EMPRENDEDOR" en Asunción, que inspira los jóvenes participantes a ser los futuros líderes de negocios del Paraguay. Los participantes, provenientes de todas partes del Paraguay, desarrollan el espíritu empresarial y aprenden valiosas habilidades empresariales a través de actividades y desafíos dinámicos. Asimismo, el evento conecta a los jóvenes con empresarios paraguayos ya establecidos, quienes comparten conocimiento y consejos a través de charlas y conversaciones personales. Los participantes se van con la motivación de aprender más sobre negocios, poner sus conocimientos en práctica y hacer que sus sueños se conviertan en realidad mediante la creación de negocios sólidos e innovadores.
Queremos invitarle a ser parte de esta valiosa iniciativa, contribuyendo con aportes para estos jóvenes que tienen escaso acceso a oportunidades.
Con su aporte, AJE y Cuerpo de Paz pueden realizar este evento con los jóvenes de todo el Paraguay y sin costos para ellos y asegurando que la distancia geográfica no sea un factor limitante a la presencia de los mismos. El mencionado evento recibirá participantes de 11 departamentos y más de 25 ciudades y pueblos.  Su contribución servirá para cubrir los costos de transporte, alojamientos, y alimentación para los jóvenes.  
JEP, AJE, y Cuerpo de Paz le agradecen muy sinceramente su apoyo a esta iniciativa. Su contribución hace la diferencia!