Hello!
Thank you for visiting our project. We hope that after reading this text you will get involved in our mission and you will help us spreading EDIE to the world.
"EDIE is an unusual approach to light design. We exploited dielectric fluid which gives us opportunity to accentuate the beauty and symbolic character of classic Edison bulb. EDIE opens almost endless universe of shapes to explore. Edie could be made from combination of glass, wood, silicone, metal and other materials. The glass can have awesome shapes, surfaces and structures. This lamp can be everything from table lamp to outdoor statue. The only limit is imagination."

The Story
Hi, my name is Petr. I love IT, science and geeky things. Misa, beside being the sun-of-my-life, is great and creative designer. We found out that my technical knowledge and Misa's design skills are perfect match. Together we started nearly year ago a company called Aura Design (auradesign.cz) because we decided that we want to do something amusing for the living. However we work on our things in our free time and the company is still not making any money so we are more like some design startup.
EDIE was born as a birthday gift for Misa nearly two years ago. The idea was to make the bulb looking like it is floating in the air. I know that there are some solutions based on so called "levitrons", but the construction is complicated and the design is limited. So the decision was to explore other possibilities and it turned out that there are dielectric fluids which are perfect for this purpose. When everything was in its place and EDIE was switched on for the first time it was lovely. The light forms beautiful aura around the bulb, the bulb moves and creates reflections on the walls just like summer sun on the water.
And so the first EDIE was created. After some time and very positive feedback from our friends we decided that it is worth trying to make it to production. We are working on production prototype for more than a year now and we still have a long way before us. And as you know, everything is easier if you have enough funding. So here we are.

Experiments. The left one is for testing of cylinder container (production will look more like on visualisation), the right one is made from raw glass and raw wood.
Why we named it EDIE?
The name of the lamp, EDIE, comes from the Edison bulb which was used in the first prototype. The bulb has also a symbolic character. It is a symbol for new ideas, thoughs, inventions and originality. And also it is very nice design and it is a pity that in most lamps this light source is hidden. EDIE is different, because the bulb is the main design element and the container is here only to accentuate its beauty.

How does it work?
We tried to keep the technical solution as simple as possible. There is only few main components:
Light source: The heart of EDIE. It can be almost anything from incandescent bulb to LED, the only limitation is the produced heat, which should not exceed certain values. There can be various shapes, sizes and technologies. It is, of course, possible to have more than one source of light in one container. The bulb is placed in our custom made "invisible" bulb holder so it is replaceable. The wires which leads to the bulb holder are so thin, that they are almost invisible.
The incandescent bulbs got banned in the EU (yet we have some on the stock :), but in more rational countries they can be used freely. Fortunately, the halogen bulbs will be available in EU for next few years and they also look very good in EDIE. But the best part is that you don't have worry about the availability of bulbs. Because the bulb is effectively cooled it has much longer lifetime - the first prototype is still in use with the original bulb!
Container: The skin of EDIE. The container gives EDIE its outer shape. Primarily we use handcrafted glass because here, in Czech Republic, it has a long tradition and because of its properties. The container can be of any size and shape, it can be coloured, cut or made from various types of glass. The container influence the properties of the light and there is whole universe of possibilities to explore.
Liquid: The blood od EDIE. We are testing number of dielectric liquids, but the best results we have wit the transformer oil. It is non toxic and very stable oil widely used in electric devices which needs good cooling.
Stand: The stand is here mainly for safety reasons. It connects EDIE to electric current and it contains safety measures to avoid injuries when manipulating with EDIE. This part is necessary because of regulations for electric devices. It can be made from various material like rubber, plastic, wood or metal. The stand is intended for the serial production version, custom made lamps may use different solution.
We have our solution patented so you can be sure that you will always get the original in perfect quality.

How the funding will be used?
As it was told earlier we are more like design startup. We use our own money to develop and test. It is very expensive for us and everything takes much longer than it should. The funding will be used for several goals:
Certification: In order to be allowed to sell EDIE on the market we need to pass a series of tests to get the CE certificate. These tests are expensive and because of EDIE's original construction they will be complicated.
Starting of serial production: We have tested almost all components which we need for production except the stand. We are now in the phase of prototyping and it will not be easy. It is the most complicated part of the lamp and the development will be expensive. We need three different forms and each costs about 500€. After we will finish the stand and pass the certification we may start the serial production. Of course it is better if you order bigger amount of every part from the supplier but this means to have lot of money for the initial investment.
Marketing: We know that the product itself is not enough. We need to tell the people about it. Advertisement and marketing could be insanely expensive. Of course we don't want to spend some excessive amount of money on advertising, but it will be easier to sell EDIE if we will have some funds to afford some marketing.
Development of other EDIE: If EDIE will find its customers and bring us some money we want to develop another series. Most probably it will be the block one. It is looking better but the form for container is insanely expensive (yes, it is lot easier to make rotary objects from glass than cubes or blocks). Let us know in the comments which shape you like most! ;)


If you want to help then spread the word. Write blogs, post on social networks, make pictures, create new designs...free your mind!
What will you get for donation?
First of all you will get our appreciation and our promise, that we will bring EDIE to production.

We will start production with the "cylinder" model, because it is easier to manufacture. The container will be from glass, the bulb will be classic 25W E27 Edison bulb and the stand will be from white silicone. If you donate at least 25€ you will get EDIE from the very first production series. If everything will go well we will have everything ready this autumn so you will have it for Christmas season. We will try to make the first series somehow special so it will be distinguishable among other EDIEs. Our goal is to make the basic model of EDIE available with price about 100€, but it depends on the amount for the first series.
If you decide to support us with some really big amount of money then we will create special EDIE just for you. If you will want it will be the only one in the world, true original. We will get in contact with you and discuss the details.
Now look at our perks and, please, DONATE! EDIE needs you!


FAQ
How do I replace the bulb?
EDIE is designed with the bulb replacement in mind. In order to replace the bulb you need to take the container off the stand. The container and stand are two independent parts. The container is closed by plug, co the liquid is secured in the container. Now you can turn EDIE bottom up, pull out the plug and get the bulb off the liquid. Bulb is placed in special bulb holder, so you can easily unscrew the bulb out, put in fresh bulb and asseble everything back. It should take no more than 5 minutes and you do not need any tools.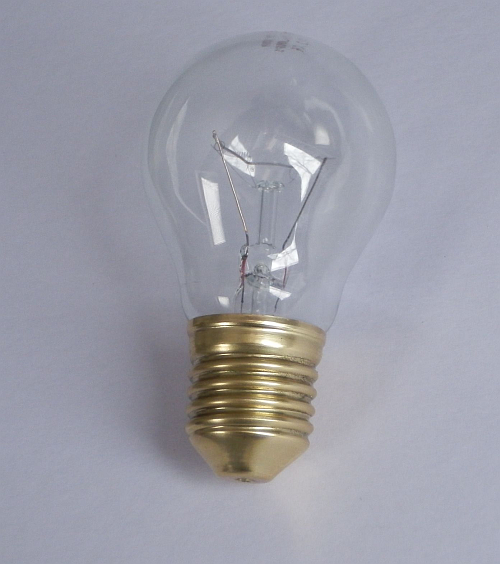 Photo of bulb in our bulb holder. The goal was to imitate the bulb base as much as possible, so it will not interfere wit the bulb shape.