1994's "The Fantastic Four", produced by Roger Corman's New Horizons and Bernd Eichinger's Neue Constantin Film, directed by Oley Sassone and written by Craig Nevius, is looked at much differently today than it was in the Fall of 1992, when Eichinger (who died in January, 2011) brought the property to Corman.  Exactly what was discussed between the two men prior to a deal being struck isn't known. But the result of their collaboration *is* - the movie has never been viewed legally by anyone in the world, other than those directly involved in the production.
The movie is available - to those with an internet connection or to the visitors of any of the many comic book, sci-fi and horror conventions at which dozens of dealers sell pirated DVD-r's with tacky inkjet printed inserts. But why not  as an official release?  
My name is Marty Langford and my producing partner is Mark Sikes.  My quest is that of a curious cinephile, a guy who wants to uravel a cinematic mystery regarding a film I love.  Mark?  He was a crewmember who was involved in the development of the film as an employee of Roger Corman's Concorde-New Horizons.  And to quote Mark, a lifetime friend of mine, he may not know who dug the graves, but he knows where the bodies are buried.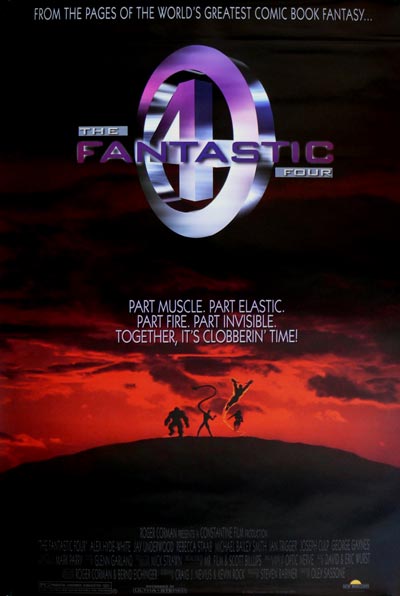 Thanks to Mark's industry standing, we have committments from several of the principal cast including:
Carl Ciarfalio ("The Thing")
Joesph Culp ("Dr. Doom")
Kat Green ("Alicia Masters")
Rebecca Staab ("Sue Richards")
Michael Bailey Smith ("Ben Grimm")
Jay Underwood ("Johnny Storm")
Alex Hyde-White("Reed Richards")
We have also lined up several of the key crew members. And as we've reached out to the contributors of the original film, one thing has become very clear to us - these people have ridiculously entertaining, confounding, hilarious and controversial stories to tell.  Quite frankly, if you've never even heard of The Fantastic Four, this will still be compelling stuff.
Our budget is modest and our production is aggressive.  We will be shooting in LA during the late summer, and be traveling around the country in the Fall.  We are compiling photographs and video (some rare and never before seen) from the cast/crew and wading through props and marketing matieral developed by the studio. We will be shooting on a RED camera and editing at a large East Coast post production facility.

We are also reaching out to comic book designers and illustrators to help guide the film's "look" throughout post production. Because we're legally unable to show a frame of the actual movie, we're getting very creative in developing a visual theme for the documentary.
Next year marks the 20th anniversary of Roger Corman's "The Fantastic Four" and finally, all of the secrets, stories and legal shenanigans that have kept this a 'lost' film will be revealed through this in-depth, investigative documentary that will coincide (and hopefully, quite frankly, be a bit of a distraction to the rebooted 20th Century Fox blockbuster!)



And we've really tried to develop some interesting Perks.  The movie poster one-sheets are so great; they're rolled and came directly out of unopened boxes - such an iconic design for an unreleased film.  We also have some posters signed by the cast.  And the e-book is shaping up to be a terrific document.  It will feature journals, photos, essays, articles and memoirs. There will be images from the personal collections of the cast and crew, and so much more.

Everything else is pretty self-explanatory.  So please, donate what you can and we hope you feel it's a terrific value.  We encourage feedback, so please let us know your thoughts through the contact info below.
Finally, the producers would like to announce that 6% of the film's profits will be donated to THE HERO INITIATIVE – an organization that helps comic creators in need. http://www.heroinitiative.org
Follow the team on Twitter & Facebook:
https://www.facebook.com/DoomedFF
Contact: (available for interviews by email and/or phone)
Marty Langford
413-478-7963