Dolphin Dance Project is a sponsored project of Fractured Atlas, a non-profit arts service organization. Contributions for the purposes of Dolphin Dance Project must be made payable to Fractured Atlas and are tax-deductible to the extent permitted by law.
=====
To reach our goal, we continue to welcome contributions directly through our fiscal sponsor, Fractured Atlas.  They will still be tax-deductible, and you will receive the same perks listed on this page.
Thanks to everyone for your support of "Dolphin Dreams".
======
We are excited to offer you this opportunity to join us in producing "Dolphin Dreams", a short film that is a unique and unprecedented exploration of wild dolphins collaborating with human dancers to create underwater works of art.  We already have amazing, super high definition footage of these extraordinary human-dolphin dances - moving images that could be projected on giant IMAX screens in museums and science centers across the US and around the world.  
With your support, we will create a short film that offers viewers a profound experience of mutual understanding with another species, an experience that just may transform how audiences see themselves and their relationship to the natural world.
Even if you can't make a financial contribution, you can make a meaningful difference just by sharing this campagin with friends and family through Facebook, Twitter, email  ... or just regular old word of mouth.  To be successful, we need your help to reach many people that haven't heard of us before.   
Help Make "Dolphin Dreams" A Reality
This radically original short film portrays two human dancers collaborating and communicating with an exceptionally charismatic pod of wild Atlantic Spotted dolphins, inspiring audiences to respect and protect dolphins and their ocean home.  
You can see the teaser trailer here: Teaser
You can watch another clip from the film here: Up and Coming
You can meet a baby dolphin, Jalapeño, and her mom, Notcho, who star in the film here: Introducing Jalapeño
Thanks to the talents and generosity of multi-Emmy Award-winning underwater cinematographer Howard Hall (known for the global success of his popular IMAX films), our amazingly high quality footage, shot in RED 4K, will dazzle viewers in theaters and at home. 
With you support we will combine these breathtaking images with an original score by Grammy Award-winning cellist and composer, David Darling.  The finished film will be offered to IMAX theaters in natural history museums and other educational venues, it will be submitted to film festivals, and it will be released on high definition Blu-ray and DVD.
"Dolphin Dreams" will be the second film of the Dolphin Dance Project, founded in 2009. The first film "Together: Dancing with Spinner Dolphins," won several awards including "Best Experimental Film" at the Big Apple Film Festival, screened at over 25 film festivals around the world and serves as the centerpiece of our educational lectures at universities, dive clubs and other venues.
How Your Contributions Count
When you join us in producing this film, you become part of our Dolphin Dance pod.  That's why every level of contribution is rewarded with a thank you on our website or even in the film and honorary status as a Spotted dolphin.  We will also send you a link to download a ringtone for your phone which is the actual greeting of a wild Spinner dolphin (who star in "Together").  You can see a video of the dolphin's greeting here: Wild Spinner Dolphin Greeting - Video for Ringtone.  
In the right column, you can review the rewards that accompany every level of contribution.  Your contributions will be processed by our fiscal sponsor, Fractured Atlas, making them tax-deductible in the U.S..
The money we raise in this campaign will be used to finish the festival release of "Dolphin Dreams".  We already have the raw video and a rough offline edit.  Your contribution will allow us to finish all the work required to deliver a spectacularly beautiful short dance film to theaters and homes.
Composition and recording the original score
Sound design and mastering to include dolphin vocalizations and the underwater experience
Online edit with powerful computers of the super high-definition footage
Color correction to allow the images to flow seamlessly together
Preparation and printing to Blu-ray and DVD
Submission to festivals and other viewing venues
Every dollar we collect above and beyond our target will be dedicated to developing our first feature-length film, a documentary that tells the full story of how these interspeciees dances are made.  Planned for the IMAX giant screen, the ambition for this feature documentary is to have an equaly huge impact on a mass audience by providing an opportunity to appreciate and understand the implications of these voluntary exchanges between wild dolphins and humans.  Completing "Dolphin Dreams" is the first step towards making this feature film a reailty. 
For those how are passionately interested and able to contributie $20,000 or more, we can arrange to have you join us for one of our rehearsals with wild dolphins. Please contact us directly.
Help People Around The World See Dolphins In A New Light
"Dolphin Dreams" will offer audiences around the world the visceral experience of  participating in a surprisingly intimate movement conversation with truly wild dolphins in the open ocean.  
Gazing into the eye of a dolphin, we see a 'person' looking back at us...a 'someone' who is clearly as intelligent and full of feeling as we are. As we enjoy the company of a truly wild animal who approaches us voluntarily out of pure curiosity and engages us in a communicative exchange both thoughtful and tender, we realize that humans are not so different from other animals, after all. When we see that dolphins - and, by extension, other non-humans - are just as much 'persons' as we are, we awaken to a renewed sense of responsibility towards all the creatures with whom we share the planet.
Please join us to complete "Dolphin Dreams"... so audiences everywhere can enjoy the dance between two trained humans at play with the affectionate and charming wild Atlantic Spotted dolphins...and be inspired to become a friend of dolphins and all the wild creatures with whom we share the planet.
Thank you in advance for your generous support!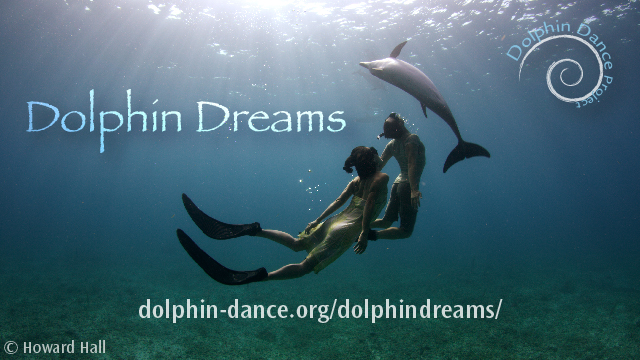 Note
The Dolphin Dance Project works only with wild dolphins in the open ocean.  We follow a strict code of etiquette, and we never feed, train, or coerce dolphins in any way.  The dolphins' paricipation is motivated only by curiosity and the joy of interacting with another intelligent species - just like the human dancers. Since dancing underwater is dangerous, the human dancers are highly trained.