WE DID IT!!!!
********************
Come on you ANGELS of Love!
CHECK OUT ALL THE NEW PERKS! 
BE IN THE MOVIE! GET YOUR NAME IN CREDITS! 
PAY IT FORWARD! BE OUR HERO!   

NEW PERKS!!!
UPGRADE your existing donation to 500, or donate 500, and get 2TICKETS TO THE PREMIER in the city closest to you 
OR a DAY ON SET IN THE FILM (you provide transport)
TO UPGRADE just add the difference in the blank contribution box and tell us your making a HOME RUN!
OR 
SEND A MID-SUMMER VALENTINE!
For $20 dollars we will email your crush, your best friend, your boss, your mom, this email below in 24 hours!  
Reach out to all you love for a cause! buy 5 get 2 free!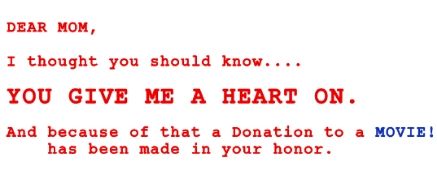 NEW CONTEST!
No donation required! Only your REFERRAL!
Log into Indiegogo, create an account (takes a few seconds) and hit one of the share tools buttons (FB, Twitter) underneath our video! 
50 REFERRALS : wins a personal shout out on our film's FB page (Broken Heart Movie) and Kimberly's Twitter (@whitewatercrew)
100 REFERRALS:  wins A video shout out via Instagram and an autograph photo of Kimberly! please email crevecoeurfilm@gmail. com with your your name
500 REFERRALS: wins a signed copy (cast) of the finished film and a PHONE CALL from Kimberly to personally thank you for your enthusiasm for the movie!!! Please email crevecoeur@gmail.com with your phone number and the best time to reach you. 
The most REFERRALS: wins YOUR NAME in the credits!
LET'S GET THIS PARTY STARTED! Get your heart on... 
BREAKING NEWS!!!!
We are so thrilled to announce BELLA THORNE Disney Star and Recording Artist, known for her work on Shake It Up!, HBO's Big Love, and currently filming Adam Sandler's Blended, is attached to play the lead role of Alex Lawry, the fierce, young dreamer who struggles to find beauty and romance in small town Missouri. The movie making pieces all are coming together and we want to thank Bella for coming along with us on our journey!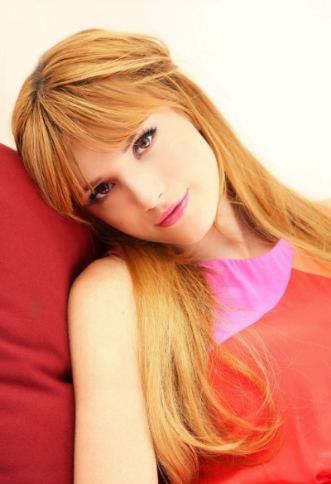 Note from Kimberly (Director);
"I was so impressed with Bella when I Directed her on Shake It Up that I wanted to offer this special role in my first feature film. Bella is hard working, hilarious, and has a huge HEART. I am looking forward to working with her again and developing a performance to be remembered." 
BUT  DON 'T BE AFRAID TO DONATE BIG!
We NEED those 5,000, 10,000 and 25,000 Donations!
Get Your Heart On People! Help make this!
Get your Name in the Credits! Come to set! Be in the film! Hangout with us! Be the one the HELPS US MAKE OUR GOAL AND THIS AMAZING FILM!!!!
Breaking News!!!  ZACH KNIGHTON star of hit shows Happy Endings & Flash Forward, & films The Hitcher, Surfer Dude and up-coming Teddy Bears has signed on to Creve to play Jimmy Cash: The Hard-Drinking, Big-Buck-Hunting older Brother with a Heart of Gold!  We couldn't be more thrilled!!!  

Short Summary
CREVE COEUR, MO. aka (Broken Heart, Missouri) is a dark comedy exploring three generations of love stories and the darker side of the white picket fence in Middle America circa 1993. The film follows the fierce, yet lonely 16-year-old Alex Lawry as she struggles to find beauty and romance in small-town Missouri. With her reluctantly platonic guy friend, Jesse, to share her woes, Alex engages in various exploits in an attempt to escape her mundane life. Along the way, she must contend with her bizarrely dysfunctional family, a clique of bitchy high school girls, and a dalliance with the local bad-boy rocker with a killer secret. When a major crisis confronts her family, Alex comes to realize that the things that are truly real and romantic in her life have been staring her in the face all along.
Recipient of Tribeca's Film Festival's All-Access Award for New Voices in Screenwriting.
What We Need & What You Get
We believe this film has the ability to touch people of all ages and demographics.  Raising funds for independent fillms is not easy, but the story we will tell can be relevant and moving for film lovers for years to come.  WE NEED YOUR HELP.  
This initial 100K will plant the seed to getting our film significantly off the ground. Many private investors are hesitant to be "first money in." We feel confident that this initial portion will help existing interested investors match our funds, as well as allowing us to attach cast and get the film in motion.
Every dollar delivered will go directly into the budget of the film.
Join our family!! This team is aces. If you support us now, you are joining our creative family for life, and we will proudly take you with us for the future of our colorful careers. 
Come on people. Get your Heart on. We know you want to.
The Impact
It is important to help female filmmakers. Led by an all female team of fearless women dedicated to relevant and entertaining storytelling, this is an amazing story covering pressing issues of today such as sexuality, patriotism, consumerism, addiction, body image, class warfare, homophobia, war, breast cancer, romance, love, and rock and roll. Similiar to the films as AMERICAN BEAUTY and JUNO, the film has the ability to be an artistic, award-winning, and financial success in both domestic and international markets.
Please support female filmmakers and be a part of something incredibly important to be enjoyed by all ages for years to come.
WHO WE ARE
Director: Kimberly McCullough's first gig came at the age of six in the cult classic, BREAKIN'2 ELECTRIC BOOGALOO as a featured break-dancer. In 1985, Kimberly originated the role of "Robin Scorpio" on the daytime soap opera GENERAL HOSPITAL, which earned her two Daytime Emmy's.  After attending NYU Tisch School Of The Arts, she went on to write and direct two short films LIFE AFTER and LIL' STAR. In 2005, Kimberly returned to General Hospital as "Dr. Robin Scorpio" and also starred in the GH spinoff NIGHTSHIFT for Soap Net.
Kimberly guest directed a 35mm short film, ROSIE for AFI and was shortly thereafter selected to be one of eight women for the prestigious AFI Directing Workshop for women 2010. Through the program, she directed her fourth film NICE GUYS FINISH LAST. The short film was accepted into fifteen festivals world wide and won the Nancy Malone award as well as "Best "Director" at Shockfest. After twenty-six years of playing "Robin Scorpio", Kimberly moved on from GH in early 2012 to pursue directing full time. Kimberly is currently a Director in the ABC/ DGA Program 2012-2014 and has recently completed her first television directing gig SHAKE IT UP for the Disney Channel and shadowed such shows as HOMELAND, HOW I MET YOUR MOTHER and THE KILLING. IMDB
Writer/Actor/Producer: Stephanie Sanditz recently completed writing INFERNAL DEVICES, the epic prequel trilogy to the MORTAL INSTRUMENTS franchise premiering this summer for Sony and Constantin films based on Cassandra Clare's novels. She is currently adapting Christina Lauren's best-selling novel, A BEAUTIFUL BASTARD, as well as action film, SHI for Constantin Films, CATHY'S BOOK for UFA Cinema and THE MEDIATOR for Greenestreet Films and FreMantle Media. Projects in development include pop-noire rom-com, MOVING PICTURE, and television series, SHOW ME STATES surrounding the ridiculously dark and dirty world of riverboat gambling.
You can see her as an actress on countless screens and festivals all over the country. Look out for her in the college comedy, DisOrientation, as the evil 'Bombshell,' in the new Puppet Master X, leading roles in noire-thriller, Way Down in Chinatown,  and the dark drama, Sweet Illusions, which premiered at the 2012 Cannes Film Festival. Other credits include new tv series, Times Up, along with Law & Order, Law & Order Criminal Intent, Strangers With Candy, Kate and Leopold, Nice Guys Finish Last, and the web series for comedy central, Amuse Bouche. NYU Tisch School of the Arts Dean's Honor Scholar BFA. IMDB
Producer: Jennifer Glynn is one of the hottest up and coming producers in Hollywood. Beginning in documentary production for Lucas Film, to creating web/television content for Disney, she has gone on to produce multiple award-winning and financially successful films. Her films include TiMER, which premiered at the 2009 Tribeca Film Festival, MARIA MY LOVE which premiered at 2011 Tribeca Film festival, as well as line producing  Brit Marling's, SOUND OF MY VOICE, a 2011 Sundance Film Festival Selection, which was picked up by Fox Searchlight. Since then, she has co-produced Neil Labute's, SOME GIRL(S) staring Kristen Bell, Zoe Kazan, and Emma Watson which just premiered at the 2013 SXSW film festival and line produced, GOODBYE WORLD starring Adrien Grenier, SIREN starring Vinessa Shaw, Warner Bros. Digitally Distributed, GENERAL EDUCATION, as well as directing SMORGASBORD as part of the prestigious American Film Institute Directing Workshop for Women. She has a Master of Fine Arts in Producing from the American Film Institute Conservatory and a BA in Film & Electronic Media from Bard College. Jennifer currently works and resides in Los Angeles, CA. IMDB
Executive Producer: Richard Arlook. Head of The Arlook Group, former head of Gersh Agency for 26 yrs. EP of many films including the much anticipated RODHAM, directed by James Ponsoldt (SMASHED, SPECTACULAR NOW) recent GOATS (Vera Farmiga, David Duchovny,) and AFTER MIDNIGHT for 20th Century Fox. IMDB
Associate Producer: Jamie Cawthon is an up and coming producer extraordinare. SXSW winner, THAT EVENING SUN, and Paramount Oscar Campaigns.
Cast: Phenomenal list at our reach contingent on financing.
Start Date: Fall/Winter 2013
Other Ways You Can Help:
Help SPREAD THE WORD.
Please Re-Post on Facebook and Twitter!