No money? Check this offers out!
CReNET is a MMORPG with Pokemon-inspired gameplay, DotA competitive grandness, and Team Fortress 2 customization and profit model. Meaning it's not a pay-to-win. (Not affiliated with VALVe, Nintendo or any other video game company)
Competitive Balancing: The server will keep logs of usage statistics and competitive builds to help us discover which Crewons are over or underpowered. Doesn't matter if we have to change base stats, or even types! (if the crewon's look/theme allows it)
The logging system will also be used to enable spectating games, and to "transmit them" in game-world TVs, that will have their own set of in-universe shows.
Pay only for cosmetic items, or early access to new areas/modes that will not be usable competitively until release. If possible, it would even be completely free with ads in game-world monitors.
Special events at given moments: Go into a cave and fight other trainers to be the fastest and last one standing before a lesser legendary crewon for a chance to capture it.
Raids: Legendary crewon are legendary for a reason: Gather your friends for a raid to defeat an uncaughtable Legendary Crewon, like Hrom, in an epic battle against this overpowered foe.
Support for X vs Y battles: You can battle 1vs1, or 3vs3, but the engine supports even 2vs6! There will be attacks that "summon" temporal allies, like a Puppeteer Crewon and it's puppet, or create an attackable construct, like a wall of spikes that can be blown by a wind attack.
Secret bases, day/night and seasons cycle, trading, events, and many more fan favorite features, in a large region that will later be updated with additional regions, with new crewons and challenges. Without closing the access to previous regions!
Speed will fill a turn-bar over time, so that differences in speed are more relevant than just "Higher or not". (Final Fantasy like)
However, it's extremely hard to fund a MMO out of nowhere, and a quite lengthy process to make, so, we at CReNET games are currently making a game that will share it's engine and almost all it's assets, Crewon Clash, meaning it's work towards it's completion and an extra source of funding.
Demo for Linux and Windows
Crewon Clash is a Pokemon Rumble blended with Diablo inspired game. A 3D Dungeon Crawler in which you defeat enemies to add them to your selectable characters, for you, or your friends, to use. Different ones will be suited for different roles (healer, tank, trap/summoner, melee DPS, range DPS) and mixing them will be required for the ultimate team!
Long before CReNET, the story between humans and crewons had a rough start... Become the legendary figure who brought peace between them!
Randomly Generated Maps may contain new rooms in even your second or third walkthrough.
Keyboard and Gamepad Support.
Local Multiplayer support and hopefully Internet too!
Developed to run even on Intel integrated cards on laptops.
Easy for a casual gamer to get into, but only a hardcore gamer will 100% complete it.
Fully moddable, from attacks to the crewons and even whole areas, most of the game is made in CReScript, and it's documented on our site. We expect to even incorporate it into Steam Works.
Crewon Clash is made with Local Multiplayer and gamepads in mind. If we reach $50,000 we will make an Ouya version, as it seems only natural.
Get the latest demo here: http://www.indiedb.com/games/crewon-clash/downloads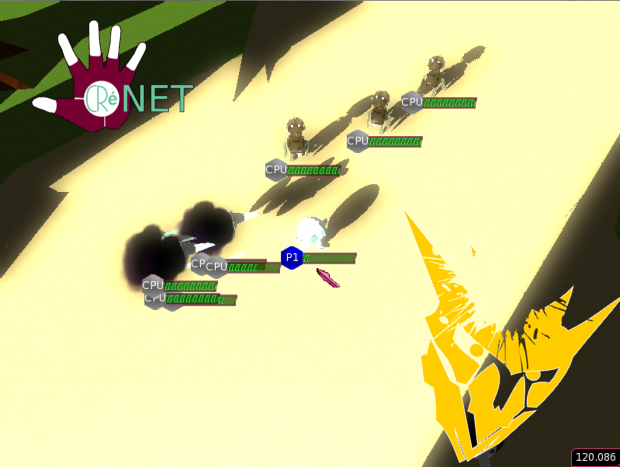 We are gamers. Like many of you, we have gotten the shaft by larger companies: Pay-to-Wins, incomplete games where you HAVE to buy DLC, games that never get feature X because it's not in the interests of the company, or simply because they lack the desire even if they got the fan support.
We think we are doing what many people want to play, show us this is so, and give us your support!
What We Need & What You Get
We need $100,000 to be able to fund CReNET at once. Setting a server is not cheap, especially one to handle thousands of concurrent and persistent connections like an MMO game.
If we get $150,000 we will even be able to hire and implement a Pokemon Stadium like announcer for CReNET's important battles! Like gym battles, elite challenge, and every human-player tournament!
Even if we don't get $100,000, CReNET is a dream of ours, so we WILL continue working on it through Crewon-Clash. Reaching the milestone of $10,000 is a good enough indicator of your support, and as we get more popular, so will our funds increase, hopefully ever closer to what we need for CReNET.
But, it's not all about the money... for a year and a half, we've been making this game secretly. Secretly. What's the point if there's no one to enjoy it? This is part of our effort to reach to people. If you are reading this, we're making it alright! During this fundraiser's life, Crewon Clash (and crewons in general) got it's first fan art! We hope this marks the beginning of having a community that will push us to make our games better everyday. We set up a forum on IndieDB for this, but you can also reach us through our social media pages!

Crewon Clash fan art by Broken-Shell
Once we get at least $100, we will pay the Steam Greenlight fees so you can also be able to support us over there!
Surpassing the goal will allow us to reach sweeter stuff, like buying better hardware and hiring external help to increase the graphics (while keeping it playable for as low ended as we can), changing CrewonClash's story from simple dialog/images to prerendered cutscenes, and much more!
Also, I really like this funding mechanism... we can set new kinds of "perks" that we didn't otherwise thought posible, we can give new kinds of deals and raise awareness to increase the chances of getting Steam Greenlit, and start making a fanbase.
The Impact
Funding this project will pave the way to a new series that will hopefully introduce some needed change to an old genre. And this is speaking both about Crewon Clash and CReNET
How many times did you want to play another Dungeon crawler with a friend but it either didn't have multiplayer or you'd have to wait for your friend to learn the mechanics and catch up to your level? How many times did you want to play the console exclusives our projects are based on in your PC?
Other Ways You Can Help
TELL YOUR FRIENDS! Everyone that makes an impact over $100 gets a free copy of Crewon Clash, and the one responsible for the highest impact gets a unique exclusive One in stock "Pile of Gold" decoration for your CReNET secret base (if CReNET gets funded, that means, we get $100,000)
Even if they don't have money or are unable to send it, tell them, and tell them to tell their friends. Because of this, you may be indirectly responsible of getting someone who can pay, maybe even be one of the largest contributors! And if this gets funded, you win too, because CReNET is a Free to play, and not pay to win, MMO, so you'll be able to take part in that! I know that feeling, of not being able to pay, living in a third world country and not having an international card until recently.
Post about us in your facebook, twitter, tumblr, and every other social site I have no idea how to use.
Remember to use the IndieGoGo share tools, and share our other sites too!