The Goal
Hey Everyone, My name is Michael. I'm the creator of the Container Project. The container project takes used shipping containers and recycles them into beautiful modern homes.
After a home is constructed it is sold to build two more homes. For every two homes constructed, one container studio will be donated to a family in need.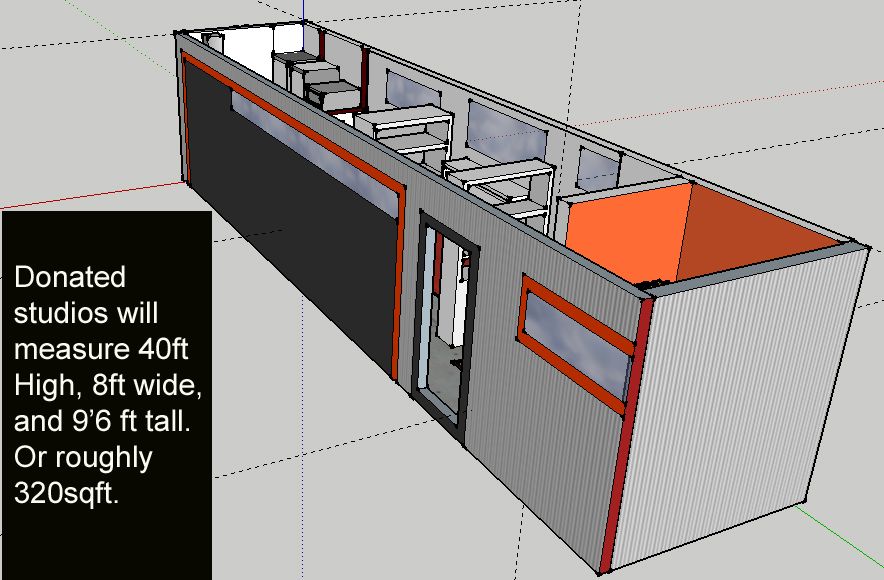 Imagine the container project as a big BOGO ( buy one give one) We build two container homes, sell them and then build a third to give away. This continues to compound, building more sustainable architecture and distributing more homes to families in need.
With Your Help 
Your Pledges will allow us to build our first container home. This home will feature 6 High Cube Shipping Containers roughly coming out to 2000sqft. It will be a contemporary complex with split level living space. It will be located in Southern California within a 20 mile radius of Los Angeles, California. Your funds will go into purchasing the land and remaining five 40ft high cube shipping containers. 
(5) 40ft High Cube containers 40Lx9'6Lx8W-$26000
4000-8000sqft buildable lot (includes water, electricity, gas and septic) $13000+ My $12,000 which is in a 95,000 land/construction loan. 
By backing the project or simply sharing it with others, you will be helping the first of many sustainable creations come to life along with helping numerous families once again have shelter. Everyone that participates will also have the ability to directly contact me with ideas and insight on current projects. The more ideas the better the project!
If our goal isn't reach, don't worry. I will keep working to get the project going. We will downsize the Container house to 5 containers not 6, and the plot of land will be smaller. 
Without your funds we will not be able to start our project, remember any amount helps and is greatly appreciated. Everybody who pledges will get something!
My Story 
I got my inspiration for the Container Project when I worked at the Los Angeles County Muesum of Art(LACMA). While I worked at LACMA, I would walk by their ticketing booths every morning and admire the fact that they were constructed from shipping containers. During my lunch breaks, I would sketch out home designs made entirely from containers. This progressed into 3D renderings and finally I built up the courage to start my own company. With over 10 years of art and design experience and a love for restorations, I have the ability to execute a project of this magnitude.
I have restored 6 classic cars from a 1973 Dodge Charger to a 1985 Lotus Esprit and completed 1000's of pieces of art from mixed media to pen and ink drawings. The task of taking inactive shipping containers and recycling them into beautiful homes is what I was meant to do. I will be working with a skilled architect and a great fabrication company during the first build. This will ensure that everything is done properly and the home will pass the strictest of California regulations.
Our Build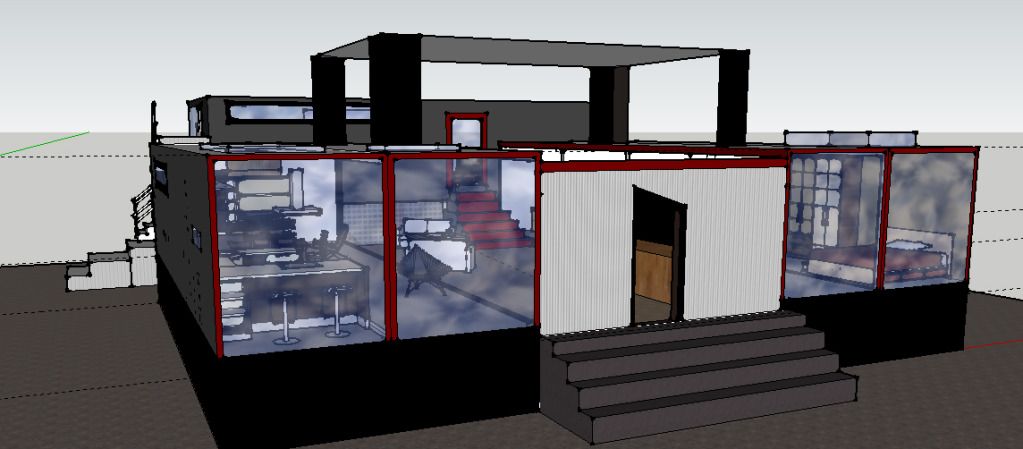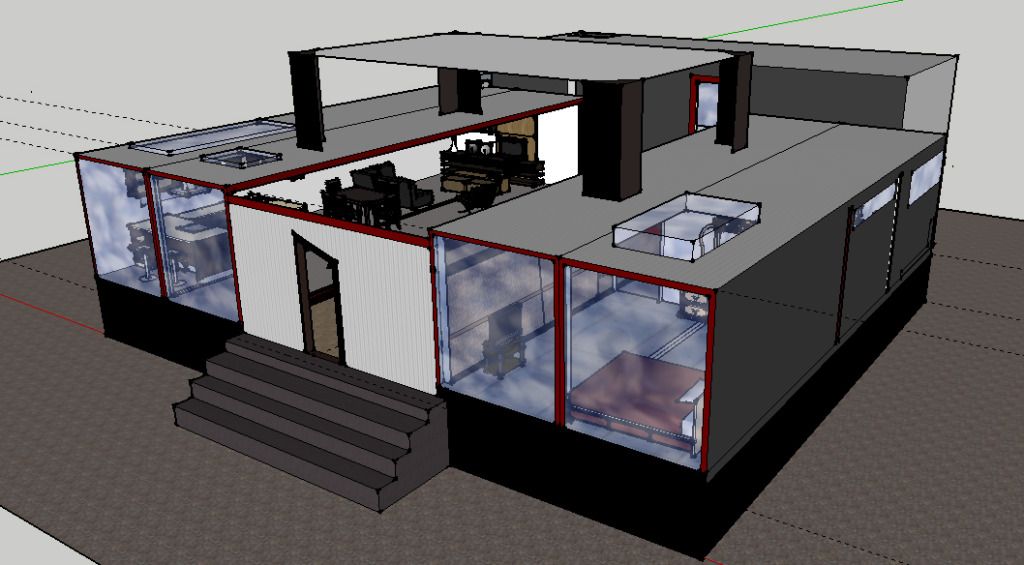 For our build we will be using 6 retired shipping containers. This home will set a standard for green architecture. If funded, the project can be constructed as soon as February of 2013. After the home is constructed it will immediately be sold and the profit from the project will fund two more builds! Each build will embody the surrounding land and build awareness for the many uses of cargo containers.
Why Participate? 
More than 300,000,000 containers are rusting away in shipping yards all around the world. These containers have so much more potential than sitting around in shipping yards and by helping us, you will be taking 6 of these containers out of shipping yards and watching the structure come to life on our website.
After the build you will see two new projects blossom from the profit of the first. Along with the two new builds you will get to be part of the donation of a homes to a family in need. Everyone who participates will have their name on a card going to this family. 
Used containers are not very expensive and can be modified into a home very quickly. The process of building a container home takes roughly one quarter the time of a traditional home and saves over 50 trees from being cut down.
Container homes have minimal site waste because wood isn't a crucial part of the construction. Think of them as big LEGO pieces, each fitting together seamlessly, creating a strong steel structure.  
Container structures aren't anything new. Many homes have been built from shipping containers, with the most impressive build being a 120 room travel lodge in England. 
Sustainability 
For every home build, 5-10 containers are being removed from a shipping yard and recycled into a home. Along with the recycling of the containers 50-100+ trees are being saved by constructing the home with containers opposed to wood. 
Most of the containers will feature solar power and some will even be LEED certified. We will also try to pick up sponsors for energy efficient appliances like laundry machines and dishwashers. 
I will be building most of the furniture to go along with the house, which will be constructed sustainably. 
Along With recycling the containers, we will be recycling a car to go along with each home. Restoring a car back to its glory causes creates less waste then manufacturing a new one. All cars we restore will be non-running and be brought back to life!
You will be able to track the progress of each build through our website www.Containers4.me. There will be live cams on site, photo journals blogs, and a gallery of all of our designs. 
Rewards
Your Name will be memorialized on the "Skywall". A wall in the home will all the names that made the project happen.
Estimated Delivery: Feb 2013
A Universal Stylus to personalize your Skywall signature. This E-signature will be put on the "Skywall". Stylus compatible with most smartphone's and tablets.
Estimated Delivery: Sep 2012
Universal Stylus to have your very own signature on the Skywall. With high-res image taken of your name on the wall and image of the completed house.( images JPG)
Estimated Delivery: Feb 2013
Container Project t-shirt( comes in black, white, grey)+Universal Stylus to have your E-signature put on Skywall with photo of signature and completed house(JpG)
Estimated Delivery: Feb 2013
Build your own container house! Includes floorplans for the container house in (PDF) These are architect approved floorplans to build a 6 container home at roughly 2000sqft.Also will get your name on Skywall
Estimated Delivery: Aug 2012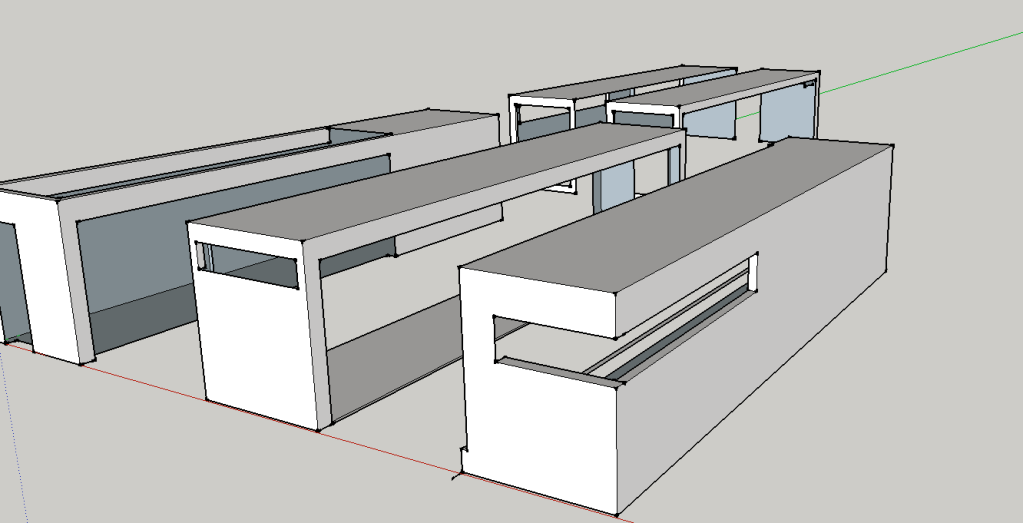 My original drawings that inspired the container project + google sketchup designs and floorplans printed on 8x11 photopaper and mailed to your address. Name on Skywall.
Estimated Delivery: Aug 2012
Original Drawings+Designs and floorplans printed out and shipped in sleek aluminum briefcase. Name on Skywall. ( International shipping charges apply)
Estimated Delivery: Nov 2012
"Contained" Container artwork completed by me. 3 Painting designs will be available. Size will be 36x48 on canvas. Includes Stylus and Name on Skywall. ( International shipping charges apply)
Estimated Delivery: Dec 2012
A plaque with your name on one of the six containers. framed photo of plaque sent to you. With name on Skywall(stylus)+ t-shirt
Estimated Delivery: Feb 2013
One week stay in home once it's completed, includes food, and rental car. Name on Skywall.
Estimated Delivery: Apr 2013
My 1973 Jensen Healey Shipped directly to you( California) Out of state/country will have shipping fee. Name on wall included, with floorplans (PDF)
Estimated Delivery: Sep 2013