Welcome to Community Cafe!
Here's your chance to become an integral part of Community Cafe, a new collaborative cafe opening in St. Pete! We want you to help shape it into a place you will love.

We are confident that when we combine the ideas and enthusiasm of our community, amazing things will result. We will grow with each other and cultivate a space full of love and laughter. Join us!
We will serve food from lunch through late night, along with coffee, tea, beer, and wine. We will have delicious, healthy sandwiches and wraps using locally grown produce with many vegetarian and vegan options. Our primary focus will be on bringing the community together through local art, local music, and fun events where you can meet other amazing people. To find out more about our concept, check out our website and like us on facebook!
Our Goals
Community Cafe plans to be open by the end of this summer in downtown St. Pete, ideally on or near Central Ave. We're still actively scouting for our perfect location, and that's where you come in! We have the financial backing to start small - a smaller space off the beaten path a bit. We're hoping to raise an extra $5,000 to start bigger, better, and closer to downtown. We're using Indiegogo's flexible funding campaign because any amount will help. Please don't stop contributing if we meet our goal. The more we raise, the more likely our location and size will be a perfect fit for our anticipated community (psst - that's you!)
Your Perks
We have a lot of great perks to offer you! Don't be alarmed if you find yourself wanting it all - feel free to contribute at multiple levels!
As you can see in the sidebar, a lot of our perks include memberships to the cafe. One of our most interesting and unique aspects is how much we want to involve our community through our membership program. You can see the full outline of both our Rockstar ($20/month) membership and Superstar ($40/month) membership perks at our website but the main advantages include discounts, freebies, a small lending library, and special events, along with voting privileges on cafe decisions. Whether it's our next sandwich, a party idea for Halloween, or the theme for the next art installation, your voice will be heard!
Many of our perks are stylish and useful beverage containers. How stylish, you ask? Well, have a look at what we've initially chosen! Style and logo placement may be subject to change, but they will be very similar to these: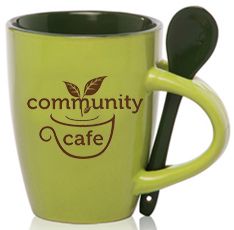 Coffee Mug
              Travel Mug
               Water Bottle

In addition, we have a special limited incentive of 20 of the lovely citrus-scented soap shown below. They are hand-crafted locally by a friend of the cafe; she's even in the video above! These "Florida Sunshine Orange" soaps are a honey base glycerin with orange essential oils and glitter.
All of the items will be tallied, produced, and shipped to you 4-6 weeks after the campaign is over. For the higher level, limited availability perks where collaboration and planning is necessary, keep an eye out for an email to touch base and set up a time to meet. Everyone should also look for an email invitation with the location and date of our soft opening!
Whether or not you're able to contribute to our campaign, we would greatly appreciate your help in spreading the word. People are so excited about this idea, and the ones who haven't heard about it yet will want to! Please use the share buttons above to let your friends know that they can become a part of this amazing community. Thank you so much, and we can't wait to see you at the cafe!