THANK YOU ALL OF OUR FUNDERS!
We are now shooting for our stretch goal of $7,000 to add an Android version to the mix!
With your help we can make the remaining $2,000 it'll cost to bring Comic Rocket's reading experience to Android devices such as phones and tablets. 
COMIC ROCKET
Comic Rocket aims to be the ultimate list of comics and serial material on the Web.  We create a seamless reading experience with our webcomic navigation tools, and help you find new comics with our recommendation system. 
Comic Rocket lists over 10,000 comics, and new comics are added daily. Our personalized recommendation system gives readers a chance to explore new comics, resulting in increased traffic to comic creators. In fact, to date Comic Rocket users have read over 2 million pages and counting and we've been steadily gaining titles and readers. Every day creators are contacting us to take ownership of their comic's Info Page. We're actively engaged in webcomics discussions on twitter and Facebook. In short, we're an up and coming company in the middle of a vibrant creative community. 
WHAT WE'RE FUNDING
In response to demand from our users it's time for us to create a free mobile application. This means we need to hire a mobile developer. But Comic Rocket has limited resources. So, in the spirit of the webcomics readers and creators we serve we're launching a crowd-funded campaign to pay for the project.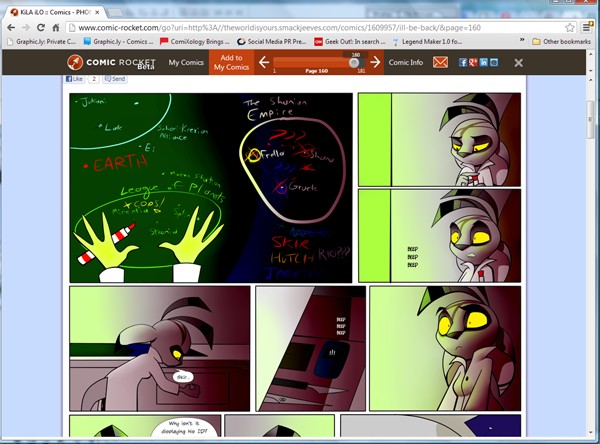 The Comic Rocket iOS app will provide a comics reading experience optimized for iPads and iPhones.  It will include all the great features of the current website, like your personal comics reading list and the ability to follow your friends' comic discoveries.  The iOS app will also provide new features like comic update notifications and a user interface streamlined for tablets and phones with swipe and more!  Just think of sitting on your couch, seamlessly reading all your comics on your tablet or smartphone!
We have some great stretch goals planned too starting with versions for Android, the Microsoft Surface tablet, and also Kindle or The Nook and maybe even XBox! 
WHAT BACKERS GET
Let's not forget the perks. Our friends in comics have overwhelmed us with some amazing incentives to give to our donors. We've got a digipak of wallpapers, pin-ups, and other digital art. There's also three one month trials of Andy Schmidt's Comics Experience. For creative types, there are even downloads of software from Smith Micro like Anime Studio, Manga Studio, and Poser! 
CONCLUSION
So, here we are now: Seeking your help. And your friends' help. And hopefully their friends too. In fact, anyone that reads comics online should want to get in on this. Tell everyone you know that likes comics and let's make this happen!