Update #1 ONLINE DEMO

Playable demo of the Boss Fight SCENE, right in your browser, or on your Android phone / tablet !
http://www.taurris.com/StarshooterBossDemoOnline
Be sure to check it out ! And tell me, what you think.
Introduction
First of all, I would like to introduce myself. I'm game developer from Czech Republic, Prague. I'm no newbie in game development industry, I've quite few years of experience as a senior artist in making AAA titles, like ARMA2, ARMA or truck sims. namely German truck simulator or Eurotrucks Simulator 2(which is in the making, right now).
But I always wanted to make a game, which will be entirely my idea. That's why, I started work on my personal project called Codename : STARSHOOTER. I'm realist and I know, that I cannot compete with other AAA titles and that I need to make something smaller. That's the reason why I chose genre of "shoot'em'up" game. Games, which I enjoyed so much, in my childhood. You will surely remember games like Xenon or Tyrian. These are great examples of pure gameplay and fun and this is the point from where I want to continue and evolve my game further. I want to give the game more fun, more juice and more possibilities to the player.
What I want to make ?
My game should offer not only shooting of enemy air crafts, but even buying of upgrades, new ships and a lot of customizations of them. I plan to bring in the power of worldwide online statistics and leader boards, in which players will compete for in game rewards.
Today it's almost a necessity that I will prepare the game for platforms like Android, iOS, PC & Mac, but I want to make even web-app version, that will be accessible on my web page & as a Facebook application. Even this isn't the end, I will continue to expand and evolve the game. It's definitely not a one shot project. Everything will evolve one-by-one. That's the point where you, players, will come into play. I want to keep on listening to your voices, to criticism and pleas about what you want or don't want in the game. I want to prepare forums and public polls about the game, where you'll be able to discuss the game itself and new ideas & extensions of what could be presented in the game. I want YOU to decide, what is going to be in the game. After all, I want to make game that YOU will play.
You can see how the development goes on here : www.taurris.com
Why I need your help ?
Without you, my project would take MUCH more time to complete. Your support will let me to work on Codename : STARSHOOTER full time. Otherwise I need to be full time in work and this way, I'm making this project only in my spare time, mostly weekends and evenings. But this can continue only for a limited time. Of course I don't want your support for free.
For your support I'm offering you these perks :
1$ - You will get a thanks on official website, as a contributor. As one, that made this possible.

5$ - For this, I will mention your name in the game credits as well as a thank on web page.

25$ - I will give you 2500 ingame credits, that you can spend in buying ship upgrades, weapons and so on. In addition, thanks on game's web page.

you'll receive the credits, after the game launches

50$ - Game soundtrack + thanks on web page

you'll receive the soundtrack, after the game launches

100$ - You will be able to choose which 3D printed model you will get. All of them will be printed via Shapeways.com + thanks on web page
200$ - You will pick the 3D printed model which will be made by Shapeways.com and we'll hand paint it for you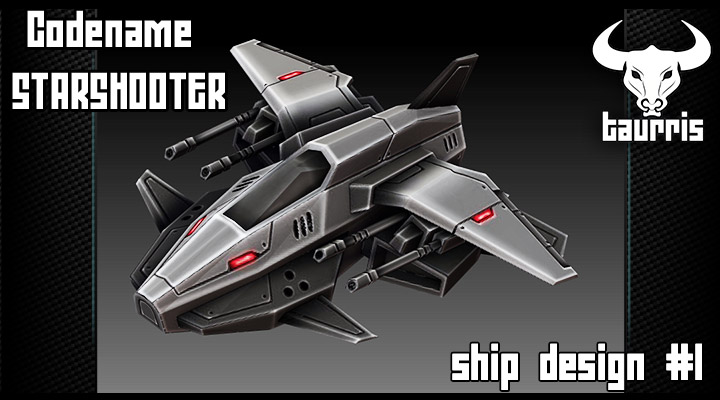 300$ - For this contribution, I will give you 3D printed logo of Codenam : STARSHOOTER in PURE SILVER. The model will be 3D printed by Shapeways.com + thanks on web page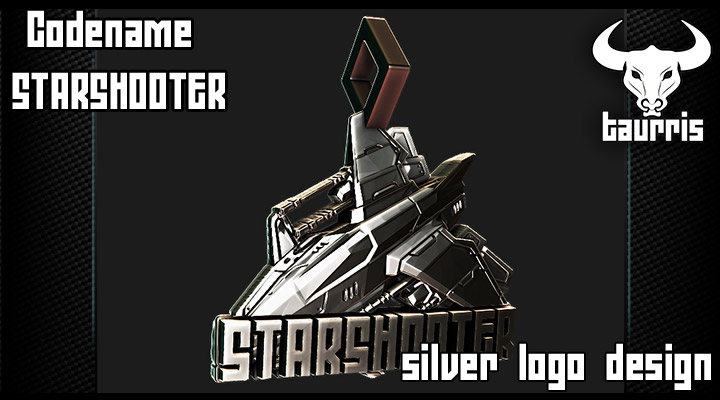 800$ - In this case, I will make playable game ship according to your design. We'll be in contact until you'll be satisfied with the results. I reserve the right to change the design to match the game's environment. Thanks on the games web page and your name in the game credits as the ship's designer.
Shipping is already included in all perks. All shippable perks will be shipped after the campaing ends and I receive the funds, to be able to fund everything neccessary associated with the perks.

Why I want this much and on what I will spend it ?
Thanks to that I work on this alone, I need to fund only me. So basically its mainly about that I will be able to work on it full time. I want this much, because it should allow me to work on the project for minimum 2 months with all expenses covered. From the whole sum about 20% goes for paying for the creation of the perks and shipping them. After all 3D printing isn't the cheapest technology, but I want to give you something unique for your support. Something which you deserve and is valuable, because YOUR support is so valuable for me. The rest of the money will go to making models, textures, coding, sounds and music. Music and sound effects are the only two things which I cannot do myself and I'll be hiring someone to do it.
Because It's my personal project, I promise that I will complete the project even if I won't be able to collect the whole sum. In essence I take this as my personal goal, question of my pride to finish it :). That's why every $ counts and will help me in the development. I very appreciate even the smallest contributions.
Every help counts !
If you cannot or just don't want to contribute, but this project still interests you, please, spread the word. Tell about Codename : STARSHOOTER to everyone you know, family, friends. If you have your own blog about games, I will gladly read your opinion about the project there. If you're a editor for some internet magazine, please spread the news. Write about it, curse or praise. Any reaction will help me make the game better. Personally I hope, that you wont let me alone in this !
Thank you for your time,
Václav Mazaný