The Cluster Documentation Project (CDP) seeks funding to create an open community documentation resource that focuses on High Performance Computing (HPC) clusters. The content areas will cover a wide range of both hardware and software issues and is planned to include basic HPC fundamentals, parallel programming, HPC Cloud, GPU computing, software tools and applications, system design and procurement, and more. The project is expected to have a high impact on both users and vendors.
What You Get And What We Need
The project will focus on "how to" and essential background information. The resource will be created on-line as a wiki similar to Wikipedia and will be open and shareable to everyone. It will also be possible to create books directly from the wiki content. The entire wiki and any derived books will be available under a Creative Commons license. That is, readers are free to re-use, improve, and republish the information provided they keep the original author(s) attribution and do not charge for the content.
Community members can contribute content to the CDP. The project is seeking to raise $20,000 to support a design/managing editor, copy editors, writers, and graphic artists so the content can be produced and presented as a professional resource. The more funds we raise the bigger and better the result! Total funds are expected to be used in the following proportions:
Design/managing editor: 25%
Copy editor: 20%
Writers: 45%
Graphics artists: 7%
Web site 3%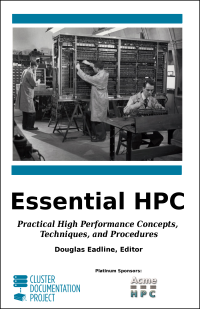 The project will be managed by Seagrove LLC, the publisher of Cluster Monkey. At this point in time, some basic information is already in place at: http://cdp.clustermonkey.net. As mentioned, the project will also create books directly from the wiki content using the WikiBooks module. At a minimum one new book will be professional produced each year. Books will be freely available in Open Document Format (ODF - OpenOffice format), PDF, and as paper books using print on demand. The inaugural book will be entitled Essential HPC: Practical High Performance Concepts, Techniques, and Procedures  and serve as an introduction to HPC.
The Impact
An open reservoir of documentation will help grow the community and market. HPC users and vendors are free to use any CDP content for their own projects and products as long as the license terms are maintained. A professional up-to-date documentation resource will bring HPC to new users and markets. Support beyond the initial start-up period is expected to come from the production of CDP books and vendor sponsorship.
Experience
The principal editor of the CDP is expected to be Douglas Eadline, a practitioner and  chronicler of the Linux Cluster HPC revolution. He has worked with HPC systems since 1988 and is a co-author of the original Beowulf How-To document. Prior to starting and editing the popular Cluster Monkey web site in 2005, he served as Editor-in-chief for ClusterWorld Magazine. He has written numerous articles that have appeared in both print and web based publications and was selected by AMD to write the short, but popular, book High Performance Computing for Dummies.