Our Story
Class 3 Outbreak is a top-down strategy game that lets you live out your dreams of surviving a zombie outbreak in your very own backyard via Google Maps. Players can attempt to survive the zombie apocalypse in their neighborhood by using the C3O Editor to map out their own home, workplace or school. They can even live out the disaster with real life friends, importing them into the game via Facebook. In addition, C3O features classic zombie killing fun, mayhem and base defense

.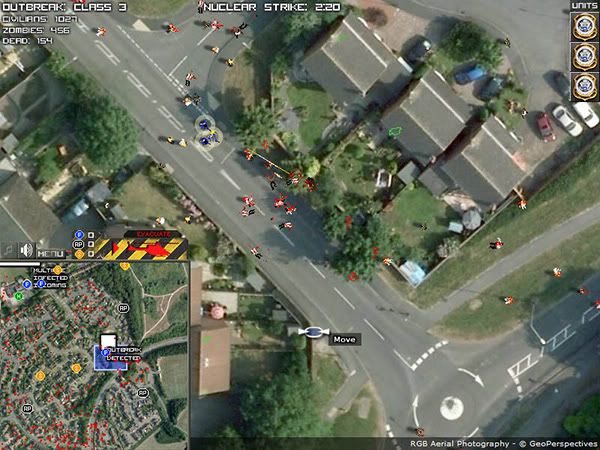 You can play it here:
http://www.class3outbreak.com
Weve been working on C3O for the last 2 years, and have released three versions of it over the last 18 months:
- Zombie Outbreak Simulator (Nov 2009)
- Class 3 Outbreak pilot (Apr 2010)
- Class 3 Outbreak editor (8th Apr 2011)
Our first two releases have been played approx 2 million times.
Our new release contains an editor, allowing anyone to create a map of their own home, work, or school, and then send in the zombies. To date we have around 1000 user-created maps, with over 30 more being made every day.



This is the new version we released several weeks ago. Each red marker represents an infected map.


This is the editor which people use to create their own maps. Users can draw down colors such as red for walls, green for trees. They can then publish their map and share it with friends.
What's so special about Class 3 Outbreak? I mean, I've wtfrofld some zombies in my time, who cares?
C3O is the only game that lets you play in familiar locations with real life friends. No one has ever given you the chance to play out the zombie apocalypse in your neighborhood, in your street, in your very own house and backyard. We will also be importing your friends from Facebook, and while the game will not initially feature real time multiplayer, you will be able to control and order your friends around much like an RTS or RPG, rescue them from zombies, and even shoot them down if they get infected.

Weve got a long list of plans for C3O - here's just a taste of what we are developing:
To begin with, we will be adding controllable civilians in, these will be you and your friends. From there, finding ammo and reloading are next, then probably defenses like roadblocks and barricading.

To track your progress in the game and give players a story like experience, at the end of every day the player will be shown a journal of events that took place, who lived, who died, and what happened. Players who enjoy crafting their own stories can add to this journal and write whatever they please to flesh out their survival story, and then share it with friends.

Your goal is to first survive the outbreak in your neighborhood, and then eventually seek out lost loved ones or friends and rescue them. This will require travel, which will have its own risks and encounters - every city, town or farm house you come across will be different, and have its own story. Some will be utterly overrun, others will have formed defend-able strongholds, others will be on the brink of losing control.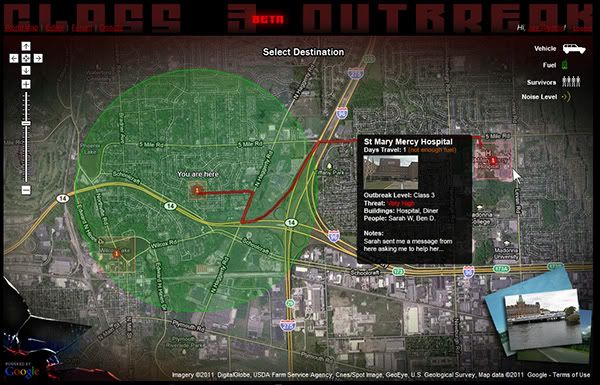 To aid in your survival efforts, players can erect barricades, fortify their home and defend in any way they can. Once your ammo and supplies start to run low, you will need to take some survivors out into infected territory, search houses and find anything that will help you survive. This could be guns, ammo, food/water, clothing (armor), and building materials.

Gaining new weapons and items will be crucial, as we expect to be adding different zombie types in to some degree as the game progresses. To begin, we plan on having classic slow movers, runners and/or zombie dogs and fat/tank like zombies.

In the vein of Dwarf Fortress, your survivors will also have mood levels and relationships that must be managed. If you keep sending out your least favorite mate, Joe into zombie territory on dangerous search missions, he will eventually flip out and leave, take it out on fellow survivors or worse.

Every one of the features above will be prototyped, play tested, and either accepted or rejected based on how it plays.


What We Need & What You Get
Class 3 Outbreak is developed by Binary Space, made up of Jay Weston (creative director, game designer, artist, sound, etc) and Saxon Druce (technical director, programming).
So far weve been developing C3O in our spare time, with over 2000 hours spent during the last 2 years. Our goal is to turn Binary Space into a full-time business.
Weve recently been awarded a couple of grants by South Australian government funding groups:
- $50k from the South Australian Film Corporation
- $10k from the South Australian Creative Industries Program
Were in the final contracting phases on these, and expect to be able to switch into full-time development of Class 3 Outbreak from around June.
This will keep us going for a couple of months, but what then? Were using this IndieGoGo campaign to raise money to keep us working full-time for as long as possible. If we reach our target of $50k, that will allow us to keep working for several more months, and put us on the path to being profitable and self-sustaining. But any amount would still be a big help - well work for as long as we can afford, or work part-time.
Our primary plan to become profitable is to make Class 3 Outbreak freemium. It will always be free to play, but players will have the opportunity to purchase additional features if they wish. Well have a virtual currency via which you will be able to buy extra items such as weapons, and we will offer exclusive paid features as well.
All of the perks listed to the right include free access to all of the paid features, as they are developed. So when we start charging our other players for those, youll get them for free. When we introduce virtual currency, well also give you some for free.
Higher-level perks also include some bonus features, so check them out too!
And of course, whatever amount you give us, youll receive our undying gratitude, for helping us make Class 3 Outbreak a reality!


Who is Binary Space?

Saxon and Jay both worked together at a AAA PC developer, Ratbag Games for a combined 8 years, releasing Powerslide (1998) and Dirt Track Racing (1999). Saxon has over 13 years of professional software development experience, including programming, technical leadership and product management, in the gaming, defence and resources industries. He has coded C3O in his spare time, 2 hours a night *after* working a full day job *and* with a family. He is a committed man! Jay was an artist then game designer at Ratbag for 5 years and has run his own small business, Hyperfocal Design for 8 years. He also made almost every creative asset in the game and came up with a pretty cool idea to have zombies on Google Maps!
Testimonials and Praise
"I have a lot of respect for those who see a new piece of tech, or a new online tool, and their instinctive response is: I wonder how that can be a game. Thats very much the approach taken to Google Maps by Australian indie team
Binary Space
. 2010?s Class 3 Outbreak will take place within the top-down view of Googles mapping technology, where a zombie attack is taking place. A squad of humans as they try to stay alive in the real-world streets for as long as possible. Its a splendid idea, no matter how omnipresent zombies may be at the moment."
John Walker: Rock, Paper, Shotgun
"The RTS web game
Zombie Outbreak Simulator
plops you down into a Google Mapsprovided area of Washington DC swarming with zombies. The outbreaks details are up to you: How many civilians? Are they armed? Its a killer timewaster (GET IT?)."
Dan Nosowitz, Gizmodo
Other Ways You Can Help
Even if you can't spare any money, you can certainly help spread the word to people who can! Use all the Share tools, tell your friends, post about us on Facebook and Twitter, get on blogs, forums and zombie/game fan sites! Thanks!