**If Vimeo is blocked for our friends in China, watch our video on Youku**
Help us open China's first Cinnamon Roll shop
Visit our website at www.CinnaSwirlChina.com
UPDATE!!! 
CinnaSwirl has been nominated for Best Cottage Industry in That's Shaghai's 2013 Food Awards
Three years ago fresh out of grad school came to China with little more than a few suitcases.
Seven months ago on a popular Shanghai internet forum, a fellow Shanghai Mama was asking where to find cinnamon rolls. A friend recommended Heather's cinnamon roll recipe from her blog. After some ladies made them and loved them, people started asking if she was selling her cinnamon rolls. Heather always had a secret dream to open her own business. So why not start selling her cinnamon rolls? As soon as she announced they were for sale, the orders immediately started pouring in.
We've now had hundreds of happy CinnaSwirl customers. Check out these rave reviews from a number of magazines and online publications here in Shanghai: 
SmartShanghai:  Sweet News! Cinnamon Roll Delivery
City Weekend:    CinnaSwirl's Cinnamon Buns
Shanghai Family Magazine:  CinnaSwirl Girl
Sherpa's Blog: CinnaSwirl at Egghead Bagels
Now we are ready to open a shop but we need help to get this started up. We have lots of interested investors and we will open a store, but we would like to hold as much equity as we can. We are hoping that by offering awesome perks at way lower prices than you could buy them in America, we can fund our store without taking on too many investors.
Why We Need To Open a Store
Instant Access: Currently all customers must order one day in advance via our website. Based on requests from customers, we know that filling same-day orders will significantly increase our sales. With a store, we will be able to fill same day orders and customers will have the option to walk in and pickup fresh, warm cinnamon rolls hot out of the oven without a preorder.  
Serve Chinese Customers: We understand that this is a new product for Chinese and that the number one factor that attracts people is the sweet fragrant smell that comes from fresh baked cinnamon rolls. Our store will enable us to attract and serve Chinese customers which is essential if we ever hope to grow in meaningful ways.  
New Products: With a dedicated store, we will be able to roll out new baked goods that we have developed such as apple pie cinnamon rolls, pecan rolls, walnut rolls, cinnamon swirl raisin bread, monkey bread, seasonal items, etc.
The overwhelmingly positive feedback and support from our customers, both local Chinese and the Shanghai expat community give us confidence in the future success of our cinnamon rolls.  Our cinnamon rolls are the result of months of development, customer feedback, sourcing of the finest ingredients, and insights from experts in the food science industry. We have learned how to adapt our recipes to local preferences.  The results speak for themselves, rave reviews from our customers with 65% purchasing multiple times.
Location
We are looking for a 30-50 sq/m street-facing storefront in the mid to northern Jingan area with a total monthly rent of 10k-15k RMB. We have already identified some ideal locations that suit our needs. This will allow us to be much closer to our customer base while still offering deliveries. CinnaSwirl will be a destination location and locating in a less-prime location will reduce our overhead and risk.  
Why we need $75k
Indiegogo will take 9% and after fulfilling perks, we'll hope to have funding right around $40k USD to make this happen. Business incorporation and location rental will be our biggest costs. We can take advantage of some of the cheap items available in China to reduce our required costs. Here are the essential expenses.
Incorporate business and obtain licenses - $10k (and 4 months)
Location deposit/rental till we open - $10k
Good quality rack convection oven- $10k
Remodel location - $4k-8k
Proofing Oven - $3.5k
Large mixer, commercial refrigerator, cooling racks, prep tables ~$3k
These essentail items will require about $40-45k. We already have acquired many things we can use in the new store but there are many things that we will acquire on our own to get this bakery off the ground! (i.e. commercial sink, display cases, ventelation system, shelving units, scales, delivery boxes, signage, spicer grinder, pos system, software, uniforms, printers, etc).
Ways You Can Help
We hope you will take advantage of some of the awesome cool stuff that we are giving away and also pass on this video and message to your friends and family. 
Please share this with your friends and family and help us get more people on board to share our campaign, especially if you know people outside of China who would benefit from the perks we are offering. 
The Impact
This really is a win/win situation. You get to take advantage of our "China know how" that we've accumulated over the past three years and get some awesome hard-to-find stuff at a great value all while helping us fund our dream. How cool is that?
We have worked really hard on this business. We're very proud of what we have accomplished thus far with CinnaSwirl and we know with your help we will have even more success. 
We appreciate all of the friends and family that have supported and assisted us during the last few years as we've taken this journey to work, live, and grow in China. 
**Now check out this awesome stuff**
China Connection!!! Free shipping on all items!!!
Keep in mind, all shipping is free unless otherwise noted (i.e. Your weight in Cinnamon Rolls). We will be able to deliver all items to North America (USA & Canada) but some items we will be able to deliver to other areas (Europe, Australia, South America, Africa, etc.) due to logistics, costs, regulations, and import tariffs. All items will be delivered to your door. Reference the chart below for perks and eligible areas. Questions? Email us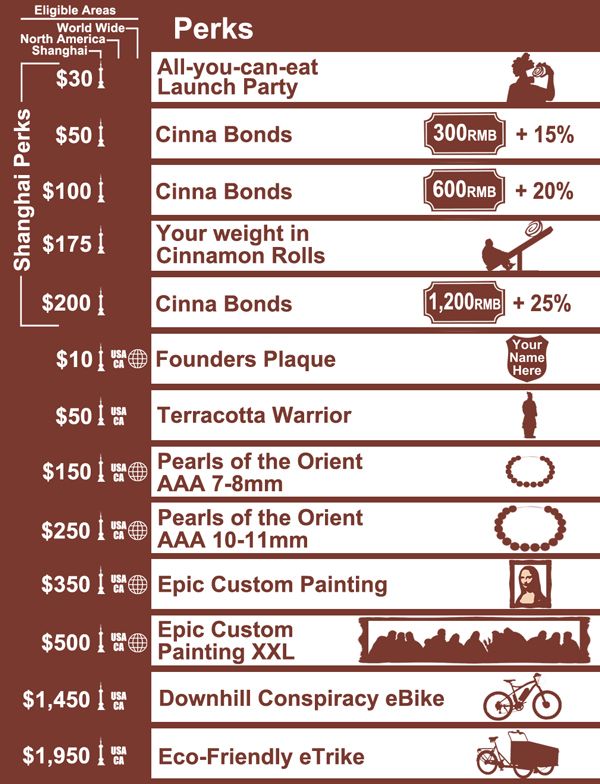 Founder's Plaque
In our new shop we will have a large plaque on the wall with the inscription of EVERY donor. If you live here or you are in Shanghai for a visit, stop in, find your name, and know you helped to make our dream possible! Have a cinnamon roll while you're at it. Until that time we will pay homage to you on our website on special page entitled, "CinnaSwirl Founders"
All You Can Eat VIP Launch Party
(Shanghai only)
How many cinnamon rolls can you eat? Prove it! You'll get one ticket to our exclusive VIP Grand Opening party with all-you-can-eat CinnaSwirls! Plus we will be debuting new products for you to sample. Be the first to try out our new Apple Pie CinnaSwirl with Vanilla Bean Icing or our Pecan CinnaSwirl with Caramel Icing. Who knows what other new delectable recipes we'll come up with between now and then (we won't give everything away; we want you to be a little surprised). The expected date will be October of 2013 once we are ready to open the store! 
**New Perk***
Cinna Bonds

Due to popular demand, we are giving you a way to invest in our store and get paid back in Cinnamon Rolls…with interest! We are issuing Cinna Bonds in 300 RMB, 600 RMB, or 1200 RMB amounts that can be redeemed for CinnaSwirl products at a 15%, 20%, and 25% discount. You will be given RMB vouchers that can be redeemed when our store opens for CinnaSwirl products.
When used, each voucher will receive a discount that corresponds to the amount donated.
$50 Donation – Receive 300RMB Cinna Bond vouchers and a 15% in store discount on items purchased.
$100 Donation- Receive 600RMB Cinna Bond vouchers and a 20% in store discount on items purchased.
$200 Donation- Receive 1,200RMB Cinna Bond vouchers and a 25% in store discount on items purchased.
Here is a breakdown of the numbers.
| | | | | |
| --- | --- | --- | --- | --- |
| USD Donation | RMB Vouchers | In-Store Discount | Purchasing Power (RMB) | Nominal Return |
| $50 | 300 | 15% | 345 | 17.6% |
| $100 | 600 | 20% | 720 | 25.0% |
| $200 | 1,200 | 25% | 1,500 | 33.3% |
For example, if Cinna Bond are used to purchase 100 RMB of CinnaSwirl products at a 25% discount (100*.25 = 25 RMB), the total will be reduced to 75 RMB which can then be paid for in 75 RMB of Cinna Bonds. The rate of return is the amount that was saved (25 RMB) divided by the amount paid (75 RMB); 25/75= 33.3%.
Terms and Conditions:
Can only be redeemed in our CinnaSwirl store*.
CinnaBonds are transferable and can be given to friends or colleagues.
Only valid for CinnaSwirl products
May not be used to pay for delivery fees.
Not eligible for cash back
May not be combined with Cinna Bond's of different discount values.
*If a CinnaSwirl store is not open by July 1st, 2014, Cinna Bonds may be redeemed for CinnaSwirl products at www.CinnaSwirlChina.com. 
Terracotta Warrior Statue
(ship to China and North America only)
The legendary Terracotta Warriors were a life-size army built to accompany the first emperor of China into the afterlife and only discovered 40 years ago in Xian, China. Now you can have your very own Terra Cotta Warrior to accompany you on your way to success in life. This Terra Cotta Warrior statue stands approximately 12 inches (30 cm) tall and comes packed in an elegant, padded gift box. You can choose from a Civilian Officer, The General, The Warrior, or the Kneeling Archer. They are clay statues with a styled faux bronze or antique finish. Upon donating, we will send you an email to ask your statue preference. The default order will be The General. Free shipping!
Your Weight in CinnaSwirls
(Shanghai only)
This is your BIG chance. With this donation, we'll give you your weight in cinnamon rolls. We'll have an official weigh in, record your weight in kilograms, and you will then be entitled to that many CinnaSwirls. 1 kg = 1 CinnaSwirl. They can be redeemed over time as deliveries (in half dozen quantities) or when our store opens you can pick them up at your leisure. They do not need to be redeemed all at once.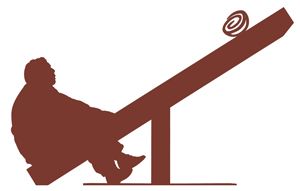 For example, if you weight 60 KG, you will be entitled to 60 CinnaSwirls. If you are 150 KG (mercy!), then you'll be entitled to 150 CinnaSwirls. All weights will be rounded up to the closest number divisible by 6 (i.e. 74kg/6= 12.3 -> rounded to 13 = 13 half dozens = 6.5 dozen = 78 rolls. Don't worry, we have it all figured out).
We "weighed" the options and while we knew this might be a bit "hefty" of a perk, we decided we're willing to "eat" the cost even though this will be "weighted" towards those whom gravity has greater hold upon.
Note: Delivery will be available to Puxi addresses that fall within our delivery area/capacity. Delivery fees will apply. For customers in Pudong we are happy to arrange a pick up.
We've got a couple of ways to do the weigh-in 1) weigh-in at our store when it opens, 2) send a scanned copy of your passport/photo ID and we'll use the weight in your ID to calculate your cinnamon rolls (I bet you wish you hadn't fudged your weight on those ID's now don't you?), or 3) send us one full bodied picture of you wearing shoes (in normal clothing) and another with you standing on a scale in those shoes. 
AAA Freshwater Pearls
(free shipping worldwide)
China produces the majority of freshwater pearls and is the largest center for pearl trading in the world. Jared has purchased many pearl necklaces in China and helped many friends who have come to visit. For this perk, Jared will be making his way to Zhuji, China, the center of pearl trade in Asia, to hand pick high grade AAA pearl necklaces direct from the pearl-farmers so that you can get high quality pearls at a super China-direct discount. 
These pearl strands are princess length (approx 18inches/46cm), and have sharp reflective luster and beautiful round shape. They are carefully hand-picked to and matched according to color and tone. The individual pearls will range from AAA to AA+ in quality. You can request white, metallic white, pink, lavender, and black.
7-8mm AAA Freshwater Pearl Necklace: This necklace is the most popular size and delivers stunning elegance. These usually retail for $400 to $850 or more.
10-11mm AAA Freshwater Pearl Necklace: This beautiful necklace symbolizes all the beauty that pearls have to offer. Definitely will stand out in the crowd. These usually retail for $700 to $1,600 or more! 
This guide here will help you to conceptualize the size of the pearls. Real pearls are farmed from oysters and not manufactured, therefore there is always slight variability in the size. Pearl strands are commonly assembled in ranges within a 1mm variance, hence the 6-7mm and 10-11mm pearl necklaces. 
This is a quick guide to pearls for your reference. Take note that pearls are rated along the luster (shiny-ness), surface (how "clean" they look), shape (the "roundness"), size, and color. Grade AAA and AA+ pearls are pearls are considered to be high luster, very clean, round pearls.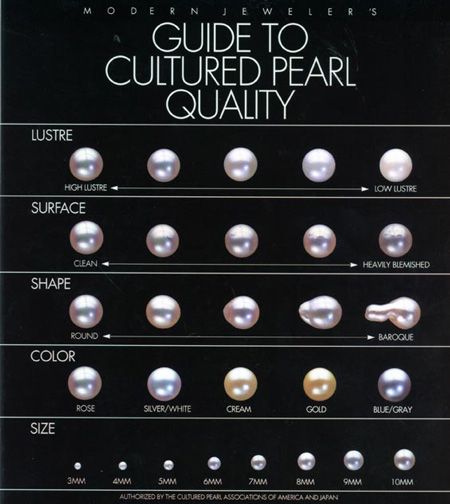 Epic Custom Paintings
(free shipping world wide)
Send us any high quality photograph, picture, or painting and we will have it painted by hand on a 20x24in (50x60cm) or 30x40in (75x100cm) canvas at a fraction of the cost that you would pay in the States. Trust us, these artists are good! Just check out some samples of their work. They can do people, buildings, pets, landscapes, religious paintings, movie posters, art replicas, photoshopped images, you name it. They can paint it in style ranging from "photo realistic" to "abstract" using oil on canvas.  They do so many paintings a year, we believe they are the best in the world at replicating.
Upon receiving your donation, we'll send you a confirmation email with next steps. You'll then need to send us the high quality photo/picture you wish to have painted along with any direction or guidance as to style. Once the painting is completed, we'll send you a picture of it for your approval. They are happy to accommodate any changes or rework as you see fit. After drying, the canvas painting will be rolled in a tube and shipped to your address so you can then have it framed in the style you choose.
The Epic Custom Painting is for 3 or fewer figures (faces, animals, detailed objects) for a photo-realistic 20x24in (50x60cm) painting and the Epic Custom Painting XXL is for 3-6 figures or up to 30x40in (75x100cm) size canvas painting. We can do larger paintings or even those with more figures, it just may require additional cost so please contact us! We can also accommodate larger or unique sizes. Please contact us with your questions! 
PLEASE NOTE: Make sure your picture is exactly as you want it painted. If you wish to remove a blemish from your face, photoshop it out BEFORE we have them paint it. Don't expect creativity, expect an aweseome painted replica of your image.  
Click here to see an album of paintings from our artists!
Downhill Conspiracy eBike
(shipping only to China and North America)
We love exploring Shanghai on our electric bikes. We save so much money each month by not driving a car thereby reducing congestion, eliminating pollution, with the added benefit of exploring parts of the city that would be impossible to see in a car. If you've never ridden an eBike before, see what you have been missing! 
Jared searched high and low of the perfect bike for this perk and this is by far the coolest ebike available. After finding it, he went the very next day to visit the factory, make sure it met high quality standards, test it out, and work out a distribution deal for this perk. 
The motor is pedal-assisted; once you start pedaling the motor kicks in and accelerates you towards top speed. Sleek battery, smooth ride, sexy design, quality hardware = AWESOMEST. BIKE. EVER.
Specs:
Aluminum alloy frame, 26" alloy rims
Centrally mounted 250w geared brushless motor
36V 8Ah ultra-lightweight Lithium-ion battery
Tektro mechanical front and rear disk brakes
Shimano gears and derailleur (8 speed)
Range of ~40 miles (~60km)
Top speed ~25mph (~40kmh)
Battery charge time 4-6 hours
Size 68x9x32in (172x23x80cm)
Weight 60lbs (28kg)
Check out this video of Jared's test ride at the factory.
Click here to see a slideshow of more bike pictures.
This eBike comes in either a white or black. We'll send you an email after your order to ask which one you'd like. Default will be white. 
Free shipping! Questions? Email us
Eco-Friendly eBike
(shipping only to China & North America)
While Jared thinks the mountain eBike is the coolest bike ever, Heather would like to respectfully disagree. This cargo bike is every mom's dream bike! With seatbelts for four kids, you can take all of your kids on a bike ride at the same time! And unlike a bike trailer, the seats are located in front of you so you are able to keep an eye on all your kids the whole time you are riding. This bike is perfect for those quick trips to the park, library or store where it is too far to walk but silly to take a car. If you think about how many trips like that you take every week, you can see that the gas savings add up quickly.
This isn't just any ordinary bike, this is an eBike people! With the ability to go up to 18MPH, you really can use this as a 'green' alternative family vehicle. This bike can be used either with or without the motor engaged. You can use this bike for exercise but if the hills get tough when you're all loaded up, you can turn on the electric motor for a little help! The kids are sure to love this mode of transportation and you'll be the envy of your neighborhood as you cruise around in this baby! Cargo bikes like this one have been big in Europe for a long time and we think it's time that friends in the States be given the opportunity to own the coolest family bike around!
Reinforced steel frame
330 lbs (150 kg) weight capacity in the cargo area
Space for 2-4 children
Three-point safety belts
V-brakes
Shimano 7-speed gearing
Frame mounted wheel lock
36V 12Ah ultra-lightweight Lithium-ion battery
250w brushless electric motor
Max speed ~18mph (~30kmh)
Range of 18-25 miles (30-40km)
Battery charge time 4-6 hours
Size 88x33x43in (225x85x110cm)
Weight 130lbs (60kg)
Many people seem to have questions of how this bike turns, so the factory gave us a video so you can see: Watch it here. 
The box of the cargo bike comes in either black or white. The bike frame comes in 11 colors and you can choose any combination you want. (ex: Red frame/black box, black frame/white box, blue frame/white box, etc...) We'll send you an email after your donation to ask which box and frame color you would like. This bike also comes with a removable rain cover! Free shipping! Questions? Email us