What is Chameleon?
It's the world's first customizable skin speaker.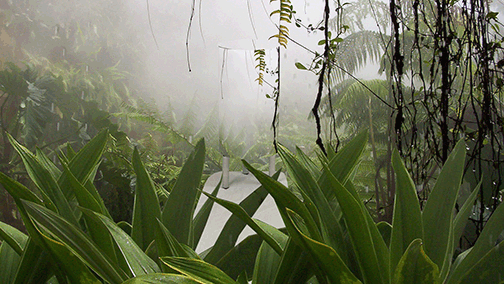 Chameleon is a speaker with a gazzilion different looks. You choose and create the look. It uses a unique hidden magnetic skin system. Allowing you to change the look quick and easy anytime.
It's the last speaker you will ever need. 
Why?
Because the possibilities are endless. Limited only by your imagination and creativity.
All the skins above can be changed in under a minute, yes all nine of them using our unique hidden magnetic system as shown below.....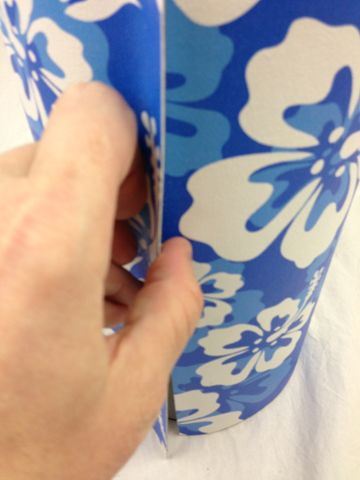 Chameleon is a tube shaped loudspeaker. It stands 16 inches tall and 7 inches in diameter. Any flexible material, such as fabric, leather, plastic, veneer etc. can be used. It comes in a stand alone bluetooth model with built in amp, and also a non powered pair. You can use them on bookshelves, beside the computer, home theaters systems, bedroom etc. More on the tech side in a bit….
The sound is phenomenal and the looks you can create will blow you and your friends away. 
You watched the video right? Did it get your imagination going?
I've never seen friends and family so excited to get a speaker. One uncle made it look like a beer can, my cousin a computer programmer put C+ on it, his brother a circuit board. An aunt made it match her gorgeous faux finish on the wall. My father a gear head made it look like carbon fiber. Others have done cartoon characters and puppets like Elmo. They have done animation stuff, movie posters, the list is endless.
Below is a video clip from the main video showing what is possible. Sorry if some of me is in the shots. I tried to get out of the way. I just couldn't stop playing with this speaker. You will probably do the same.
Anything can be printed and attached to the Chameleon's unique backing system. Then placed on the speaker. My jaw dropped when I saw all the fabric at my local fabric store. Rows and rows of skins ready for your Chameleon. The store had easy to find Star Wars and Star Trek licensed fabric. I have the Star Wars on now at home on my desk. An old girlfriend loves the Burberry pattern look. My mother put her favorite travel photo on the skins.
Yes the Fabric is licensed under copyright and is legal to use.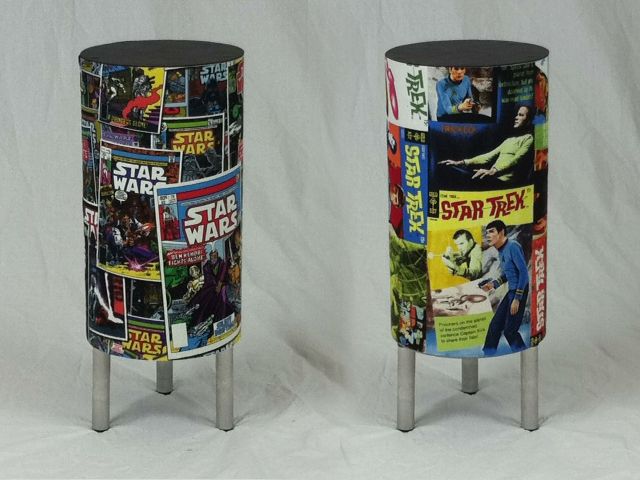 Chameleon's are an exciting product because it stirs your imagination! It brings out your creative side. It's also pretty cool that they play music and sound awesome. It took years to find the right combination of materials to make the perfect speaker for you. For the last year I've tested them and tried my best to find weaknesses and fix it. I've played every kind of movie, every kind of music, downloads, cd's and vinyl. I've played them soft and full on loud for hundreds of hours. When a neighbor called the police, the police were blown away that the Chameleons were that loud. I'm sure you will never play them that loud unless it's a party, but I just had to test them to see. 
Oh and little to no distortion at high levels.
When you pick the Chameleon up you will notice its solid and heavy. It has a plastic body that is filled with a metal material that makes it like a rock. The aluminum or stainless steel legs are hollow and filled with lead shot. This means the only thing vibrating is the woofer and tweeter itself. The feet feature hemisphere 3m sorbothane bumpers. Not only do they protect the surface it sits on but the protect from unwanted vibrations. Sorbothane was partially invented by NASA. It protected the Space Shuttle cameras during launch, it's used in Wilson baseball gloves and it protect the Liberty Bell from vibrations. So it must be good!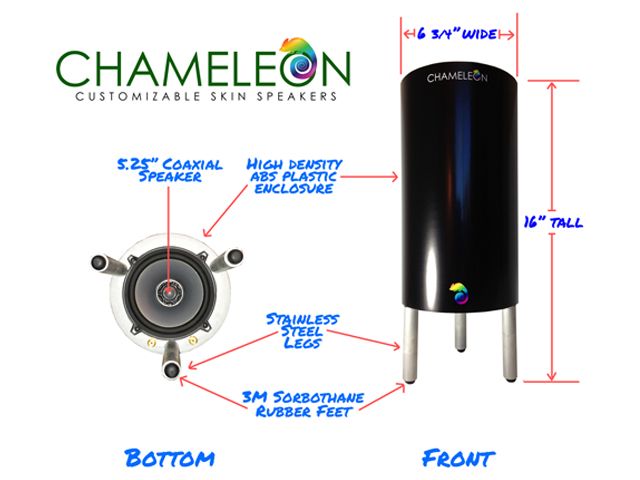 About Chameleon's Bluetooth!
The Chameleon is available in a stand alone powered bluetooth model. Then as a home theater pair that is non bluetooth. To be honest I prefer the pair.You can use them anywhere. On each side of the computer, tv or bed is great. You will need a stereo amplifier for the non bluetooth pair. If you contact me I will give you a list of small stereo amplifiers for the pair. You have a ton of inexpensive options with the amplifiers. $20 get's you a class T stereo amplifier that connects to your tv, computer, phone, iPhone, mp3 player or iPod.
Why Do I Need Chameleons?
You need Chameleons because they look cool, sound great, they will be the last speakers you buy, they are so fun to customize and they will impress your friends. When they see yours they will want them also. Good thing is no two Chameleons have to look alike.  Just think you will never be stuck with boring ugly speakers again.
What Is The Performance?
The speaker component itself is manufactured by Swans. It was designed by Frank Hales who owned swans until it was sold to HiVi in California. The original coaxial speaker component was used in Saab and Passat high end car audio systems. Frank still works for Swan's and they continue to win awards at the CES in Las Vegas every year. 
It took me three years of testing dozens of components to find this perfect performer. As for the techno garble the speakers produce 91 decibels of sound pressure. The nominal power handling is 40 watts 60 Hertz to 23,000 Kilo Hertz. Maximum power handling is 120 watts. These guys really kick!
The tweeter is mounted in the middle of the woofer. It uses a neodymium magnet to push a treated fabric dome to produce the highs. A polymer woofer with a rubber surround is there for the lows. As for the non bluetooth pair, you can attach bare wire, a spade fork, or banana plug to the gold input terminals. 
With the Bluetooth standalone Chameleon it's easy to connect any bluetooth device. Just use the pairing feature! The Chameleon itself uses a rechargeable battery system charged with an ac wall adapter. This battery is easily removed and replaced if needed.
Why we need your help?
I've been building these speakers by hand for a couple of years. I've been using several pairs in my house. They were basically just for me, then when I started changing out the skins, friends and family took notice. I had to make more of them. Word built up about them. After having one small kickstarter project to test the waters I decided to list the Chameleons. With the money I hope to have the speakers injection molded. The injection molding die is not cheap. Everyone should be able to buy a Chameleon that they can customize. It helps people be creative, it's fun, it's unique and it's about music. Nothing better than that. Also nothing better than helping me with my life long dream of starting a speaker/product company in the USA and being able to hire employees and support my community. The money will also be used to start other Chameleon versions, smaller and bigger units as well as other kickstarter ideas I have.
Production Plan
All the Chameleons will be made here in the US by hand. They are very simple to make. I have two workshops and a 20 x 40 foot area for production. The goal is to raise enough Kickstarter pledges to be able to injection mold the enclosures to increase efficiency and quality. I have many prototypes and many completed Chameleons that were made without injection molding. They were molded in house, through a slower process. Skins can also be made in house with two large format fabric, canvas and plastic paper printers. Chameleons have under a dozen parts that are easy to source. I live in an area with great access to plastic molding companies. I will have no problem fulfilling orders and shipping anywhere in the world. 
About Me.
My background is graphic design. I was an Art Director at the southeast's biggest ad agency for many years. I've spent the last ten years selling music online through amazon. Well as you know tangible music sales are almost gone now. I did get really good at shipping over the years and hiring people to help. I also did the storage wars gig long before it was on tv. I've basically been a jack of all trades. Living life to the fullest and learning everything I can. 
On the side I always was designing speakers and other products. I spent most of my childhood taking things in the house apart. I wanted to see how things worked. The rest of that time up to now I built things. At 12 years old I taped copper wire to plastic cling wrap on an old picture frame. I placed magnets underneath and hooked the wires to an old stereo. Shazam! I had sound and was hooked ever since on building sound making devices. I was always found of tubes as speakers. They are easy on the eye. In fact I had created the Chameleon Speaker before it was called that long ago. Of course it had no skins. I saw the explosion of skins in the computer and phone industry. So I put the two together to fill a necessary void.
With my background, experience in graphic design, product design, working with people, marketing and shipping I think Chameleons will be an excellent stepping stone for me. 
Last Words.
Thanks for your support. If you have any questions please ask. It's a pretty simple product, easy and fun to use. I'm sure though there will be questions and I'm here with answers!
Special thanks to my english bulldog "Cory" he tried as much as he could to help with the photo shoots and video, but ended up sleeping on the job!