Before anything else...
Play the demo!
That's why you're here, right? :D
If you'd like a quicker look at the game, check out the gameplay trailer.
Who is this guy?
Hi! I'm Ruari O'Sullivan, aka randomnine. I used to work for Frontier Developments Ltd. Two years ago I decided to take the money I'd saved up, strike out for myself and go indie.
Through 2011 I did several smaller games. I made Beacon, a 15-minute platformer in space. I made Fear Is Vigilance, a game about punching people who don't have safety alarms until they're scared enough to take safety alarms. Both were covered on Rock, Paper, Shotgun; Fear Is Vigilance was sponsored by Newgrounds. I also did some contract work, a few small mods like this custom level for VVVVVV, and most importantly here helped out with later versions of Ido Yehieli's Cardinal Quest. 
It was a fun year, if a bit scattered. I worked on lots of small projects and managed to stay afloat - but I want to do something bigger. I asked Ido what he thought about making a full-blown sequel to Cardinal Quest. He said yes!

What's the game about?
Cardinal Quest 1 was a streamlined turn-based dungeon crawler. Cardinal Quest 2 is bigger, better and deeper; you've got way more control over how you make your character and the game's procedurally-generated environments and challenges are much more varied.
It's had a massive interface overhaul to make it sleeker and easier to play, including a snap-decision interface system to present you the important choices and get rid of fussy inventory management. The biggest new feature is the talent system - a range of unique upgrades for each of the six character classes which helps you build every character up in their own uniquely overpowered way.
I've been working on Cardinal Quest 2 since January. I think it's pretty fun already (but please, download the demo and judge for yourself!). However, I want it to be BETTER and THE MOST AWESOME IT CAN POSSIBLY BE.
I want to make it three chapters long, with unique environments, monsters, bosses and challenges in each. I want to flesh it out with little mini-sidequests. I want to add some real surprises in; rare items that'll really change your game when you find them. Most of all, I want to bring people in to completely redo the art, extend CQ1's soundtrack with all-new music just for CQ2. Maybe even to overhaul the sound and develop the setting.
Problem is... I'm broke!
So here's the deal.
You can play the demo of the current version, right now, for free. Go on - play it! Then come back.
If you pledge a little, you'll get the game for Windows, Mac or Linux at a discount when it comes out. If you want to continue your game before then, pledge a bit more and you'll get direct beta access within 24 hours. You'll get the entirety of the game's first chapter as it stands; you'll also get regular updates as the game improves, with full talent trees and improvements to the Ranger, Pugilist and Paladin coming up soon. You'll be able to see it taking shape and tell me how to make more fun for you.
Throw in a bit more and you'll get the first game's soundtrack, plus CQ2's once it's commissioned. Go further and there's a beta access bundle that gets you access for your friends at a discount.
If you bought Cardinal Quest 1 before December 8th 2011: as we've announced before, you'll get Cardinal Quest 2 for free - because you're awesome and we love you. If you pledge for beta access anyway, get in touch and we'll throw in the soundtracks gratis.
What will the money be used for?
Making the game! It'll be done by March 2013 at the latest - possibly sooner - and it'll be a heck of a lot better than it is now.
After Indiegogo and payment processing fees are deducted, here's where the money's going:
$8,500 art budget to redo all game artwork at a higher resolution
$6,000 programming budget to make the game much, much bigger
$2,000 music budget to expand the soundtrack
$1,500 in fees, software, hardware, sound effects and general contingencies
This is a fixed funding campaign. If it doesn't clear the goal then your money will be refunded. I'll then have to wrap up the game fairly quickly, put it out as it is now - one chapter long, with low-resolution artwork. It'll be OK, but with your help I think it could be so much more.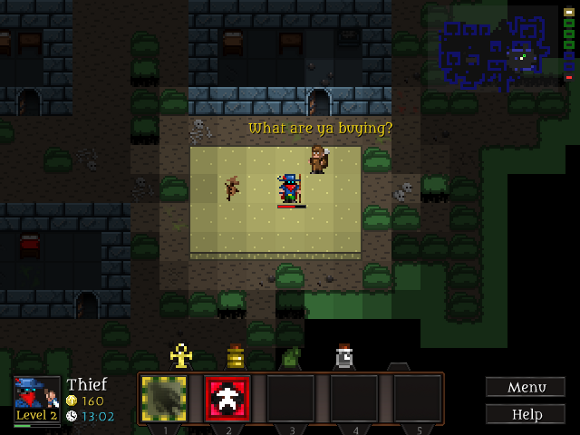 Awesome! I've pledged. How else can I help?
Well, Cardinal Quest 2 is on Greenlight. Vote it up! If it gets on Steam, all preorders will come with Steam keys as well as a DRM-free alternative.
If you pledged $25 or more, you'll receive an email with a link to beta downloads within 24 hours. Please bear with me - I need to go through the list once or twice a day and send out the emails manually, it's not automated. :)
Finally - tell everyone you know! Every single dollar pledged will help make the game you're getting better, so spread the word.
Thank you for being amazing.
Lots of love,
randomnine