Quick overview of our project:

Here at Greensburg GreenTown, we are trying to finish an eco-demonstration home called the Meadowlark House. This house will be built to Passive Standards (using 80-90% less energy than a conventional home) with many more sustainable features to boot.  The goal of the Meadowlark is to promote sustainable building strategies as well as small green changes to eco-tourists who visit Greensburg.  Visitors will get free tours of the home and the option to stay in its Bed & Breakfast to experience green living in depth! The project was started with all the funds secured, but an unforeseen circumstance with our primary funding source left GreenTown needing to secure additional funding to complete the home.  We are raising money for siding, exterior doors, windows, and the installation of those items for the home.  Thanks for your interest!
Greensburg, KS: Model Green Community

Five years ago, the town of Greensburg, KS was destroyed by a 1.7 mile wide tornado.  Eleven people lost their lives and 95% of the town was destroyed, but in the wake of this tragedy, the resilience of community was apparent.  They decided to stay in Greensburg and rebuild it as a model sustainable community.   While it may seem odd that a green agenda took hold in the traditionally conservative state of Kansas, to the people of Greensburg, sustainable rebuilding just made sense; it conserves resources and saves money. Thus, the nonprofit Greensburg GreenTown was formed.  GreenTown's mission was to help the people of Greensburg realize their sustainable mission by providing resources for environmentally conscious reconstruction. Sustainable building is key to reducing environmental impact and conserving energy because as of 2011, buildings accounted for 47.8% of US energy consumption as opposed to transportation (28.1%) and industry (23.2%)!
In 2011, GreenTown was ready to take the lessons they learned in Greensburg's "living laboratory" of sustainable building  to help other communities rebuild after disasters. Since its creation in 2007 GreenTown has seen 10,000 visitors from 48 states and 16 countries!
Chain of Eco Homes:
In the wake of the disaster GreenTown conceptualized the Chain of EcoHomes project. This project allows visitors to see sustainable residential reconstruction first hand, without having to intrude on private homeowners. GreenTown's first EcoHome, the Silo EcoHome, was completed in 2010.  The Silo Home gives visitors an opportunity to see sustainable practices first hand and actually use different technologies. Some of the sustainable features in the Silo Home include: concrete building envelope, round form (for wind resistance), bamboo floors, a green roof (planted with sedum), dual-flush toilets, repurposed furniture, and more.  Visitors also have the option of spending the night in our Bed and Breakfast in the Silo Home to get a fuller experience of sustainable living.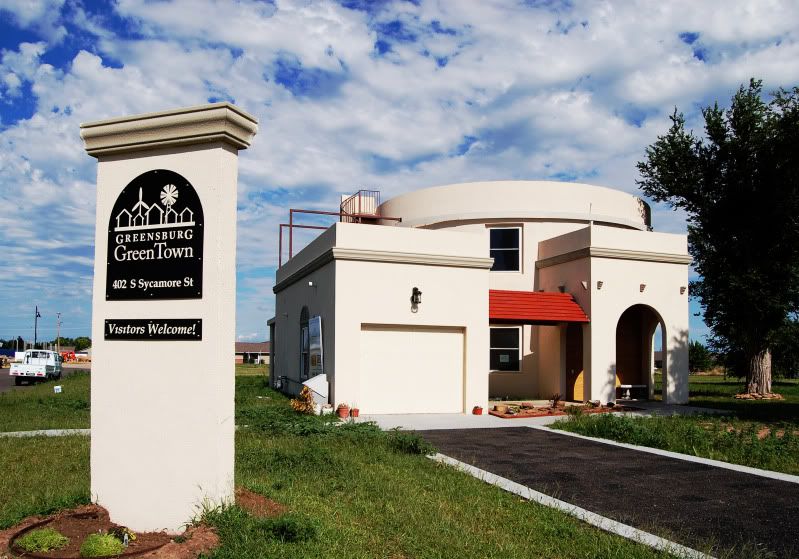 The Silo Eco Demonstration Home

The second project in the Chain of Eco Homes that GreenTown undertook was construction of the Meadowlark Home.
This home adds to the experiential learning opportunity by offering new products and features to explore.  After an intensive selection from 250 designs, the Meadowlark design was picked featuring wooden insulation blocks (popular in Europe, but not yet established in America) and Passive design.  Passive houses are very well-insulated, practically air tight homes, that can use up to 90% less energy than traditional home design.  The house generates heat primarily through passive solar gain (the increase in temperature from solar radiation) and internal gains from people and electrical equipment.  The house stays cool by means of solar shading, window orientation, and an energy recovery ventilator. Passive design is achieved through strategic positioning of the house in relation to the sun, large windows to allow for natural daylight, superinsulation in the walls, roof, and floor, natural ventilation via window placement, and other design considerations.
Meadowlark is a naked home facing an impending winter

.
Construction began on Meadowlark with a clear, bright future with all the funds secured, but an unforeseen turn of events with our primary funding foundation left GreenTown in need of having to raise additional monies in order to complete the house.

The foundation, building envelope, and roof of the house are complete, except for windows, doors, and siding.  Please help us reach our $50,000 goal, which would get us windows, doors, and siding, plus installation.  The windows are triple pane with frame insulation, which will keep with passive house standards by maximally conserving energy.  The windows are especially critical to energy conservation because they let in natural light, which lets in heat energy during the winter. This heats the concrete floor, which means the overall heating needs for the home are reduced. Solar shading protects them from doing heating the house during the summer. The doors and siding are critical for the house endure the winter.  All of these items will bring us a big step closer to completing this second eco home.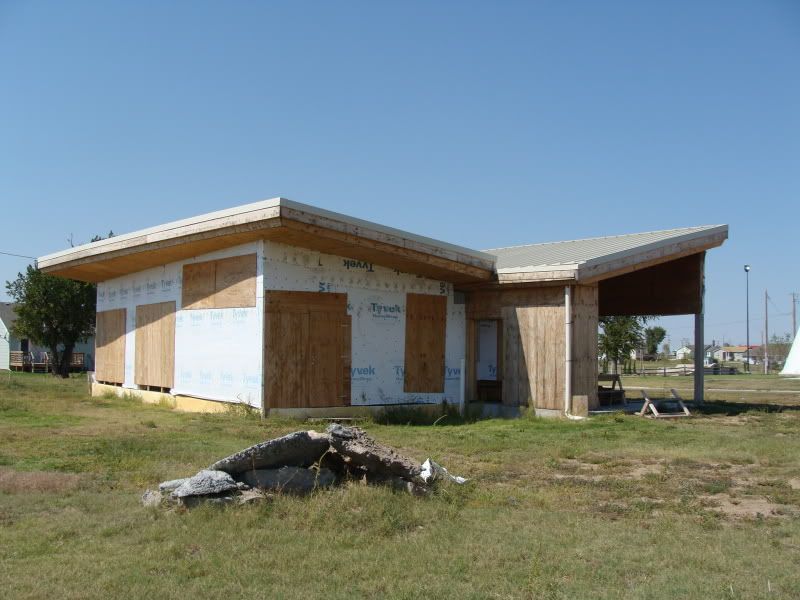 Meadowlark's current state of affairs. 
Your donation will help us bring sustainable building concepts to the American public.
When the house is complete it will be free and open to the public, showing visitors another way to build sustainably!  The system of wood blocks used for the Meadowlark is not used by any other building in America, so the Meadowlark house has already made history.  We just have to finish it.  When visitors experience the sustainable practices we have implemented here in Greensburg, they are inspired to incorporate those practices into their projects.  From the figures in the first section involving energy expenditure, green building has the most potential to cut down our energy consumption in the US.  We have companies who have pledged to donate energy efficient appliances, landscaping, patio, lighting fixtures, and more, but who cannot make these valuable contributions until other aspects of the house are finished. Your contribution will help get the US on the right track to cutting the energy consumption of our buildings down to size by educating our visitors on how we do so.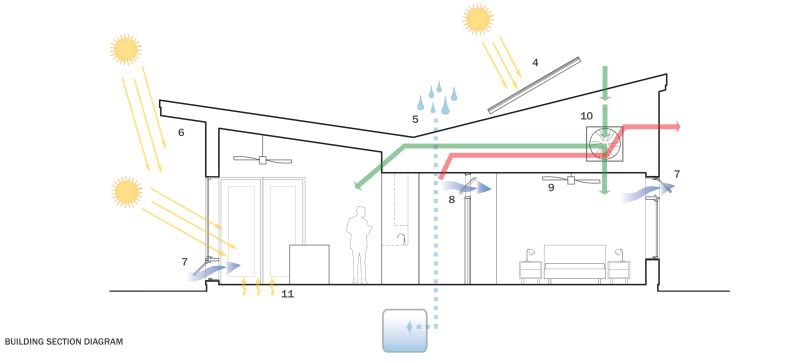 Passive House concepts employed by Meadowlark.
Some testimonials from our B&B visitors:
Greensburg and the Silo Home are truly ahead of the curve and I look forward to taking some of the things I learned back to my home and the surrounding areas.
- Tony Germain, Midland, MI
I leave here inspired and replenished...The house is a unique and inspiring home with a truly brilliant vision for the world. And it's super comfortable!
- Lisa, San Diego, CA
An AWESOME concept and inspiration for making small eco-friendly, sustainable changes to our own homes. Thanks for being the "green" that matters.
- Amity Moore and Ashway Lawver
This house is like a classroom! There's so much to learn.
- Anna Bagely
My hat is off to you for inspiring us all to do better and to go outside the box in our general thinking. Thank you for inspiring and keep up the good work.
- Leo French, Liberal and Glenn Elder, KS