Boyland – A New Film by Gabe Rubin
Set in present day, a trail blazing new film,
Boyland
will tell a story of a controversial and forbidden love.
Boyland
is a narrative work but with a strong focus on experimental elements. It is co-written and directed by Gabe Rubin. One summer day Meyer, a sixty year-old photographer and artist meets James, a fourteen year-old juvenile delinquent at the beach. A tumultuous relationship develops that tests both of their capacities to love. Rubin paints the story of their passionate, complex and at times disturbing relationship against the surreal backdrop of a sensual fantastical dreamworld. In this dreamscape, Gabe delves deeply into the darkest secrets of pederasty with a pioneering approach that is both innovative and haunting. Utilizing rich multimedia references from the worlds of art, music and poetry Boyland is a radical and unforgettable coming of age story.
The Plot
A 14 year-old juvenile delinquent James is left stranded on a beach in the San Francisco Bay Area after an argument with his foster brother AJ. Left to his own devices James meets Meyer, a sixty year-old artist with a passionate interest in young boys. A tumultuous but profound relationship develops between Meyer and James over the course of the summer in Meyer's hideaway home deep in the woods. Meanwhile James' foster family are looking for him. James enjoys his new life with Meyer and especially the discovery of a pederastic fantasy picture novel written by Meyer called Boyland. He ultimately convinces Meyer to invite his artist friends over to reenact his novel. During the course of the Boyland performance the darkest secrets of Meyer's past and his controversial world will be revealed...
Production Details
 Boyland will be approximately 90 minutes long.  The majority of the film will be shot in digital on location in Inverness, CA, July 2013.   Additionally film stills and drawings will be incorporated into the end visual treatment.  The film will star poet, novelist, actor, director Kevin Killian as Meyer.  It will introduce James Coarse as James.   The film is written by Felix Bernstein (Unchained Melody) and Gabe Rubin.  It is directed by Gabe Rubin.
WHERE YOUR MONEY IS GOING
 -Costumes (we are designing original costumes from the 16th to 17th century for the dreamscape scenes)
 -Props
-Sets
 -Lighting and camera equipment
 -Travel and Expenses to San Francisco
If you like Boyland but are unable to donate at this time, please forward the page to someone you think could help.
WHO'S BEHIND THE FILM
Kevin Killian (playing Meyer)
One of the original "New Narrative" writers, Kevin Killian has published three novels, a book of memoirs, and three books of stories. He is also the author of two collections of poetry and forty plays for the San Francisco Poets Theater. Recent and upcoming projects include The Visitor Owl, a hybrid film/live action performance staged at SFMOMA (with artist D-L Alvarez); Nude, a book of poems by Killian and artwork by Ugo Rondinone; and the limited edition artist book, Tagged: Variations on a Theme by Kevin Killian (all 2012). His new photographs showed at White Columns in 2012. He was a featured actor in Mickey Mahoney's trans video soap Traverse City. 
He has starred in countless SF poet's theater performances, including recently:  "I Confess!" by David Brazil and Evan Kennedy, "The Ascidian Play" by Laynie Browne,  and "James Bidgood," in "Life on Mars: The James Bidgood Story" by Stephen Boyer. 
Gabe Rubin
(director and co-writer) 
is a filmmaker and musician from New York and a student at Bard College. Gabe is the co-author of The Real Alice in Wonderland book, as well as an accomplished classically trained musician and composer (winner of the Beethoven Award at Horace Mann School). Gabe has been making videos for the past three years as an extension of Gabe's musical and gender bending theoretical passions. This will be Gabe's senior project for Bard. Gabe currently is working at Tribeca Film Festival.  Influenced by: Lewis Carroll, James Barrie, Larry Clark, Mike Kuchar, James Bidgood, Kenneth Anger, the Legend of Zelda, and Marc Bolan
Felix Bernstein (assistant director and co-writer) 
is a filmmaker and writer from New York. He has been making videos since his satirical Coming Out Video was uploaded to YouTube in 2008. Since then he has made many videos with Patrick Urbankowski, Mabel Greenberg, and Gabe Rubin. He has played Amy Winehouse, Minnie Mouse,  Lady Gaga, and his own invention Partridge Poppins. 
He was a featured performer in George Kuchar's late diary films, Red Krayola's opera Victorine at the Whitney Biennial 2012, and Andrew Lampert's multimedia piece for the Whitney restaurant, 'Synonym for Untitled.' His own performance art was featured in the poetry/video series Totem VI. His critical writing has appeared in the Brooklyn Rail and his first narrative film Unchained Melody will show at Anthology Film Archives in September, as part of their show and tell series. 
Andrew Lampert, "Bernstein's eye-popping, loosely-hinged videos are based in performance, but equally concerned with formal framing and editing structures, not to mention bouncy musical numbers. Overflowing with an energy and braininess that is way too smart for online viewing, Bernstein's work addresses gay themes and the media landscape in a way that combines big laughs with real sentiments and deep resonances."
Mabel Nash Greenberg
  

(art director, playing the role of Pippa) 

is a filmmaker and musician from New York. Her recently completed film Electropia! (filmed by Patrick Urbankowski) is a Trecartian spectacular with a feminine twist. It's joyous, hysterical, fast but also emotional, human, and real. Her command of contemporary pop culture is outstanding but no less than her ability to recreate its meltdowns and fashions in playful, femme-inist art works. Her make-up, costumes, and art direction are on display in full force in Felix's Unchained Melody. View her recent videos here.
Patrick Urbankowski (cinematographer) 
is an engineering major at Rutgers University. He has been the cinematographer of many of Felix's videos (including Unchained Melody), as well as for Mabel's Electropia! He is currently pursuing a career as a set and stage designer, and has recently finished working on Hafsteinn Gunnar Sigurðsson's upcoming film. 
James Coarse (playing James)
is a performer and musician. Born in and survived in Newton, MA by his mother, sister, and brother, he graduated college and was shown around the world. He has played on stage and has been recorded. He is interested in beauty, perfection, and sensation. His band is called Brainwave Bionics. 
CA CONRAD
CAConrad is the son of white trash asphyxiation whose childhood included selling cut flowers along the highway for his mother and helping her shoplift.  He is the author of A BEAUTIFUL MARSUPIAL AFTERNOON: New (Soma)tics (WAVE Books, 2012), The Book of Frank (WAVE Books, 2010), Advanced Elvis Course (Soft Skull Press, 2009), Deviant Propulsion (Soft Skull Press, 2006), and a collaboration with poet Frank Sherlock titled The City Real & Imagined (Factory School, 2010). He is a 2011 Pew Fellow,  a 2013 Banff Fellow, a 2013 MacDowell Fellow and a 2014 Lannan Fellow. Visit him online HERE
Unchained Melody (2013)
(director/writer Felix Bernstein, assistant director Gabe Rubin, cinematographer Patrick Urbankowski, art director Mabel Greenberg) (Cast: Felix Bernstein, Cole Heinwoitz, Charles Bernstein, Susan Bee, Tony Torn, Shelley Hirsch, Gabe Rubin) (Screening at Anthology Film Archives in September)
Robert Kelly on Unchained Melody "Using all its gaudy over-the-topness it created for me a powerful sense of deep anxiety, yearning, sorrow even, that empowered the gorgeous imagery, the rich complexity of montage.  I was thrilled by the whole thing—the richness most of all, the real use of color, street, mouth and music detached, the stammerings of fancy.  And after all the excitement, that haunting resolving image of Gabe's face.  I don't often see such complexity of gesture and feeling on the screen.  A beautiful film."
Electropia! (2013)(directed by Mabel Nash Greenberg, cinematography by Patrick Urbankowski)
An impressionistic, melodramatic soap opera about Veronica, a blues-singer and star, who has publically fallen from grace into a state of isolation and depression. Bombarded by a constant cycle of images of: "terror," corporate greed, conspicuous consumption and the earth's disintegration, Veronica is paralyzed by shame, anxiety and fear and must navigate cyberspace in order to find sisterhood and enact social change.
Link coming soon.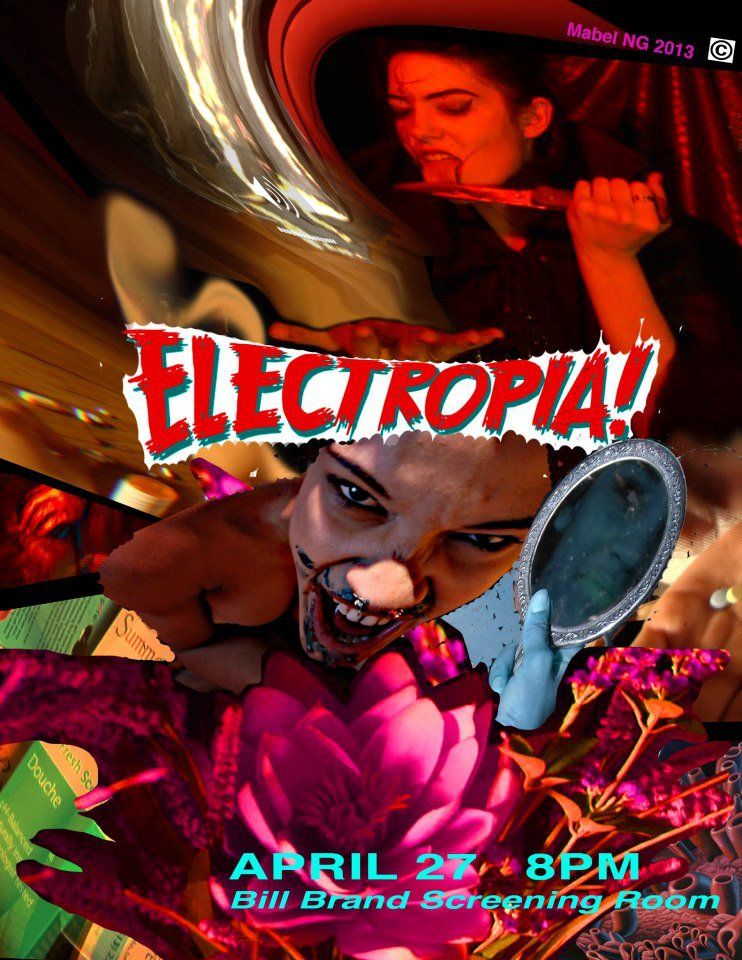 I'm Not A Girl, I'm A Vampire (2013) (directed by and performed by Gabe Rubin)
A stream of webdiaries from an emo teen 'vampire.' Inspired by Wolfy Blackheart.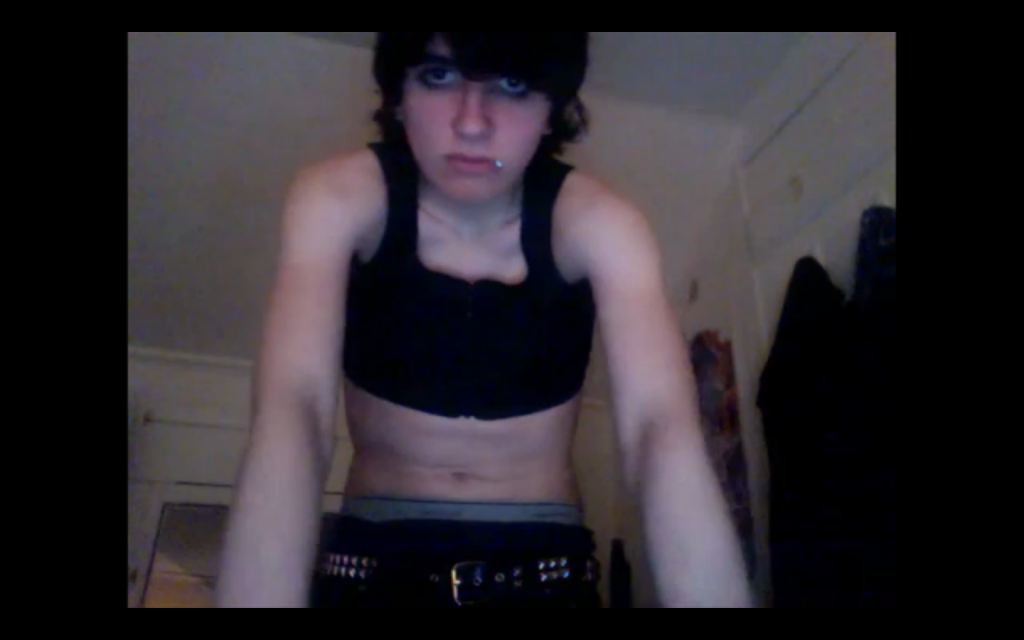 CA Conrad reads "Preternatural Conversations" from jubilat 20
Elmo Sings Send in the Clowns (2012) (Directed and Edited by Gabe Rubin. Written by and starring Felix Bernstein)
Felix sings Elmo Sings Stephen Sondheim's Send in the Clowns (boys) to his puppeteer Kevin Clash and alleged 'lover' of the young Cecil Singleton. The scandal cost Kevin Clash his job. And Elmo lost his original puppeteer.
JonBenét Ramsay Story (2012) Super 8, 16mm, digital stills, and video. (directed by Gabe Rubin)
A stop-motion animated film about the murder of JonBenét Ramsey on December 26, 1996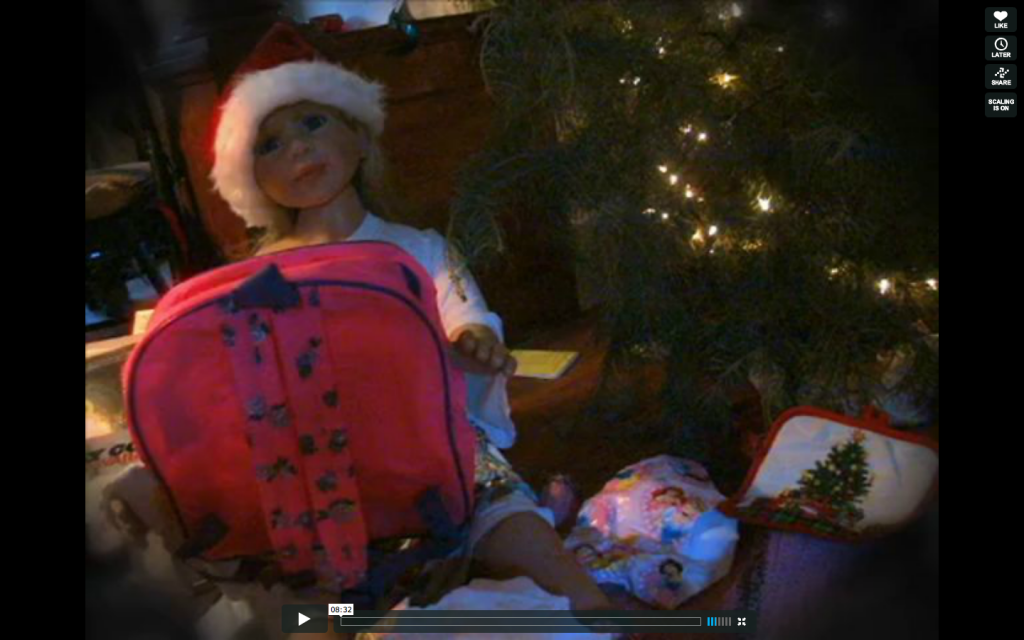 Liarsexual, The Game (2011) (made and performed by Gabe Rubin)
Inspired by Cindy Sherman's work Doll Clothes (1975). Gabe plays a cyber dress up doll, who exchanges clothes and personas at the click of a button.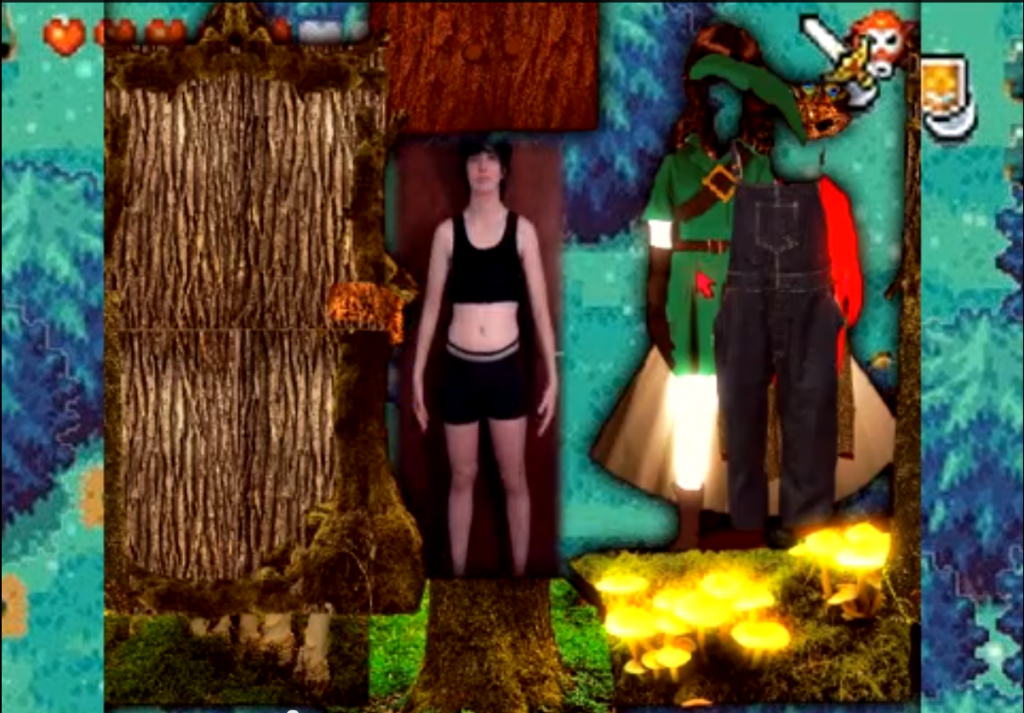 Boy Crazy (2011) (Directed by/starring: Felix Bernstein. Kirk Nurock: Piano. Assistant Director Gabe Rubin)
Felix's life in musical cabaret form. Felix plays rabbi father Mordechai Bernstein, baby Felix, the narrator, and the Bitter Drag Queen.  Kirk Nurock is my therapist at the keys, and boy is he great! 
Don't Leave Me Alone in My Space (2011) (made and performed by Felix Bernstein)
A bizarre YouTube talking head.
Bjork's Necrophilia (2011. Directed by and Starring Felix Bernstein and Gabe Rubin)
Themes of gender/homosexuality/transexuality, horror, and artifice are blended together in this Flash animated musical, in which, weird female celebrities (Bjork, Kate Bush, Yoko Ono, Joanna Newsom, and Antony Hegarty) broadly discuss the Internet, technology, and woman.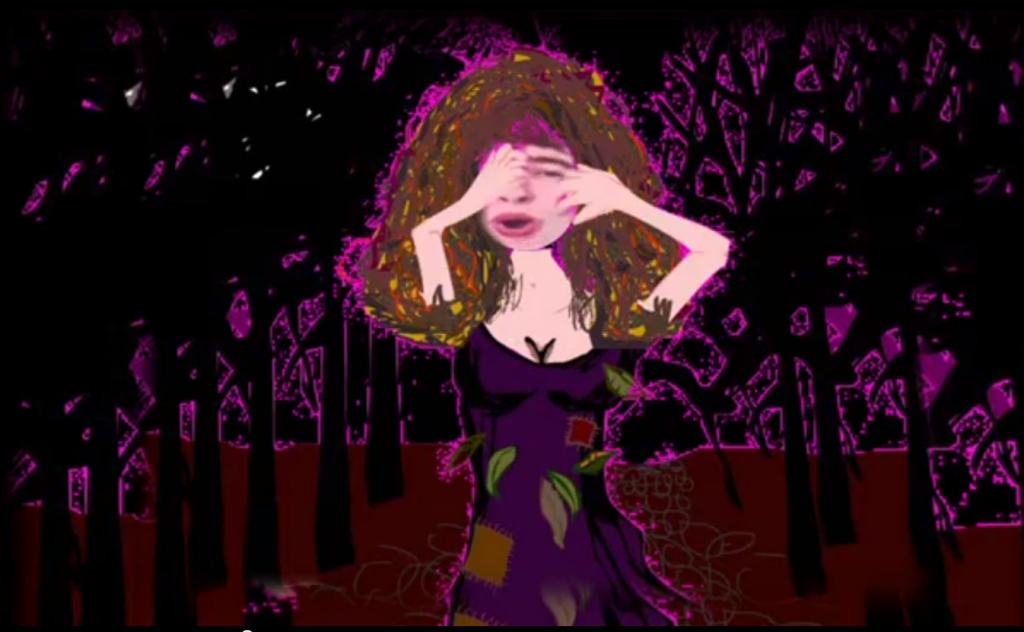 Hope is a Birdsong (2010. Video by Mabel Nash Greenberg).
A lo-fi digital poetic pastoral portrait of Mabel's sister, Violet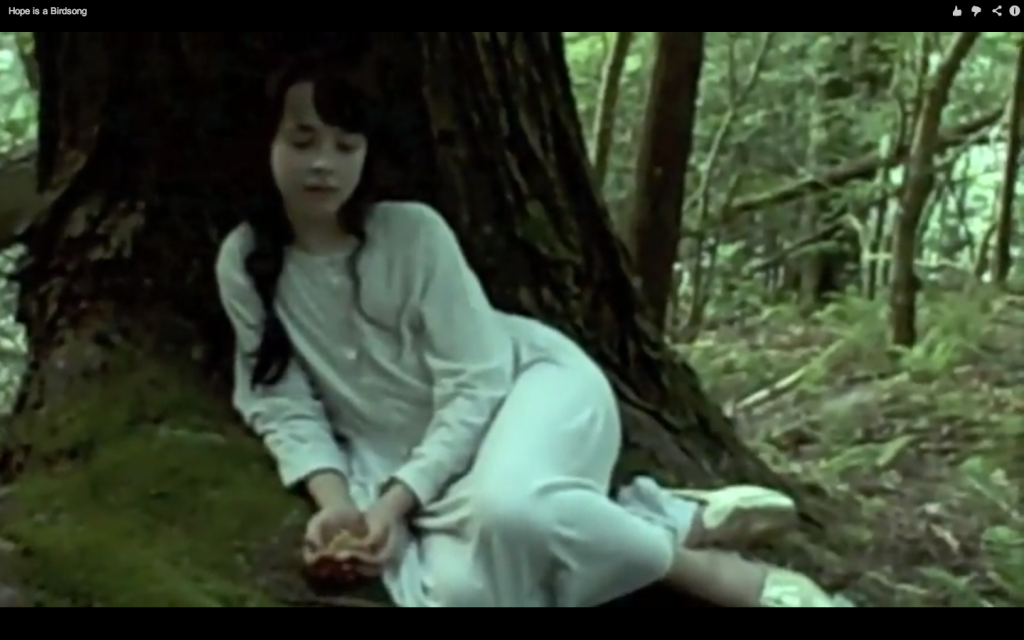 Cinderella: The Drag Musical (2010) 
(Directed by Felix Bernstein. Make-Up by Mabel Nash Greenberg. Cinematography by Patrick Urbankowski)
Inspired by the Kuchar brothers and K. Gordon Murray, a bunch of my friends got together with me at my grandmother's house to re-open the space of kiddy-dress-up games, remake the Wonderful World of Dizzy's multiculturalized/campified Rogers and Hammerstein's Cinderella or as it's known among us kids: Brandy Cinderella, and revisit the traumas of our youth: our indoctrination into rigid archetypes, demeaning stereotypes, and happy Hollywood storylines: opening up the phony, corny, bathos of the high-school musical to idiosyncratic vision, perversity, satire, and critique...and we did it all in glorious, fabulous, rainbow color, and very HIGH definition! –FB