Greetings! Welcome to our BLIND WHINO: SW Arts Club x G40 Art Summit Indiegogo!
Our main objective in seeking your support flows through two main goals:
[GOAL #1] To raise funds for continued improvements to the 138 year old building nestled in Southwest Washington DC in our Nations Capitol. Although we have cleaned up the building and commissioned two amazing artists to paint the Exterior (HENSE - ATL) and Interior (MEGGS - AUS) of the building there is still quite a bit to do. We need to further improve the building with items such as painting on resin floors, bringing in 20 additional artists to paint the exhibit halls and project spaces, changing of light fixtures, repairing of the roof and items of the like.
[GOAL #2] Once our goal is met to solidify all cosmetics within the space we can initiate the second phase which is to raise funds for additional programing at our annual G40 Art Summit held in September 2013.  We are planning to do a full lineup of programming throughout the month to bring residents from DC, Maryland and Virginia down to the Southwest Waterfront. Programming will consist of Art Related Events, Musical Performances and Art Workshops. We are also planning a Private Fundraising Concert with special celebrity guests hosts and musical entertainment to help fund our project. 
BEFORE @ 700 Delaware Avenue Southwest Washington DC (2010)
The BLIND WHINO: SW Arts Club will inspire the community to spread the arts throughout Washington DC and will consist of Art related events such as art workshops, art exhibits and art events.
The building has remained vacant for two decades and will be coming back to life from the inside out with your support! 
Our gallery's presence in the SW community initiated with the completion of the full mural wrap of the 700 Delaware Avenue building by Atlanta based artist HENSE. This project breathes new life into the neighborhood with a colorful and lively facade that enlivens the urban landscape.
AFTER @ 700 Delaware Avenue Southwest Washington DC (2012)
The success of this initial intervention was followed by the recently completed mural by Australian artist MEGGS. This second project brings life to the interior of the building with its graphic primary colors and colossal scale. Now that there is life both inside and out, the building will be a inspirational beacon for patrons within the DC region to come to the space and be overwhelmed with Art in a scale unlike anything seen before.
MEGGS Detailed Interior Mural @ 700 Delaware Ave (May 2013)
BLIND WHINO: SW Arts Club will house multiple project rooms for artists to do full scale art installations as well as ally the circulation spaces to house a massive group art show with the theme of "Transformation". The DJ Lounge area will be key for dedicated brand programming with large murals by world renewed muralists. The second floor will host the main performance area with a panoramic mural painted on the ceiling and walls of the space. This will be the feature platform for headlining entertainers to perform to up to 600 people.
1st Floor Layout @ BLIND WHINO: SW Arts Club
2nd Floor Layout @ BLIND WHINO: SW Arts Club
With over 15,000 square feet of potential art exhibits & entertainment, the images below showcases the BEFORE & AFTER  visuals. 
BEFORE @ 700 Delaware Avenue SW Washington DC (March 2013)
AFTER @ 700 Delaware Avenue SW Washington DC (May 2013)
It has been amazing to see the transformation of this beautiful building with new life brought on by these awe inspiring large scale artwork and with your help we can continue to transform this building to make it a gem in the Nations Capitol.  This will require a LARGE commitment of product and financial support, respectively. With the incentive packages to the right and samples of the rewards below, hopefully YOU are able to support US!
Perks:
Reward Print Samples (MEGGS, HENSE, Angry Woebots)
Blind Whino Schedule Specifics:
Location: 700 Delaware Ave SW, Washington, DC 20001
Located less than one mile from the US Capitol, within 4 blocks of 2 Metro Stations
Private VIP Fundraising Concert:  September 2013
G40 Art Summit Exhibition: Sept 13th - October 6th, 2013
Open Hours: Thursdays/Fridays: 7p – 11p  &  Saturdays: 12p – 11p
G40 2011 Recap:
Over 200 artists took over 25, 000 sq. ft (4 floors) in a transformed raw space tucked away on a heavily traveled 14th Street in the heart of the U Street Corridor. With 30 days of programming we housed live concerts, dance parties, celebrity panels and more. We even hosted a public daytime lounge with free Wi-Fi and endless free hydration of Vitamin Water, our G40 2011 corporate partner. Check out the Vitamin Water Uncapped Live Reel below for a full recap:
14th Street & Florida Avenue Northwest DC (G40 2011 Recap)
About G40 2013:
Art Whino will be teaming up with Suite Nation to present a month-long, multi- experiential Art Summit with extensive art programming and musical performances throughout the exhibition month.  This year's theme is the "Art of Transformation" and the exploration of reclaimed spaces and objects. These will range from using found objects to create art installations, to transforming the space using artwork. The location of G40 Arts Summit this year will be an awe inspiring experience, as every inch is an all surrounding work of art. The building itself has a rich background. Completed by James A. Boyce over a 12-year period in 1875, it exhibits an eclectic Victorian style with Romanesque, Gothic Revival, and Queen Anne elements.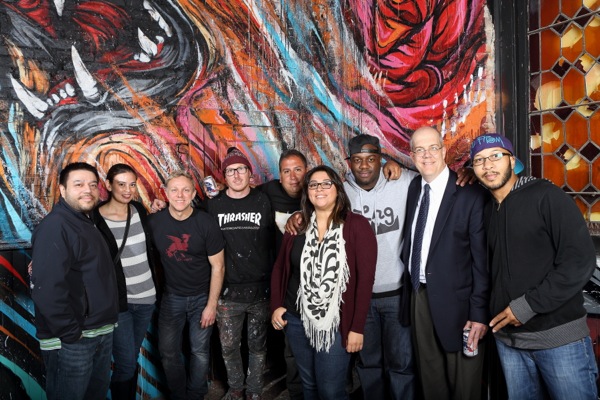 About ART WHINO:
Art Whino is a DC based art gallery whose mission is to bring together the pioneers and freshest talent from around the world. With over 1200 artists in the Art Whino arsenal, ranging from California to New York, Germany to Japan and beyond, Art Whino has become an all encompassing force in the art world. Exhibitions cover the whole spectrum of new art forms ranging from exposing emerging stencil and wheat pasting artists to showcasing the most skilled leaders of many different genres. http://artwhino.com/
About SUITE NATION:
The Sneaker Suite, originally launched in 2005 as a conceptual creative footwear showcase, served the community for over 8 years with custom branded events highlighting corporate sneaker entities such as Nike, Reebok Classics and more through high level productions such as Sneaker Pimps and Kicks for Kids Charity Shoe Drive. In 2008, the Sneaker Suite birthed a more focused category subsidiary entitled Suite Nation, a DC-based national event design firm serving clients outside the sneaker realm offering seamless one-of-a-kind opportunities for increased brand awareness and brand loyalty; providing a consistent, dedicated, influential audience for brand advertisers accordingly. http://suitenation.com
About HENSE:
Born and raised in Atlanta, Brewer has been painting for about twenty years. He developed much of his technique in the street as a prolific graffiti artist and later muralist, working under the moniker HENSE. Atlantans have long enjoyed his verve for capturing the energy of place in commissioned public art for the City of Atlanta on the Beltline, the Shops Around Lenox, and for the permanent collection of public art at the Atlanta Office of Cultural Affairs. Brewer has also painted in numerous U.S. cities outside of Atlanta and abroad in Spain, France, Japan, Taiwan and Mexico. His work has been exhibited in galleries in Atlanta, Los Angeles, Minneapolis, Miami, New York, Richmond, San Francisco, Tokyo, Taipei, and Barcelona. His client list also includes AOL, Adidas, Sprite, Hilton Hotels, TED, T-Mobile, Ford, and Kia. Brewer recently erected a large installation at the Museum of Design Atlanta and at the of July begins a large mural at the Virginia Museum of Contemporary Art. After a humble beginning roaming the roads with a spray paint can as a young man, his career has recently exploded like the pastel shapes and scribbles of his paintings. Selected exhibitions and projects include "Soft Light," Sandler Hudson Gallery, Atlanta, GA, (2008); Mark Making in Black and White, Sandler Hudson Gallery, (2011); "Letters First," Tokyo, Taipei and Barcelona, (2006); "Skate it or Hang it," Museum of Design Atlanta, (2012); Public mural, Virginia Museum of Contemporary Art, Virginia Beach, VA, (2012); Float, Public mural, City of Atlanta Office of Cultural Affairs, (2011); Loose, Public mural, RVASAF, Richmond, VA, 2012.
About MEGGS:
Growing up in the Eastern suburbs of Melbourne, David 'Meggs' Hooke, immersed himself in the worlds of drawing, cartoons, sci-fi films and skateboarding. In 2000 Meggs graduated from University with a Bachelor of Design and soon after became recognized for stencils and poster art on the streets of Melbourne. In 2004 Meggs became a founding member of the renowned 'Everfresh Studio' a unique collective of street artists known for large amounts of collaborative street work and aerosol murals. In 2010 Meggs art directed and designed the 'Everfresh:Blackbook' a 254 page publication documenting the studio's members, lifestyle and artworks from 2004-2010.The Everfresh Crew have more recently had collective artworks exhibited as part of 'Space Invaders' at the National Gallery of Australia in Canberra, as well as being the first artists to exhibit at the National Gallery of Victoria's (NGV) new NGVStudio space at Federation Square in Melbourne. Thus confirming this unique group's status as historically documented pioneering artists within Australia's 'graffiti & street-art' culture.