BlackGirlsCODE's 2012 Summer of Code is a sponsored project of access4artists, a global talent discovery platform that works for all artists.
"A child educated only at school is an uneducated child"  
Today there is a huge epidemic taking place across America. In low-income neighborhoods across the country thousands of children of color are not being offered high-quality education. There is a digital divide separating our country and our children are stuck in the middle. It is said by 2015 (3 years from now) 80% of new jobs will require a technical degree:
          IT'S TIME TO PREPARE OUR CHILDREN FOR THE FUTURE!
On June 17th, 2012, BlackGirlsCODE (BGC) will launch our Summer of CODE Campaign.  Our goal is to teach computer programming to more than 300 boys and girls from underrepresented communities, in 90 days, in more than 7 cities across the United States.   We are launching this BGC Summer of CODE Campaign to emphasize the importance of technology education and achievement for our next generation of citizens.   We are especially focused on giving girls from African American, Latino, and Native American communities the opportunity to learn valuable tech skills and to plant a seed that may "Change the Face" of the future of tech!
Why the emphasis on girls?
"Educate a man and you educate one person; educate a woman and you educate an entire nation"    -African Proverb
Since 2011, BlackGirlsCODE has been committed to providing girls from underrepresented communities access to technology and the 21st century skills necessary to become the tech leaders and creators of tomorrow. 
But we need your help!
 The Issue
Women make up half the college-educated workforce in the United States, but hold less than a quarter of professional or managerial roles in computer science, mathematics, engineering, and the life and physical sciences.
Women's attainment of bachelors degrees in Computer Science has steadily decreased from a high of 27% of degrees awarded in 1984 to less than 18% of degree holders today.
Among minorities, this disparity is even more pronounced: Hispanics make up more than 15% of the US population but earn less than 7% of bachelor's degrees in computer science. African Americans, about 13% of the population, earn less than 5% of these degrees. Minority women, of course, fare the worst; roughly 0.03% of female Hispanic freshmen intended to major in computer science in 2006, while African American women make up a paltry 4.8% of the graduate enrollment in computer science.
For those few women who do make it through college and enter a career in technology they will find that there are very few women of power in their field.  Women currently hold less than 3.6% of corporate president positions.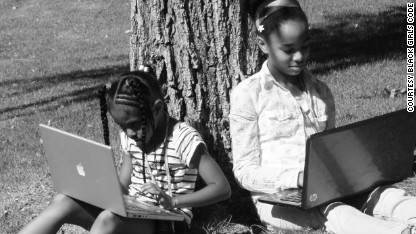 The low number of Latinos, blacks, and women in technology mean that they are virtually non-existent as potential role models for the thousands of African American and Hispanic youth who will be the majority of the domestic workforce within the next decade. U.S. census data suggests a gradual shift in our population demographics. 
Minorities now make up nearly 37 percent of the overall U.S. population, and the census bureau has 

forecast that non-Hispanic whites will be outnumbered in the United States by 2042. 
The future of innovation both here in the United States and abroad depends on ensuring that ALL of our kids are given the opportunity to learn the skills that will be needed to fuel the creative engines of growth that are driven via technology.  We can't afford as a nation to let a generation of students be left behind by the wave of innovation and we NEED your help to secure the  future of these bright young minds.
The Impact
We started BlackGirlsCode -- as a volunteer organization focused on introducing girls of color from underrepresented communities to technology  - to address this disparity and "Change the Equation". By exposing girls to technology creation and mentors at a young age, we hope to spur lifelong interest and cultivate the next generation of tech leaders and creators while empowering them with important 21st Century job skills.
Since our launch in 2011, BlackGirlsCode has held workshops in several cities on computer programming for girls of color ages 7-17 in the San Francisco Bay Area and Chicago.  We are experiencing tremendous growth here in the Bay Area and in other cities.  Our June 30th class was booked in less than 2 weeks with more than 50 girls registered AND a large waiting list!
We have bootstrapped our programs to get started and to reach the girls which need our programs "by any means necessary".  We need your help to continue to grow.  It is our goal to become the model program for training girls of color in technology and we plan to feed more than 10,000 young women into a robust pipeline of future tech entreprenuers and leaders over the next ten years.
To kickstart this journey, during our 2012 SUMMER of CODE, BlackGirlsCode plans to reach more than 300 students by holding one and two-day workshops and summer camps in seven or more cities in 90 days (San Fransisco, Oakland, Chicago, Detroit, St. Louis, Atlanta, Las Vegas, and Los Angeles).
BlackGirlsCode has been amazingly impactful in our local community, cities across the US, and countries abroad. With your donation and support of BlackGirlsCode and our SUMMER of CODE, we can introduce even more girls to the possibilities in the world of tech. Put our collective forces to work and BUILD THE FUTURE!
What We Need
By joining us on this exciting journey you can help support this vision with your contributions which will be used in the following ways:
Invest in a mobile computer lab so we can take our workshops to the kids that need it the most! Purchase 15 loaner laptops and accessories.   $8000

Sponsor summer camp registration fees for 20 girls in Oakland and San Francisco $3000

Supplement various program expenses, marketing materials, class materials, and travel expenses to Chicago, Detroit, St. Louis, Atlanta, and Los Angeles in Summer of Code 2012  $4500

Provide stipends and expenses for our Summer of Code Graduate Student Instructors $3000

 

 
What You Get
Oh the "perks" you will get! In addition to our neverending gratitude we have selected a host of incentives and perks for your generous contribution to support our cause.  Please choose the giving level that is good for you from the list at the right and we will send you a token and our expression of gratitude.  We are also pleased to annouce a very special perk below!
Seed It Project - Partners with Black Girls Code 
Seed It Project is partnering with Black Girls Code to support our fundraising initiative. 
The Seed It Project provides a way for talented BootStrappers to earn seed money to fund the early stages of projects without incurring debt or giving up equity -- using game theory & a collective marketplace. We know that these are challenging times for folks, so where possible, we'd like you to have something tangible for your generosity. 
The Seed It Project offers something tangible in exchange for supporting the goals of amazing Bootstrappers. Here are the options:
       #1 - 

FREE 

Seed It Project T-shirt from Collective Marketplace with 

Indiegogo Donation* 
Please visit the 

Favorites 

tab of the

 Black Girls Code profile page on Seed It Project at Seed It Project - BGC Initiative 
In exchange for your donation of $65 to BGC through our Indiegogo Campaign, Seed It Project will send you any t-shirt* that you like, that's featured in the collective marketplace. Please include the name of the one you like, your size  & shipping address in the comments/notes section of your Indiegogo donation. 
You'll receive your free Seed It Project t-shirt a few weeks after our Indiegogo campaign concludes.



#2 - Buy Directly

 through the Seed It Project (www.seeditproject.com)
You can also buy any t-shirt* showcased in the Seed It Project's collective marketplace, in support of Black Girls Code. 
BGC will earn $10 for each t-shirt* purchased directly through the Seed It Project.

 Please 

select "Black Girls Code" when you're prompted to select a "seller" during the ordering process. BGC will receive funds within two weeks & you'll receive your t-shirt in about four weeks . 

NOTEWORTHY: The alpha version of the Seed It Project launched June 1st, 2012. The application was built from the ground up (concept, code & design) by Kisha M Richardson, who is a Black Girl who happens to code (and would like to see a few more Black girls have the opportunity to do the same).
Other Ways You Can Help
Tweet about it, Post about it, Blog about it, you name it! We would certainly appreciate you taking the time to spread the word about BlackGirlsCODE and our campaign across Facebook, Twitter, email, or any other avenue of communication that you can think of to let folks know about the work we are doing.  We need YOU to make this campaign a success! Let's do THIS!
BlackGirlsCODE in the news: