The Story
The idea for my give-back backpack company materialized in 2010 when I hopped on a plane to spend four-and-a-half months traveling and volunteering with kids in developing countries.
After a two-decade career designing products for luxury beauty brands (including Ralph Lauren Fragrances, Bobbi Brown Cosmetics, and Sephora), I wanted to do something more impactful with my life.
That something came after spending time in schools and orphanages in some of the world's poorest countries – Tanzania, India, Cambodia, Vietnam and Laos.
At an orphanage in India, I handed out pencils to a classroom of excited students. Their immense gratitude for something so simple blew my mind. Throughout the course of my journey, I realized that the children I met are like millions of others around the world. They are eager for an education but lack basic supplies. I returned to San Francisco determined to help so I switched career paths and put my background in product development to use.
Bixbee - "The Brand"
We launched Schoolbags for Kids in 2011 with a line of spectacular backpacks for kids. Moms couldn't resist our adorable and ergonomic designs—and we were an immediate hit with the Mommy Bloggers and press too (Today Show, Huffington Post, Parents, even Wired featured our backpacks in their recent 2012 Holiday Gift Guide).
Now, with a little re-branding, a few design tweaks and some fantastical collections we want to introduce the Bixbee brand but WE NEED YOUR HELP TO LAUNCH! The funds raised will help to manufacture and market the new Bixbee line. The more backpacks we sell, the more schoolbags with supplies we donate.
Our products have been featured in:

Unique Horizontal Design
Recent studies have shown that 64% of kids suffer from back pain, in most cases due to overloaded or ill-fitting backpacks. Our patent pending, ergonomic design keeps the weight of the backpack at waist level and allows for easy reach of books and supplies. Several compartments keep items well-organized and allow weight to be evenly distributed throughout. Our backpacks are lightweight at only 2 lbs (1 kilo), alleviating any extra load. Made with rugged 600-denier polyester, they are water-resistant and built to last.
Kids come in all different sizes, so we believe that backpacks should too! That's why we offer both large and medium sizes on all backpack styles. Flyer backpacks come in size small and are perfect for a preschooler or kindergartner.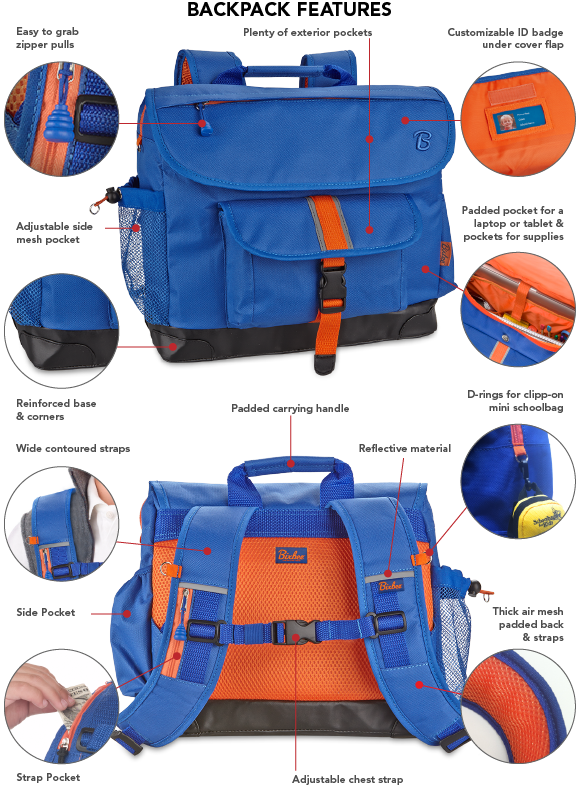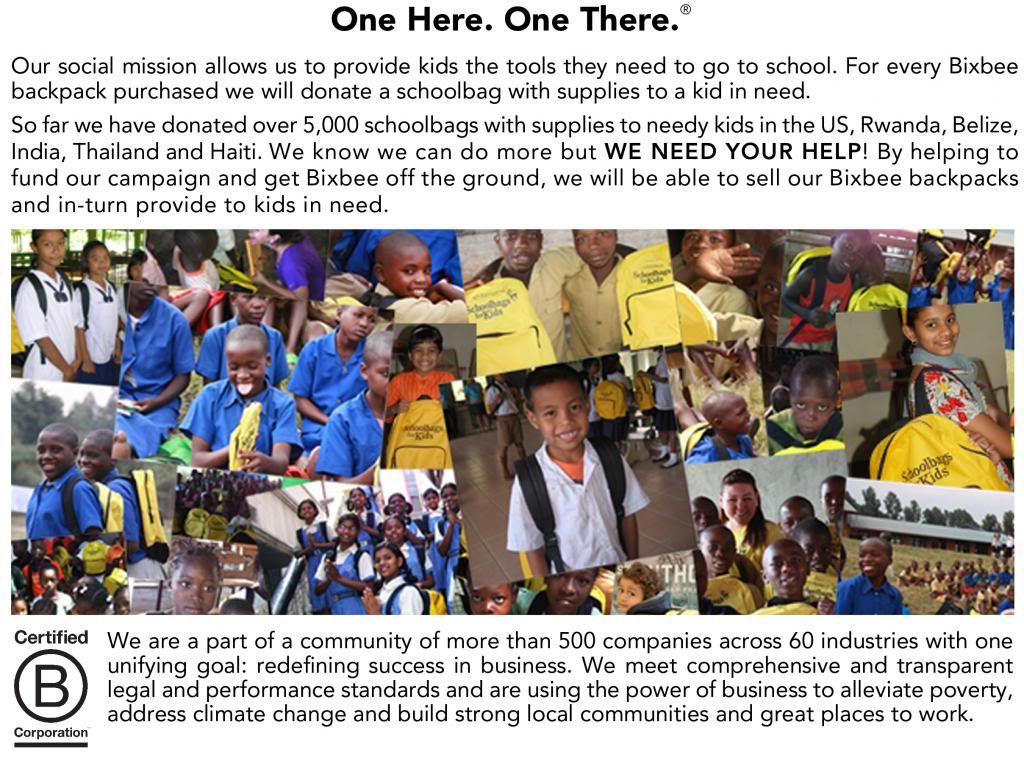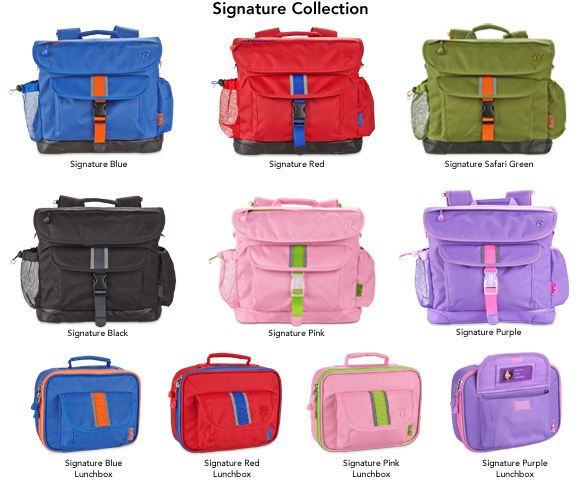 Large Size Backpack: 15" wide x 6" deep x 12" high - Recommended for kids over 4 ft tall
Medium Size Backpack: 13" wide x 5" deep x 11.5" high - Recommended for kids between 43"-49" tall
Small Size Backpack: 12" wide x 4" deep x 9.5" high – Recommended for kids between 36"-42" tall
All Bixbee products are tested Lead, Phthalates and PVC free 
 The PERKS! 

After selecting a perk, please let us know which items you would prefer (style, color, size) by leaving us a comment.
The Team

Here at Schoolbags for Kids headquarters we each wear several hats, so our responsibilities change day to day. We're a small yet talented and tenacious group committed to offering a high quality product with a passion to help those with less achieve more.
Video Credit: Christian Amundson
Graphic Facilitator: Giselle Chow 
Photo Credit: Michelle Jones