The Basics
I'll be riding at least 1,500 miles with my 70-lb. keyboard.
I'll be working with Gay-Straight Alliances everywhere I go.
We'll be putting on awesome shows.
High school students will be my band (a paying gig).
We'll be documenting it and sharing it with you!
I'll be releasing a special TOUR EP (featuring new recordings of "Cuddlefish," "Hit & Run," "The Spider Song," "Guts," and "Song for Santa (Jingle Your Own Damn Bells!")
We'll be making (and rewarding you with) tour-themed merchandise such as T-shirts, cycling jerseys, and other stuff — and some all-purpose Stephan Nance merchandise, such as a classy T-shirt and hopefully some kind of chic tote bag.
In Greater Detail
My name is Stephan Nance, and I'm a singer-songwriter specializing in awkwardly charming vegan straight-edge queer alternative piano folk rock music.
In early spring 2013, I'll be embarking on my big bike music tour, starting in Eugene, Oregon and heading down the coast and over to Tucson, Arizona.
And yes — I'm bringing my 70-lb. keyboard with me.
With your help, I'll be able to secure that hefty instrument to a suitable bicycle: the Surly Big Dummy, modified for the extra-wide (and long) load.
My dear friend Rebecca DeMoss — who created my album's amazing artwork — will be joining me on this journey. Together we'll be pedaling 1,500 miles, working with Gay-Straight Alliances and other groups supported by the Safe Schools Coalition, and local chapters of Safe Routes to School, to organize live music performances and group bike rides with kiddos.
I will be connecting beforehand with talented youth to assemble a full band for as many shows as possible. Your help will ensure that these shows can happen, that they'll be a blast for everyone, and that the musicians can be paid fairly!
Throughout it all, we'll be documenting the fruits of our labor with frequent updates to a tour webumentary featuring photos, videos, blog entries, and other creative content. We want to bring you along with us! But that will require setup in terms of technology and web design.
Help empower us so we can empower youth!
Rewards
EVERYONE who contributes even $1 gets to download my new Christmas song — a studio recording featuring my band — as soon as it's released! (Which should be around December 11th.)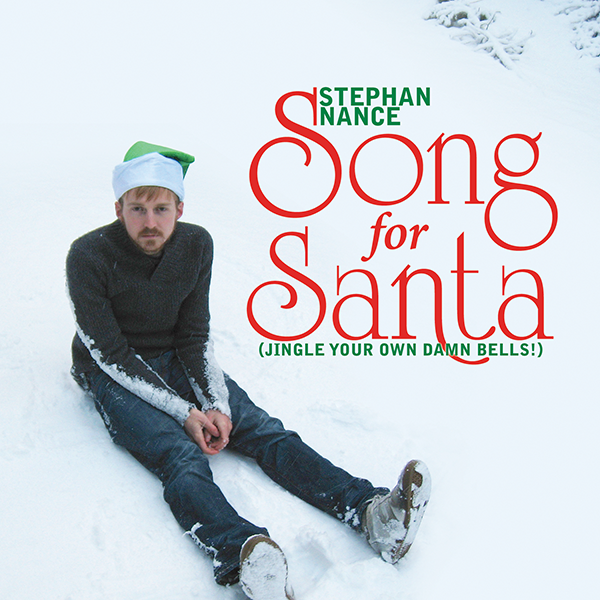 EVERYONE also gets a new recording of "Hit & Run" featuring my band!
$10 backers also get new recordings of  "Cuddlefish" (with the band), "The Spider Song," and "Guts".
Let's see, what else can I elaborate on at this time...
The $100 mittens reward! Here I am in the Sleep Strike webcast concert, wearing some fingerless mittens (I know all mittens are fingerless, but I don't know how else to describe them) I knitted!
$500 folding artwork reward! Here is an example of Rebecca's folding artwork!
And here I am dancing with a pie I made. It says "HELP ME PLEASE" on it. This could happen in your own home if you contribute at the $750 level! (You also have to live more or less along the tour route for that, unless you want to transport me elsewhere.)
Sponsors & Endorsements
To ensure that your money is put to the best use possible, I've been securing sponsorships. Raw Revolution is providing organic live vegan food bars both to fuel our ride and to offer as samples at shows; Hurraw! Balm is supplying raw vegan lip balm for both use and sampling as well; Nutcase Helmets has outfitted me and Rebecca with sweet helmets and armed us with stickers, wristbands, and pins to hand out to kids; Artisana Organic Foods has stocked us up with single-serving Cacao Bliss packets to keep us well nourished; and we expect more sponsors will join this awesome list!
Risks & Challenges
You may be thinking, "If they have energy bar sponsors and the like, why do they need me to help with this project?"
The answer is that I don't want to have to use the funds on food. This project is not meant to feed us, or even to make us comfortable.
It is meant to be an incredible challenge. It is about confronting vulnerability and finding creative ways to support one another and ourselves. It is about building community through the arts.
We'll have to ride a great distance; we'll have to ride in some inclement weather; we'll have to work hard every day to make the shows the best they can be and to keep creating interesting content for everyone following our journey.
I have experience riding long distances: in 2007, I participated in the AIDS/LifeCycle, riding 545 miles from San Francisco to Los Angeles. Later that year I rode up the Oregon coast. For the past couple years my guiding principle has been to ride every day no matter what. You can get an idea of the mix of weather this has involved from this photo-a-day video I put together and set to my song "Spring".

I have experience putting on shows: for my album release earlier this summer, I organized a free family-friendly release show / party here in Eugene. My band and I were powered entirely by a fleet of 5 electricity-generating bicycles provided by Pedal Power Music and kept in motion by audience volunteers. The event was sponsored by the City of Eugene Transportation Planning office, as well as Coconut Bliss (who donated vegan ice cream) and Viva Vegetarian Grill (who donated vegan sandwiches). Here's some press on the event!

Rebecca and I have experience creating music and art and sharing it online... which you've probably already gathered.
We have the experience to make the ride, shows, and webumentary a reality, and we are planning and working on all of it already. What we need is: a safe, sturdy, reliable setup for bike touring with cargo; the resources to secure venues, sound equipment, etc., when necessary, and to compensate musicians and other folks for their services; efficient, travel-size technologies to create, edit, and upload content from the road. Oh, and neat tour-themed merch.
Bottom line: we can do it, and we're already working on all of it. But it can't happen without your support.
Other Ways You Can Help
Do you have a blog? Or maybe a Daytime Emmy Award-winning talk show? Or maybe a blog? We'd be thrilled if you would mention this project anywhere and everywhere you can!
Do you have an extra couch or two, and a shower? We're hoping to mostly couchsurf on the tour, and in exchange we can do some vegan cooking and I can play some music! So if you want the house concert reward, sheltering us is another way to get it!