WHAT'S THE BIG IDEA?
It's a full length feature film!
For all intents and purposes, a mainstream Hollywood movie when it's released -- but created from a cornerstone of crowdfunding that you get to follow every step of the way!
Help successfully crowdfund this picture so BACKSEAT DRIVER can be filmed late Spring of 2013, utilizing a mix of local crew I've worked with alongside some impressive newcomers. 
Not just the making of the film. The whole enchilada. After filming, editing, & mixing, we'll move on to explore a self-release strategy, expanding on the film's successful crowdfunding start, and see where that journey takes us.  From festival screenings, theaters, onto iTunes, into your living room!  Aiming for an early 2014 release date.
It's a test balloon for crowdfunding, no doubt.  Crowdfunding offers fantastic opportunities, unavailable... even inconceivable... five years ago.  I'm grateful to become a part of it, and to be able to give something back.    
The BACKSEAT DRIVER campaign does just that. Once it starts, it doesn't stop -- it keeps evolving.  Funders get to follow along through BACKSEAT DRIVER's Production Journal of updates & webcasts, chronicling the up's-and-down's of the film's journey, every step of the way, warts and all!
WHAT'S THE STORY?
A frantic phone call...
...wakens Mickey Mueller.  Through tears, her little sister chokes out "the wedding planner's skipped town... nothing's set up for this weekend... the rehearsal dinner's tonight... HELP ME!" 
Mickey springs into action.  She calls a cab, and quickly sets up a command post from the back seat as she heads for the airport -- stopping along the way to pick up wedding essentials her ever-present "playbook" reminds her she needs.  Can she pull it off with the help of her office staff, her dad, and her cabdriver Munir, who's got a lot more to offer than he lets on? Will the motorcycle patrolman that pulls them over cite them, or let them off with a warning? Will she keep canceling flights until she runs out of planes?
It's a road picture in one city, with stops and star cameos along the way. 
WHAT GREENLIGHTS US
1,400 funders move this mountain 
1,400 seems like a lot of people -- until you realize that's only 28 people per state, and Indiegogo provides you with an INTERNATIONAL CAMPAIGN platform!
140 funders at a time get to see themselves, their families, friends, business or charity, on-screen IN THE OPENING PRESENTATION CREDITS of BACKSEAT DRIVER for 3-4 seconds, before the Crowdfund Films logo appears and the movie begins.
That's a first! 
We're planning on 10 of these screens in front of the movie, but can make as many of them as we need to! 
This video demonstrates the Presentation Credit
WHAT YOU GET
Something for everyone...
By contributing to BACKSEAT DRIVER at ANY FUNDING LEVEL you get:
You, your family, friends, business, or charity represented on-screen in the opening presentation credits of the film (credit size based on funding level -- size of on-screen projection based on your movie theater.) CINEMATIC IMMORTALITY ACHIEVED!!!
Access to the BACKSEAT DRIVER PRODUCTION JOURNAL (funders only)
A thank you with your name in the end credits in your crowd category
A Crowdfund Films window decal for your home, business, or car
The ebook HOW WE ALL BECAME BACKSEAT DRIVERS when available for publishing.  It's a compendium of all the Production Journal entries, smoothed over and edited into something of use for a fledgling filmmaker or fulltime moviegoer!
All that for $25!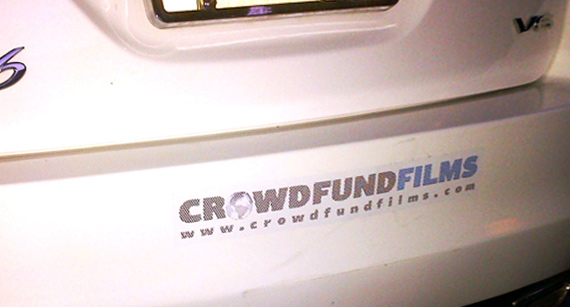 Higher funding levels, one-of-a-kind perks 
As you raise your funding level, you receive some or all of these unique,    BACKSEAT DRIVER EXCLUSIVES:
A LARGER ON SCREEN CREDIT (approximate size per theater screen)
A DVD, BLU-RAY, or DIGITAL DOWNLOAD of the film
A 16x24 inch poster of your THEATRICAL PRESENTATION CREDIT as it appears on screen, way ahead of the movie's release
An authentic, handcrafted PLAYBOOK like Mickey uses in the movie
A personalized EGRAPH KEEPSAKE (www.egraphs.com) with a recorded message from Mickey or Munir made specifically to you.  They're new & they're neat!
A day on set as FEATURED BACKGROUND
INVITATION to a CAST & CREW SCREENING
INVITATION to the PREMIERE & AFTER PARTY
WHAT YOU GIVE BY CONTRIBUTING
The good you're doing
Besides helping to make a really funny movie, here's what else you're doing...
Creating 85 jobs for 10 weeks
Bringing attention to a charity or philanthropy you believe in
Giving back 2% of all net funding from our BACKSEAT DRIVER campaign on Indiegogo to a variety of charities (we'll show you where the money goes)
Creating the basis for 2% of all net proceeds from the release of BACKSEAT DRIVER to additional charities and philanthropies (we'll continue to show you where that money goes as well)
A WIN-WIN-WIN FOR EVERYBODY!
DETAILS, DETAILS, DETAILS
How does it all work?
Pick your funding level to the right and make your contribution.  Thanks!
Indiegogo collects your information, contacts Crowdfund Films, and we get back to you with your ENROLLMENT CONFIRMATION, along with your PROPRIETARY NUMBER, subscribing you to the PRODUCTION JOURNAL.
We'll also include instructions for sending us the PHOTO you want us to use in your PRESENTATION CREDIT. Pixels, size, sign-off's... all that kind of stuff.
REMEMBER: You don't HAVE to submit a photo to us at all.  Maybe you're camera shy, or want to keep your causes to yourself.  That's okay with us!  You'll still get all the other perks that come with your funding level amount, unless you want to remain totally anonymous -- and that's okay with us too! 
FAQ's 
(A sampling of questions...)
 Q: "If I want to fund 3 or 4 or 5 or 6 of the $25 or $75 photos, then string them all together horizontally, would you let me have one big horizontal picture that looks like a banner?"
A: "Yes, probably."
Q: "If my friends and I wanted to give a shout out to our favorite cause or charity, and we all put in $25 or $75 each, would you be able to expand the picture into a 3x3 or 4x4 Presentation Credit?"
A: "Yep. If the cause or charity clears the use of their logo or picture, and it's submitted by May of 2013."
Q: "I love my new hairdo. If I wanted to change out my picture with another one, would you let me do that?" 
A: "Yeah, probably, once or twice.  Until May of 2013."
GOT A QUESTION?  
WE'LL KEEP ANSWERING THEM HERE IN OUR INDIEGOGO UPDATES, DURING OUR U-STREAM CHATS, AND ON THE BACKSEATDRIVERMOVIE.COM SITE! 
Go to our BACKSEAT DRIVER "Townhall Meeting", broadcast live from CROWDFUND FILMS HQ on USTREAM, every Sunday night, 6PM WEST COAST, beginning December 16th.  GET YOUR QUESTIONS ANSWERED LIVE!
 http://www.ustream.tv/user/crowdfundfilms

 OTHER WAYS YOU CAN HELP
Just because you can't contribute, doesn't make you a bad person:
                    THANKS FOR WATCHING!
       BEST WISHES FOR THE HOLIDAY SEASON
                                     &
                  HAVE A HAPPY NEW YEAR!