What is the project?
The Australian Fantasy Football community is large and vibrant, and in order to celebrate that I've commissioned designs for a uniquely Australian set of Block Dice. Originally they were intended as a small custom run for players at Eucalytpus Bowl 2013, however the popularity of the design and the demand for a variety of Australia themed colours soon led to me to consider a much larger release.
Desgined by the amazing Melvin de Voor, the designs themselves are made to strongly evoke Australian themes, while at the same time remaining clearly recognisable as Block Dice. We have selected the Koala and the Gum Leaf as the main elements, alongside the styalised outline of Australia itself!
The colour combinations we have selected are all designed to remind owners of an aspect of the beauty and diversity that Australia contains. One of the main pitfalls of some custom Block Dice is poor readability (Dark Green with Dark Red ink anyone?) All of our colour combinations are picked with readability at the forefront of our minds.
We have so many amazing and unique colour combinations we could pick from, it's been hard to whittle it down! To start with, we have selected three colour combinations:

We have been fortunate to meet our funding goals AND several subsequent stretch goals. So along with the initial three colours, you can also select any of the following:

Note 1: The MBBL Design came about via the "Design Your Own" perk, taken by Kyle Harper of the Melbourne Blood Bowl League. The Blue and Silver represent Victoria, the state where Melbourne is located.
Note 2: The "Baggy Greens" colour is an IndieGoGo exclusive. Every supporter will get one free copy, regardless of which perk they select. You can also get extra copies of the Baggy Greens as a standard colour choice.
Note 3: Some of the higher perks come with a free set(s) of "Rainbow Serpent" dice. Check the "What Do I Get?" chart below for more details.
Note 4: The Uluru Twilight colours were selected by contributor vote.
Extras!
Along with the dice themselves, I've come up with some fun extras. Plenty of the perks come with one or more of these for free, and you can add extra sets for just $5 each (either add it to your contribution or use the "EXTRAS PERK".
These are real bottle caps, just as you'd get on real beer bottles, printed with our custom designs. The printed image is about 1 inch (25mm), making the caps slightly larger than a 25mm base. Perfect for gaming tokens!

First off is "Old World" Beer Bottlecap:
Next is "Old World" Soft Drinks Bottlecaps (unlocked at $4000):
Finally is a Aussie Dogtag Bottle Opener: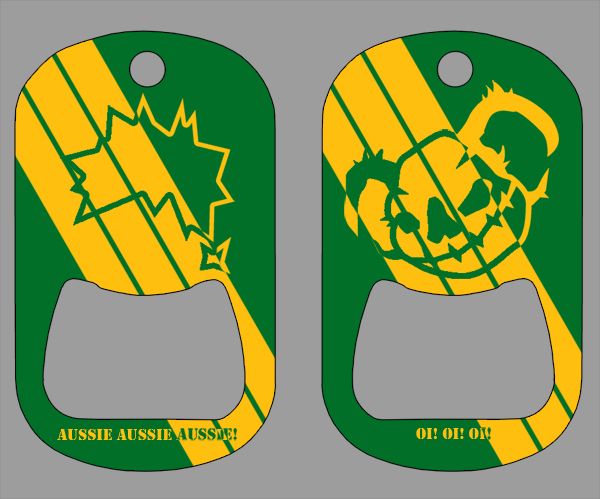 Here's a sample of one of our bottlecap designs in the flesh: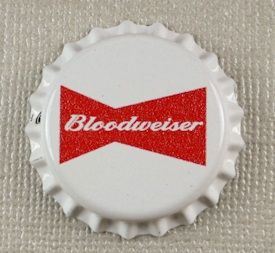 What do I get for my support?
The dice themselves will be 16mm with rounded edges. The designs are screen-printed using a chemical reaction which physically bonds the print to the plastic, meaning they won't chip or scratch.
Each "set" of dice will be three matching six sided "block" dice in a pack. So, if you bought two sets you would receive six dice in total, three sets are nine dice and so on.
Unless specifically noted, each perk allows you to choose which colours you would like to receive. So, if you get two sets you can either get two different colours or both in the same colour... it's entirely up to you!
After this campaign, any set of dice will cost $15 USD plus postage. By supporting the campaign you can get some great discounts and perhaps even have a say in what colours we produce!
Remember, due to restrictions from IndieGoGo all perks are $USD.
Update: As we start to get more complicated setups with free extras and more colour choices, I thought it was best to set up a chart showing what everyone will get for their pledge. This chart shows an accurate reflection, up to the "Rainbow Serpent" stretch goal at $3800.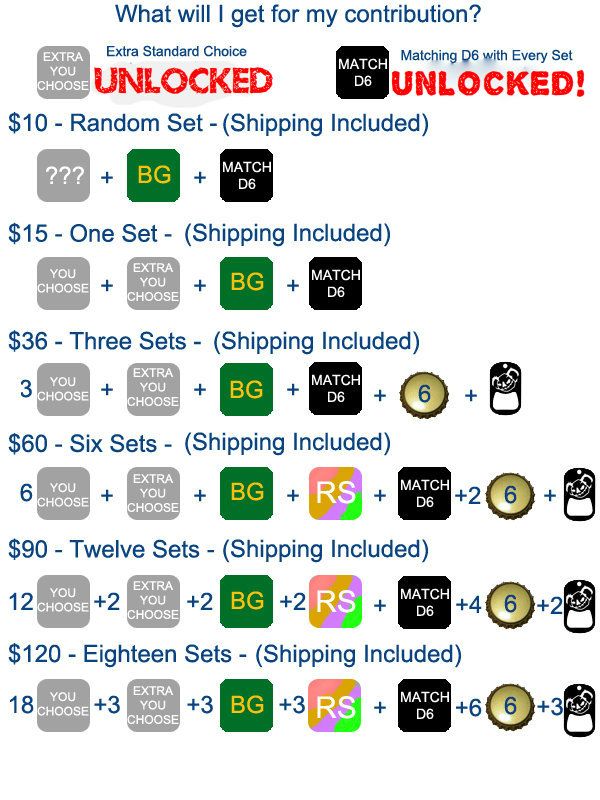 As you can see, it's possible to get one of every dice (and bonus) at the "Six Sets" perk. You can get two of everthing at the "Twelve Sets" perk and three of everything at the "Eighteen Sets" perk. I will commit to maintaining this balance, so if you pledge at one of these levels you will be guaranteed to receive all future bonuses at those levels.
When will I get my dice?
I've set the delivery goal for the end of February 2013 because I'm practical and delays can happen, however my timeline worked out with the manufacturers should see them in my hands by mid-January. So consider the end of February a worst-case scenario, and hopefully you'll have them much earlier!
Can I upgrade my perk?
You sure can! I've added an upgrade perk for $1. If you want to upgrade, eg from three sets to six sets, just claim this upgrade perk and contribute the difference between the old perk and the new perk.
Example: Tom has claimed the "One Set" perk for $15, and now he wants to upgrade to the "Three Sets" perk. He needs to contribute a total of $36, so he selects the Upgrade Perk and contributes an additional $21 ($36 - $15 = $21).
What if I want more than 12 sets?
Not a problem! If you want more than 12 sets, just claim the Twelve Sets perk (or upgrade to it) and then add an additional $7.50 per extra set you would like. Depending on how many you need, you should also check out the Mega and Ultra packs which are intended for league/tournament support but open to everyone. They offer great per-set rates for bulk purchases, but there are limits on the number of exclusive dice that can be added so please keep that in mind.
Who are you?
Hi, my name is Richard "Virral" Andrew and I've been heavily involved in the Australian Fantasy Football scene since 2005 where I won the first Eucalyptus Bowl tournament (sadly, my only tournament win to date!)
I'm now the tournament organiser for Eucalyptus Bowl, the largest tournament of it's kind in the southern hemisphere and an active contributor to Blitz Magazine and the Australian community forums, Ausbowl.
Organising Eucalyptus Bowl has given me the opportunity to work with some amazingly dynamic and creative people to produce a range of custom projects including limited edition miniatures, custom artwork, dice and even things like caps and bottle openers! I'm no stranger to the organisation and creation of custom Fantasy Football products.
Why crowd sourced funding?
For very small dice runs, or runs where you only want a single custom face, it's usually easy and relatively cheap to go with engraved dice. However, when making dice with six custom faces, prices skyrocket quickly and it soon becomes impractical due to the hands-on nature of engraving dice.
There are other options, and they typically involve large startup costs but become cheaper as you produce more dice. That means getting twice as many dice doesn't cost anywhere near twice as much in total.
If I was going to finance this privately, I was going to be severely limited in both the quantity and variety of dice I could offer. It soon became clear that this project was more than I could comfortably manage via private funding, and at that point I decided to check out crowd sourced funding as an alternative. We aren't looking for profits or even 100% of the costs needed for the initial print run, but this campaign will hopefully give us enough of a security net to allow us to produce a wider range of colours.
Why flexible funding?
I believe in this project, and I'm committed to getting it off the ground. Even if we don't reach our goal, every bit helps and I will still be going ahead with the production of the three initial colours. I guarantee that everyone who makes a pledge will get their dice, regardless of whether we meet funding goals.
What if you exceed your initial funding targets?
This has never been about making money, so if we exceed our initial goals the plan is to expand our range of available colours.
Initial plans are:
$1250 - Coral Reef (Pink with Green) - AHRG MY EYES! - TARGET MET!

One thing Australia is known for is it's beautiful reefs and aquatic life, but noone ever accused them of dressing sensibly! Seeing the Great Barrier Reef is like entering a Day-Glo wonderland, and to represent it we've come up with a colour combo that could never be accused of being dull!
Due to popular demand (no, really!) if we successfully reach our goal we will add Coral Reef as a standard colour choice, perhaps our most eye-catching design on offer.
$1750 - Croc Hunter (Khaki with Dark Green) - SPECIAL COLOUR! - TARGET MET!


When we initially sought for feedback on our colour options, one of the most popular colours we came up with was the Croc Hunter. Unfortunately we discovered too late that while the manufacturers can make Khaki dice for us, it costs a lot more than we expected as it's not a standard colour they produce.
We really wanted to do this one right from the start, but we needed to be practical (boo!)
If we hit this goal, we will be able to produce the Croc Hunter dice as a standard colour choice alongside the initial three colours.
$2250 - Baggy Greens (Green with Metallic Gold) - CAMPAIGN EXCLUSIVE! - TARGET MET!
What Australian Themed Dice collection would be complete without the classic Green and Gold?
If we reach $2250 total, we'll produce the Baggy Greens and make them an IndieGoGo online exclusive. Unlike the non-exclusive colours we will never sell these online after the campaign, as a thank you to the supporters!
Every supporter will get a set of Baggy Greens as a free thank you for your support, and you can add more sets as you would for any other colour we offer unless your perk specifically excludes exclusive colours. So, for example, if you selected three sets you can choose to include Baggy Greens as a colour choice AND you'll get an extra set making four in total.
There is a minimum order quantity, so if we have any left from the intial run they will be held for sale at tournaments and conventions only with 100% of proceeds going to tournament support in Australia.
$3300 - BOTTLE OPENER

One of my favourite items I've ever produced for Eucalyptus Bowl is my dog-tag Bottle Opener, made for Euc Bowl 2011. Keeping with the Aussie theme and the Bottecap tokens, I've decided to make a new bottle opener which will be added to all perks at "Three Sets" or above (see chart for who gets what).

You'll also be free to add $5 to either your pledge or via the "Extras Perk" to get more of these awesome bottle openers.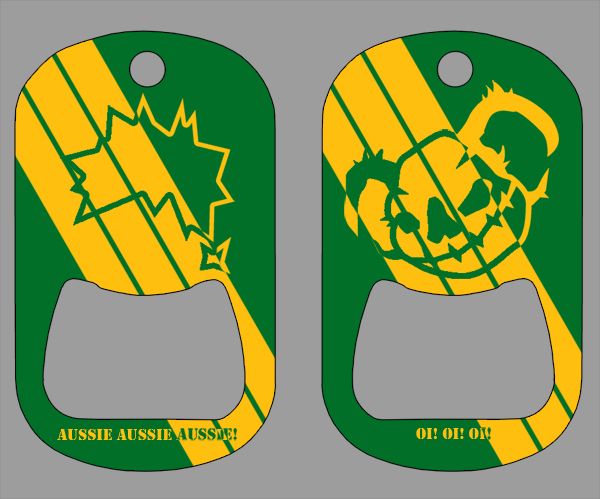 $3800 - RAINBOW SERPENT


Ever since early on in this process, I really wanted to get a set of multi colour block dice done, but the setup costs were too high compared to standard dice. However, due to the success of this campaign and the size of our order, I've managed to make this work in the existing budget.
If we meet this goal, I will add Rainbow Serpent as a standard colour choice. I will also add free copies to the higher level perks, starting at "Six Sets". This means anyone getting "Six Sets" or higher can continue to get one of each colour on offer. See the chart above for more details on who gets what.
$4000 - MORE BOTTLECAPS

I've had a very positive initial response to the Beer Bottlecap designs, and so to celebrate hitting $4000 I intend to release a second set of six bottlecaps, this time using inspirating from soft drinks. Check out an early sample of some designs we may use:
If we meet this goal, I will double the current bottlecap allocations for all existing perks, and add one set of bottlecaps to the "Three Sets" perk (you can choose between Beer and Soft Drinks).
$4500 - NEW COLOUR "ULURU TWILIGHT" AND MORE DICE CHOICES FOR ALL "CHOSEN COLOUR" SETS

If we manage to get this far, I'll add a new colour combination. There is some debate on which combo to go with, so I'll open up a survey for contributors to vote on their favourite combo. Here are the options:


Check out the inspirational image here.
I will also add one extra chosen colour to every perk (more at higher levels) except the Random Set perk. So, if you're getting One Set, you'll get to choose two colours (plus your free Baggy Greens), if you're getting Three Sets you'll get to choose four colours and so on.
$7000 - PAIR OF MATCHING D6 FREE WITH EVERY SET OF BLOCK DICE

Yep, sadly that's the sort of cost involved and this is why I ultimately decided not put the D6 ahead of the other goals listed above.
If we reach this goal, I will add a set of two D6 in matching colours with every single set of block dice, regardless of what level of perk you receive.