Believe in the Potential ...


Disclaimer : Please don't judge us if you see some english mistakes, because we  usually speak french.
For the game, we will have a professional translator in the team. Thanks.

___________Technical Notes :
 Release date : 16th June 2014.
Supports : PC (Windows XP, Vista(WTF??), 7, 8), XBoxLiveArcade.
 Number of players: 1 (success online)
Language : english, french and others if we get more funds.
 Estimated gaming time : 20h-30h of epic moment !! (no boring farming included guys...)


Kiro'o is coming from the word  « Kiroho Maono » in Swahili which means « spiritual Vision ».
Hi everyone,

Since 10 years I (Madiba) works to create the perfect RPG. Perfection lies on the emotion and inspiration the game will provides to players.
So I decided to build myself on the following areas :
Improve and master my programming skills

 

at the university

Become a good narrator : I wrote a novel

Learning how to create an innovative gameplay

 

but

within the limits

of

feasibility

.

Become a team leader : I create

 a

company

in my country.
In 2003, I started this journey with the game project AURION, which had several versions since. I preferred to improve the same project to keep the soul of the game and give the player a masterpiece when ready.

Many people have taken part in this journey, wonderful people who gives themselves to my dream. Today, a professional team of 20, is finally ready to create this great game based on African myths.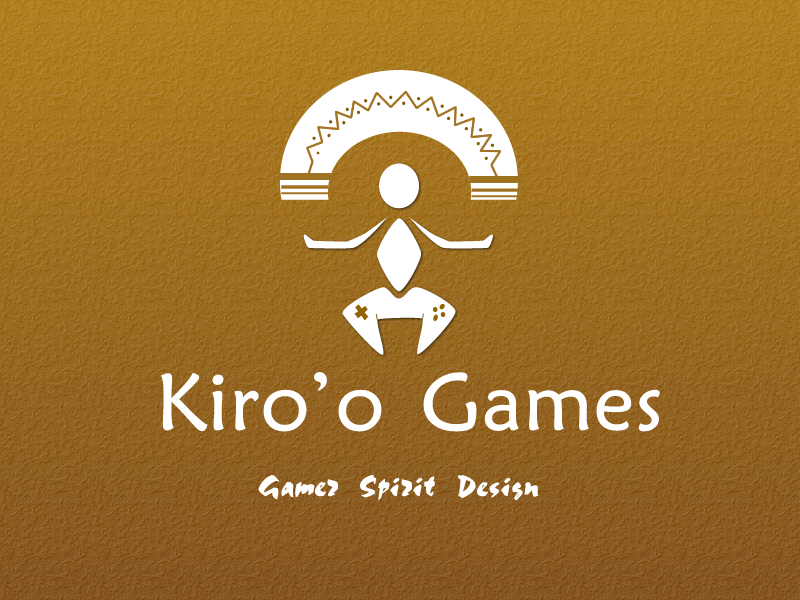 All we need now, is someone special, the last member of the kiro'o team: YOU.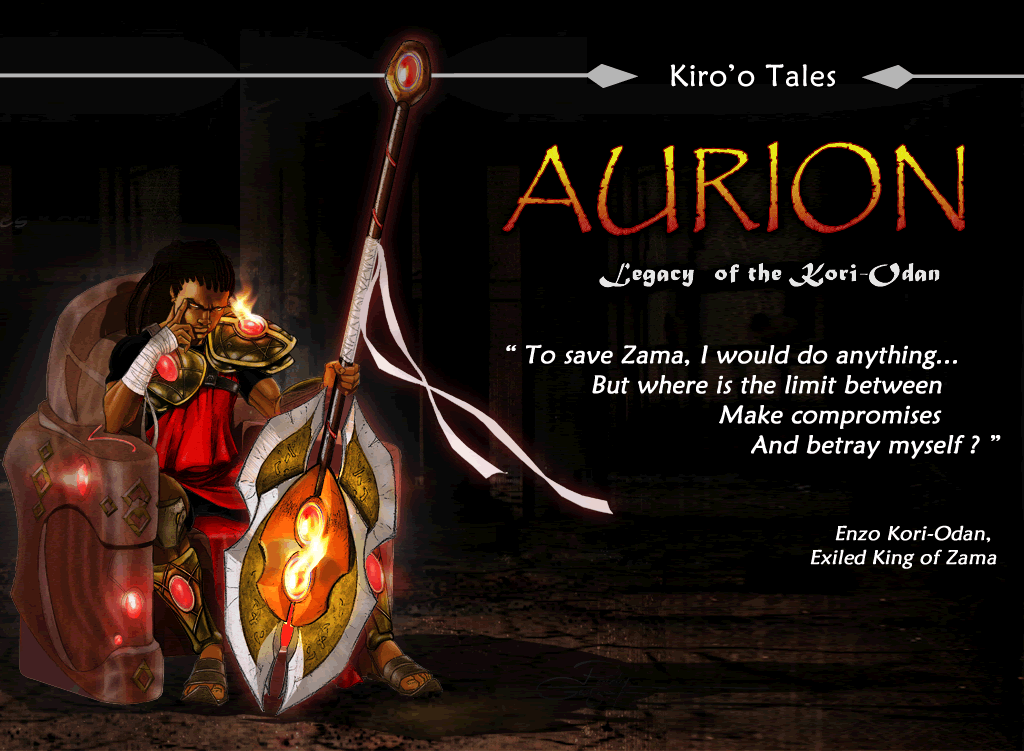 Story  Pitch:
Enzo Kori-Odan, prince of Zama, undergoes a putsh from his brother in law on the day of his crowning and marriage with Erine Evou. Enzo and Erine are then exiled by the traitor.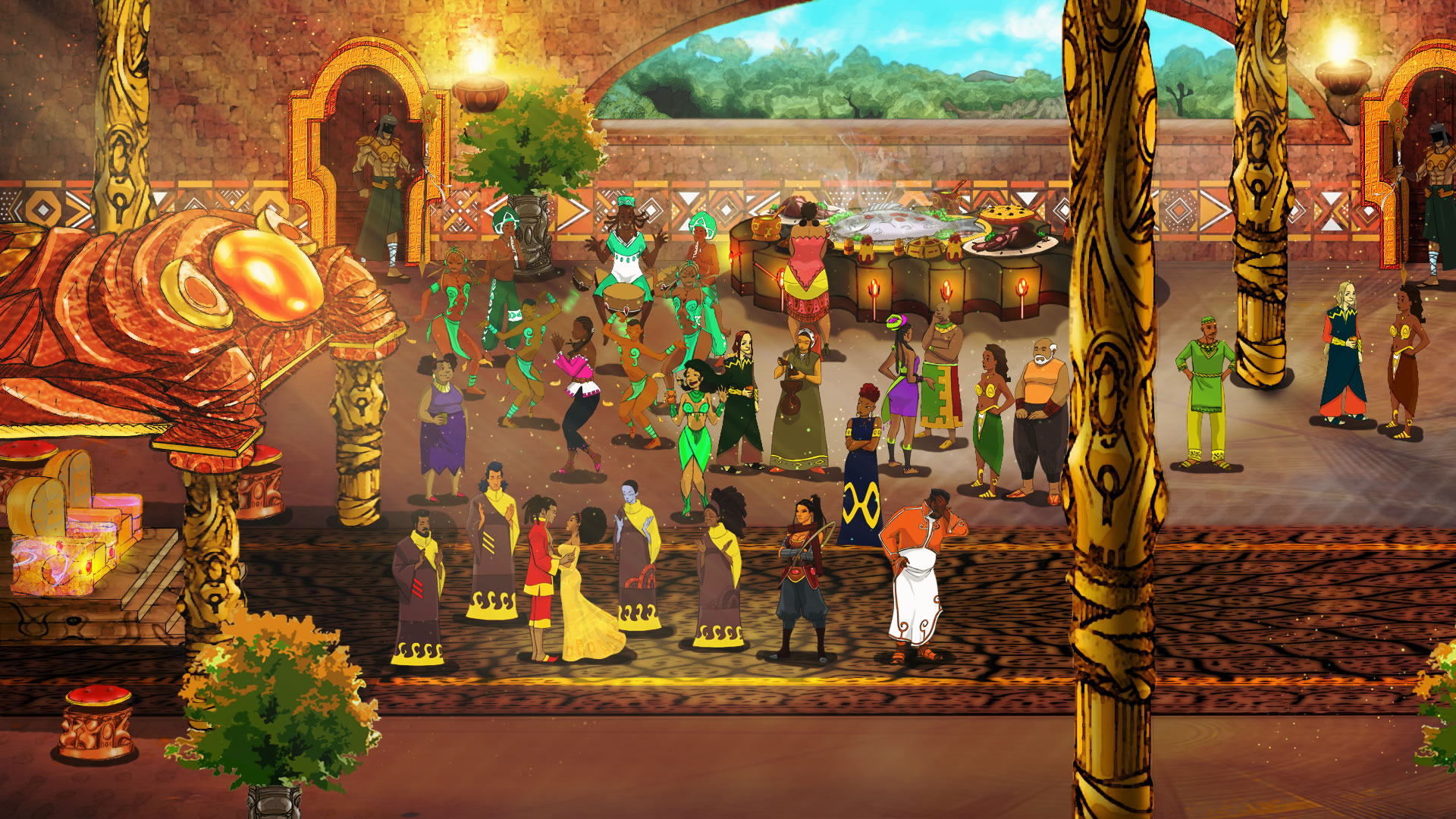 The Weeding and crowning of Enzo and Erine
 The young fallen couple decides so to travel the world to acquire the Kori-Odan's warrior Legacy in order to regain their throne.
In their quest, they will realize the existential and geopolitical dilemmas behind the putsh they have faced.
Beyond the fact to reclaim their place as King and Queen, they must  find their answers. Their answer to ensure the destiny of Zama against the ideological conflicts of their world.
                                  The World :
The world where the game takes place is called Auriona (yes we like it simply lol). It's formed by six continents. Antoria The Enzo's continent was spared by the geopolitical game that maintains a delicate balance between all the others… until now.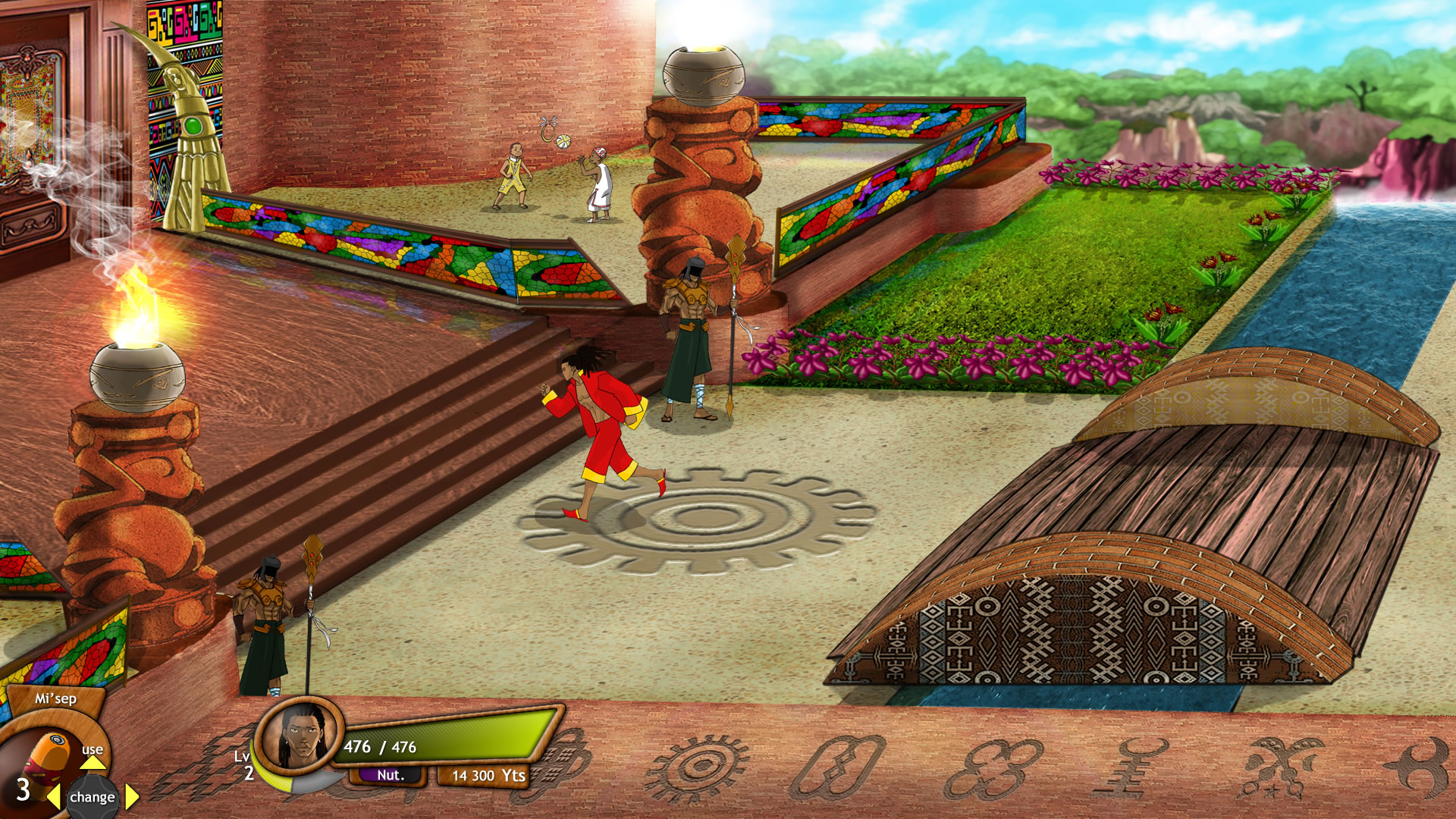 Every nation suffers in his own way the consequences of a widespread selfishness and their cultures will put Enzo and Erine in face of ideological dilemmas that constitute their initiatic path to maturity.
                                  Aurion :
The Aurion is both a mystery and evidence on the planet Auriona. This energy appeared long ago, and it manifests itself in many ways in daily life (combat, crafts, etc.).
Enzo gathering his Legacy throught the 1st AURION. 22 Aurionic states will be available

Those who use it in combat can increase their strength and have access to unprecedented fighting techniques for a brief moment.
However, these techniques seem to "come from somewhere else." The Warriors hear voices of their ancestors in combat, so the fighting art of the Aurion is called Legacy.
The Aurion can be seen as a living form of energy which exists on another astral plan.
An Aurion comes from the sum of emotions and thoughts of one or more individuals, and can be completed in, progressively generations by generations of the same family. That is the concept of Legacy.
                                  Gameplay (Gamer spirit Design !!) :
Our goal is to create an Action RPG in high definition  2D graphics. We are inspired by "tales of destiny" in the form but we will provide plenty of innovation and dynamism :
 - Horizontal Exploration in beautiful scenery with possible vertical movement (as in the classic beat them all of Snes)
Walk, run
Jump, wall jump, climb
swim
Feed your characters while respecting their culinary tastes to make them evolve faster.
etc.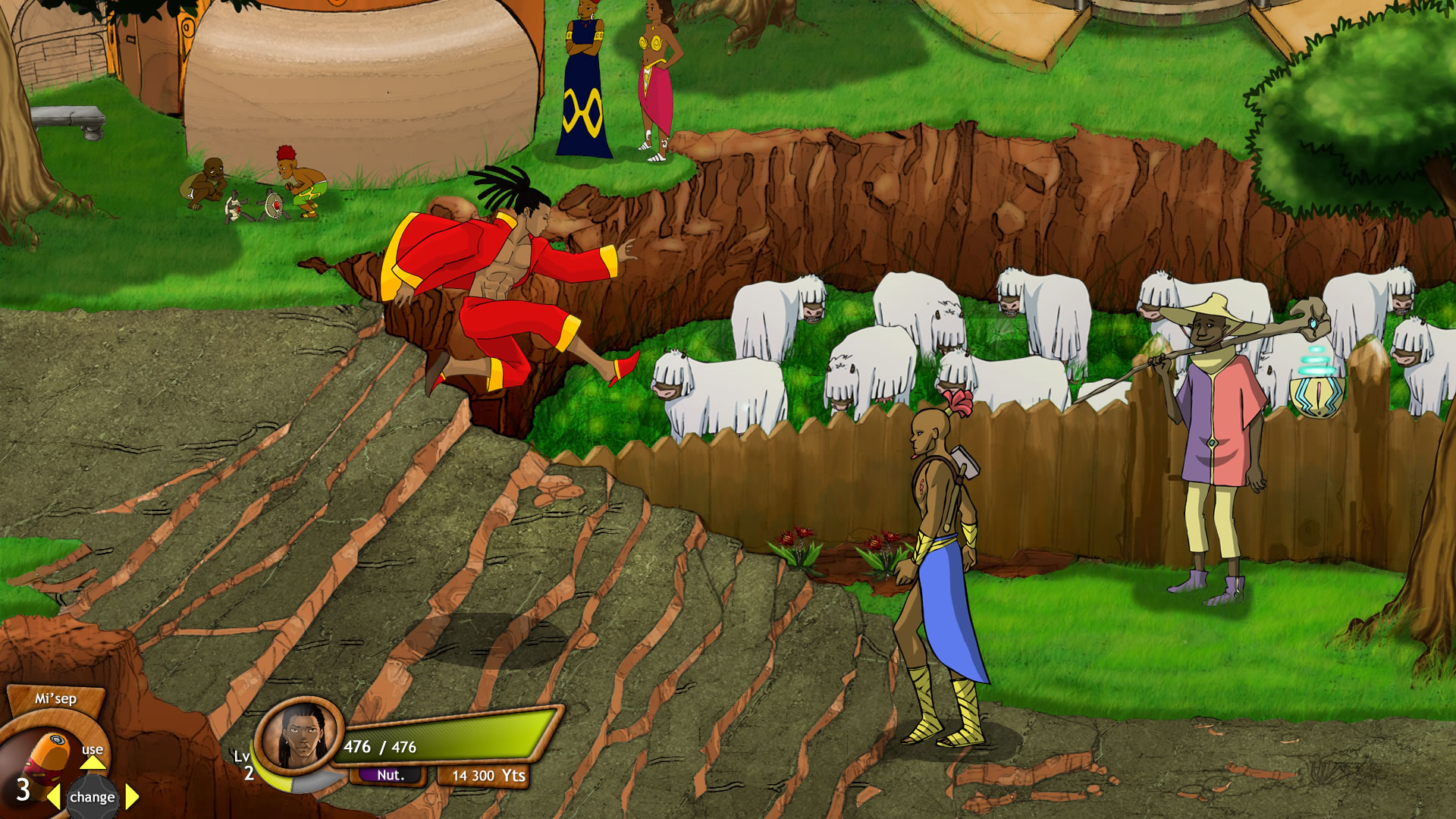 -  Epic and strategic Real-Time Fighting!!
Facing enemies with Enzo and the support of Erine
Visual evolutive Combos !!
Several allies to recruit during  your journey
Gather your Legacy ,merge the Aurions,  to create new (22 aurionical transformations can be done !)
Touching duels with immersive fighting dialogs.
A new generation of events that will surpass the classic QTE: The Cognitives Battles Event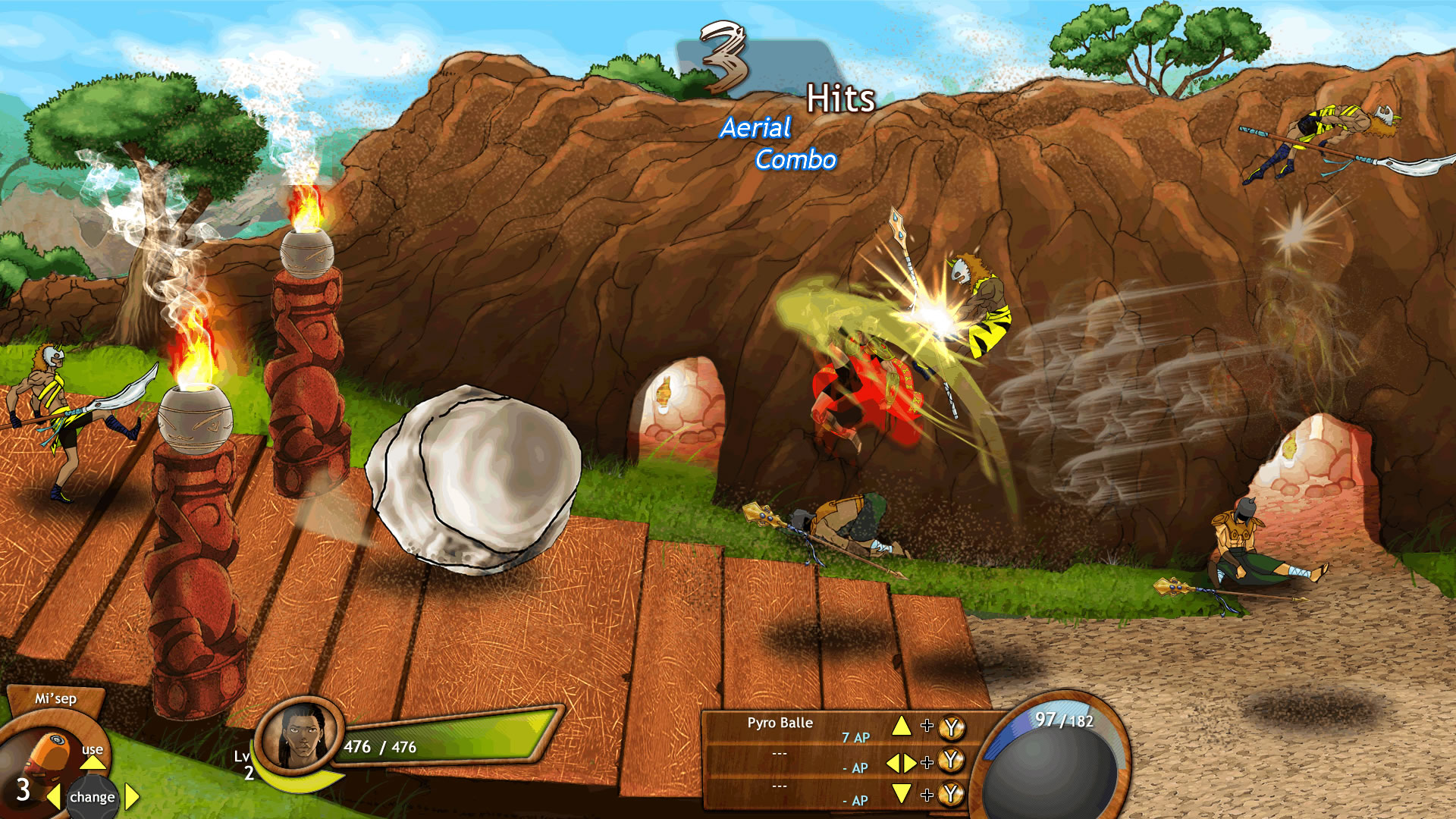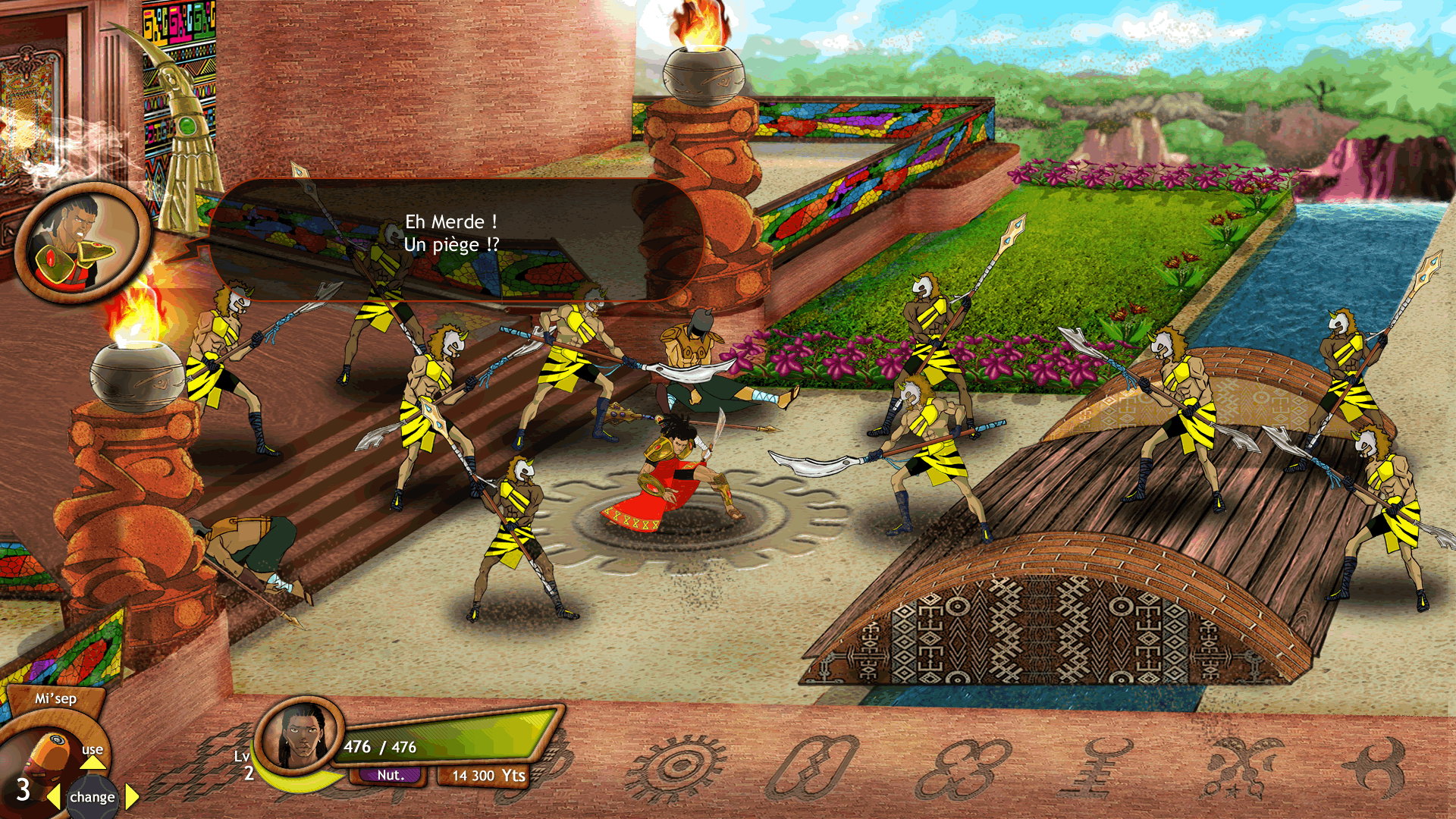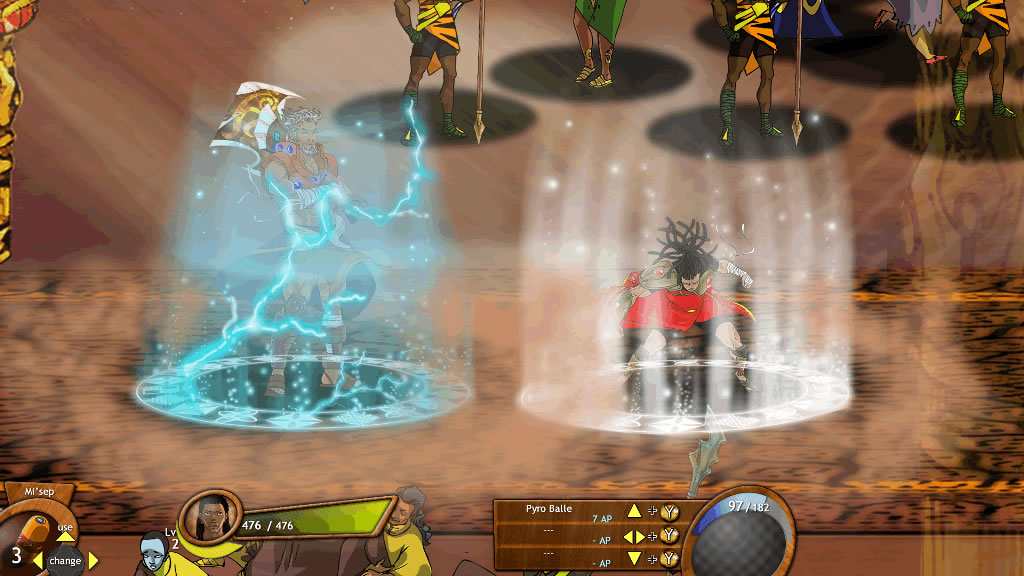 -  Many great secondary activities !!
One guild for secondary quests
loot and item crafting
Hunt rare monsters and create your equipment with their aurionical essences.
And so many other cool stuff!!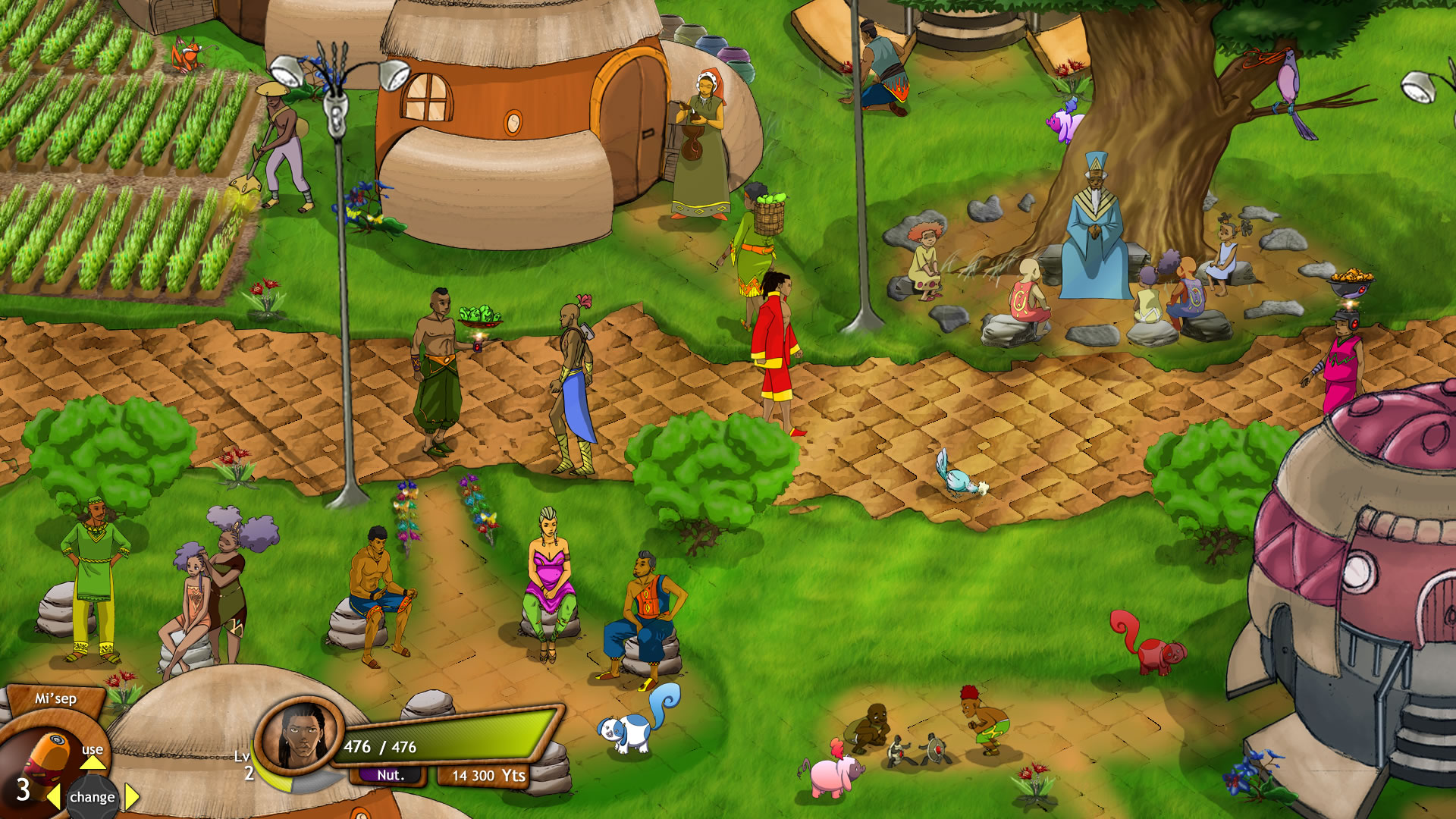 We arrived so far as the Spartans (as you can see in the video). We use paper and old …no, very old PC (and we prefer to not explain you how we make our lightened table…).
So it is becoming important for us to raise funds to equip and work under normal conditions. Imagine what we will be able to create !!
                                  The budget :
The Main investment of the studio is on the good way by venture capital. During this month of August many private investors have started to give funds to garantee the release of the game.
You can also check that we are selected on the investment fundraising website there for exemple:
 So there is what we need from the campaign now to give a best quality to the game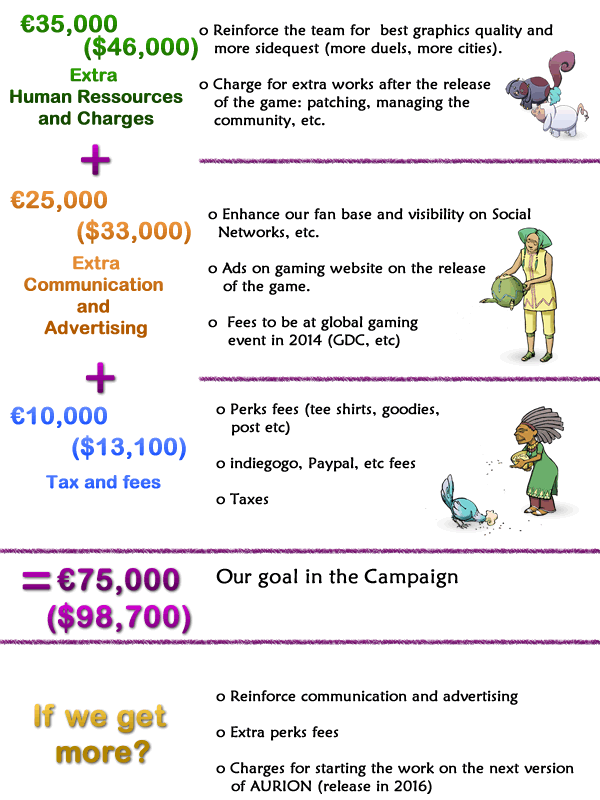 The Rewards you will earn !!!
There you can have a look on some of these cool Rewards stuff you will have







                                  Beyond the Game :
Beyond a simple game, it is a part of video game history that you will write with us: the birth of Kiro'o.
Years ago young geniuses have created the manga, comics. Others created the space opera, science fiction, etc. and nothing since.
 We want to create the new Eldorado of the imagination by defining through our games a new graphic, audio and even narrative benchmark: the kiro'o tales.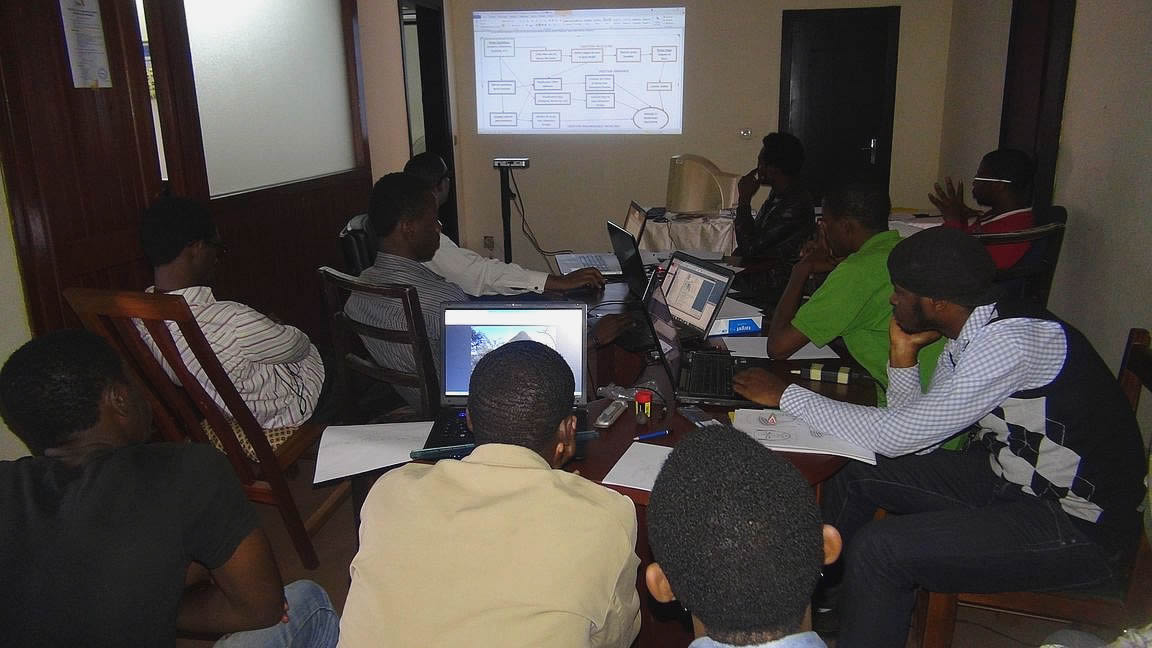 Support us and when history will talk about this, you will say :  
"I was there when it started. I am one of those who carried this 10-year story on the final meters."
 We really hope that you will be with us for this last step to ensure that we offer the masterpiece for which we gave everything.

 Check all the perks details below:

Consider you are now at the gates of Zama, the next step of your story depends on your move.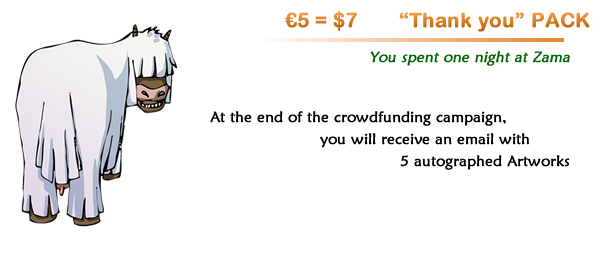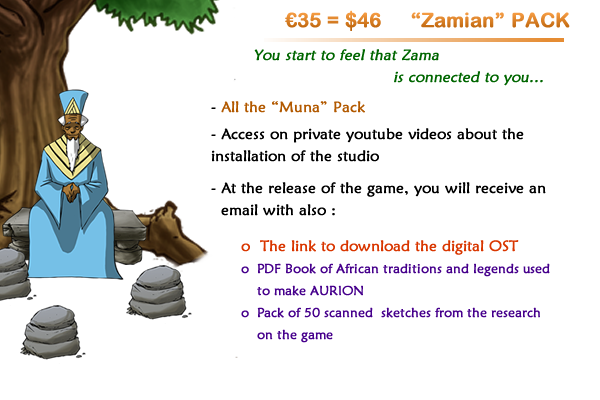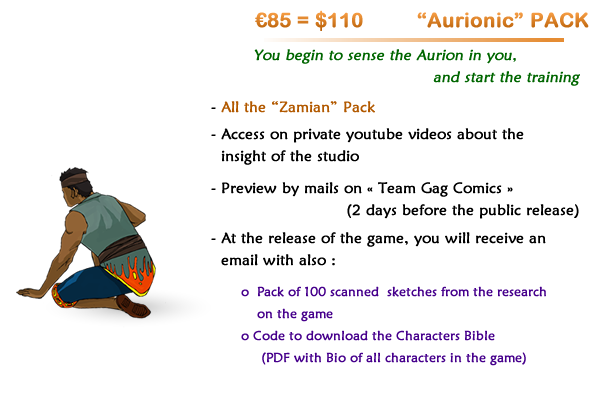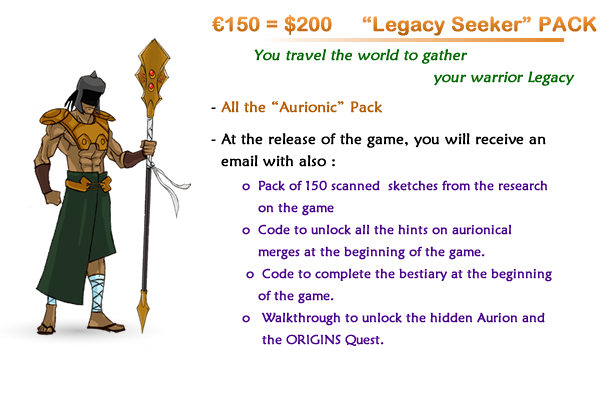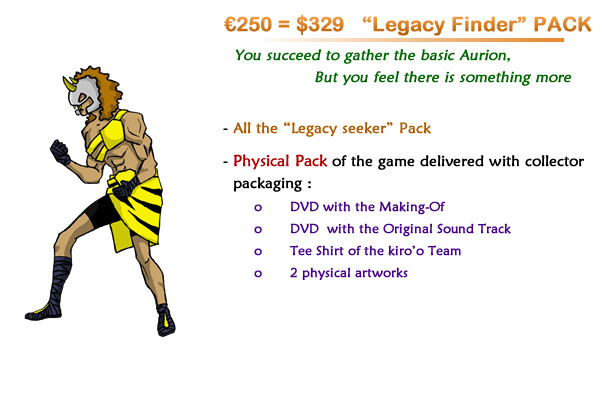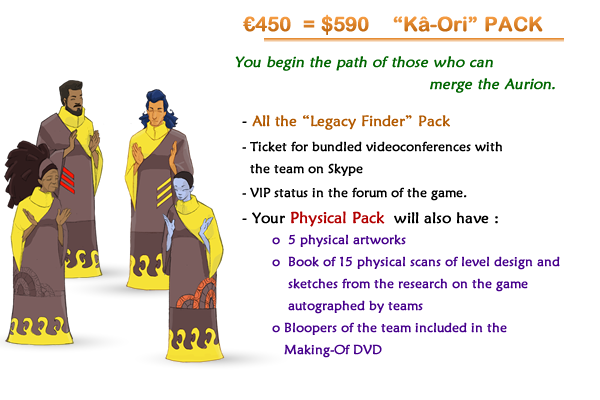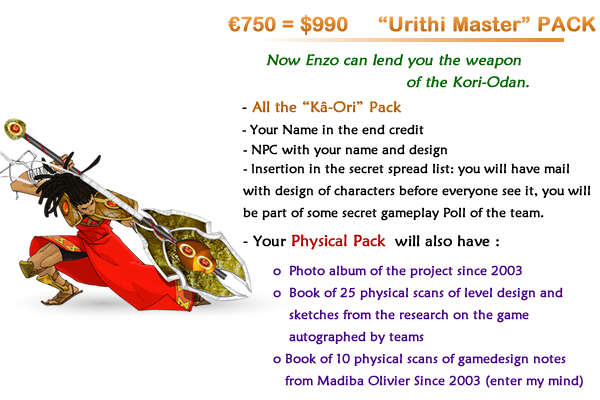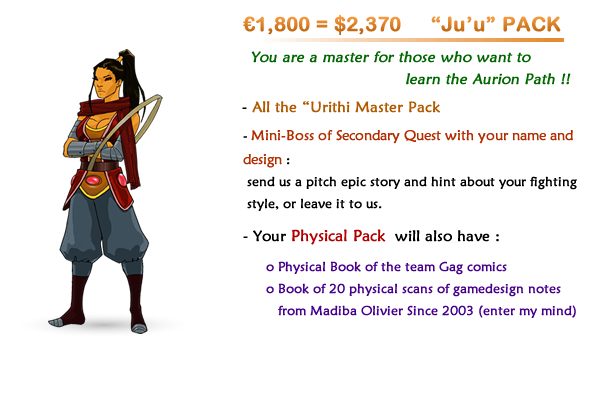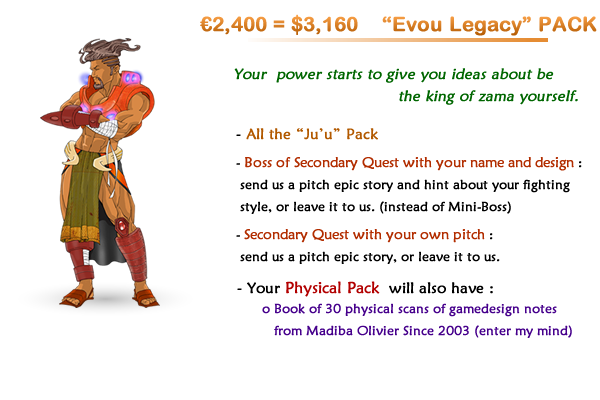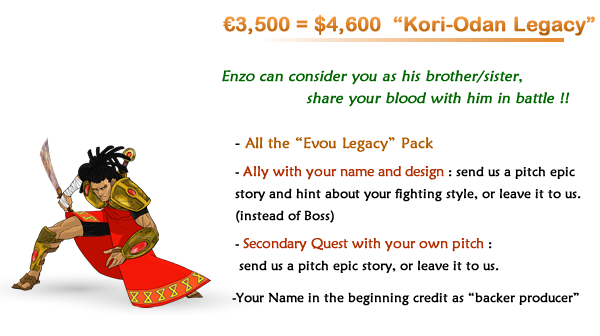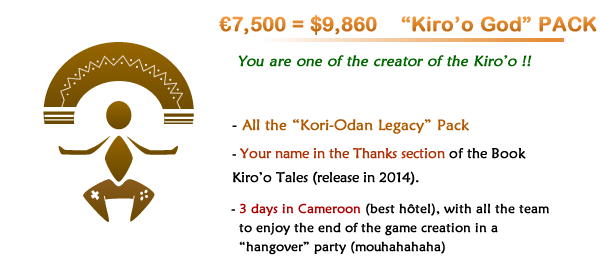 If you can't back us, you can however support us by sharing our campaign near you. Bring everyone there.
Thanks, #Kiro'o Team
  PRESS RELEASE ON US :
There you can check all the press release on the project
>> Gaming Press
>> General Press (french only
                                  Some links :
Check the founder LinkedIN there
Check video of the 1st AURION (2003)
Check video of the second AURION (2012) (english subtitles)
Check Video with all the team speaking about the project (english subtitles)
# UPDATE 1:
You can ask question about the project on crowdfundingforum in our thread there, thanks to them to help us with this very helpfull tools.

                                  FAQ :


Question 1: Why there is not a trailer with in-game phase?
If you watch our Pitch video with the studio's story, you will understand that the studio is in creation process. The new team is pre-recruited but they will be available at full time when the physical studio will be set-up with all the equipment.
We have done all this works with no equipment, without even a graphic tablet. It is impossible to make good animation for our game engine in these conditions
But we have already wanted to share our works and concepts and get feedbacks before starting the real crunching works. You can say that we are at the early stage development.
That's why the team produced fixed screenshots, but by following real gamedesign process. All the materials were done to be available for the real game.
Question 2: But if the studio is not set-up yet, how will you be able to create this game, with this gameplay in 9 month?
I dedicate this answer to my friends of JOL. As you have seen in the pitch video of our studio's story we have created 2 versions of the game before
Each previous versions of AURION had a purpose on our gamedesign "training" process to be sure to have what it takes, to create the 1st pro version of AURION.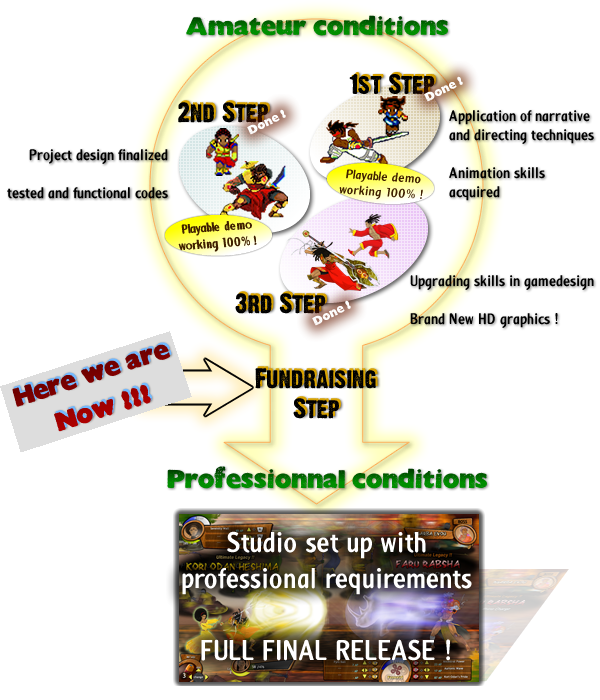 As described in this pictures above, consider that AURION in 2014 will be a HD graphical conversion of the amateur version AURION that we were coding since 2 years. We were amateur only because we were using graphics of others games. But we already have all the project management and game programmation experience (for  2D games)

Our previous versions was playable, and a demo was released and tested by our fans in february 2013. There were not combats, but the conceptions was already ok, and we were on the coding phase before we decided to jump on pro stage.