Who We Are - Quienes Somos - Quem Somos
At Americas Society, we are dedicated to strengthening inter-American relationships through culture and public policy programs. As one of the leading presenters of Latin American/Latino culture in New York City, we regularly feature popular and emerging artists and cultural figures throughout the year at art exhibitions (open to the public free of charge!), concerts, bilingual readings, panel discussions, and symposia.
We serve more than 20,000 people in New York City annually, including Hispanic/Latino communities, artists and the cultural community, civic and nonprofit leaders, policymakers, social entrepreneurs, and our members. Our programs offer microphones to the diverse voices of the Americas, and engage wide-ranging audiences around our city. Through webcasting, we are able to carry the exciting intercultural conversations sparked by our events into casas y clases all over the world!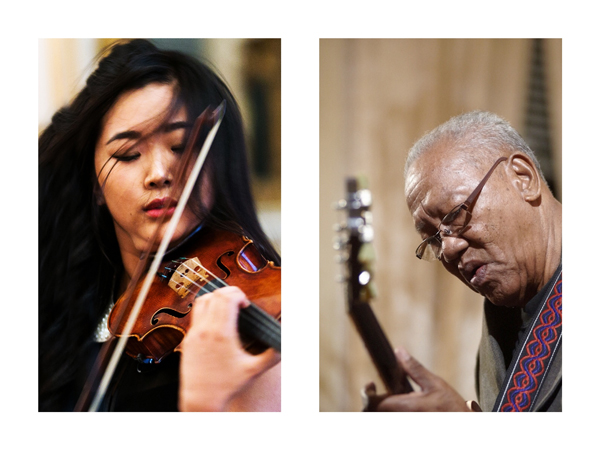 Cultural Agenda: Fall 2013 – Agenda Cultural: Otoño 2013 – Agenda Cultural: Outono 2013
In the Fall of 2013, we will bring a fresh series of Latin American cultural programs to our townhouse.
Our Literature program will celebrate Peruvian Nobel laureate Mario Vargas Llosa, dedicating the Fall issue of our magazine, Review: Literature and Arts of the Americas, to the author, and hosting him as well as other important writers like Elena Poniatowska and translators like Edith Grossman.
Our Music program will feature "Latin Swing: Jazz & Popular Music from the Americas" and will take concertgoers on a journey around the Americas with exciting artists like Bobby Sanabria (the "Puerto Rican Tito Puente") and a celebration of Brazilian jazz composer Paulo Moura. We will also showcase opera singers from Argentina's Instituto Superior de Arte del Teatro Colón and Argentine pianist Guillermo Zarba.
Our art gallery will present Chilean artist Cristobal Lehyt with his latest exhibition, "Iris Sheet" which will explore the meeting of dreams and the unconscious through a gigantic site-specific sculpture made of natural wood and drenched in Chilean red wine. The artist's work was recently acquired by the Museum of Modern Art in New York City.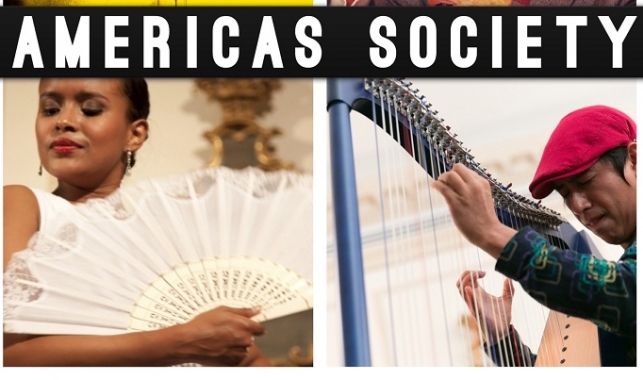 Why Crowdfunding? – ¿Por qué Crowdfunding? – Por que Crowdfunding?
As a nonprofit organization, Americas Society's mission and programs have always benefitted from the generous support of our community. Since our founding in 1965, our doors have been open to the public to promote important intercultural dialogue on the Americas. Funding for our programs allows us to continue to bring established and developing artists from Latin American and the western hemisphere to New York City to contribute to that exchange.
We see crowdfunding as a way to share our programs and passion for the culture of the Americas and engage a wide new global audience and a new community of patrons, both here in New York City and around the globe.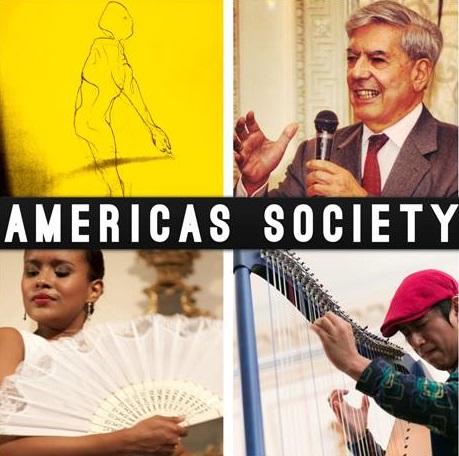 Other Ways to Contribute - Otras Formas de Contribuir - Outras Formas de Contribuir
If you are unable to contribute financially and you have an interest in the inter-American cultural exchange, please share our campaign link with friends or on your favorite social media sites!
And of course, it's never too late to become an Americas Society Member, which grants an exciting range of exclusive benefits, including free access to our cultural programs, member-rate access to our public-policy programs, and opportunities to engage with cultural figures, policy makers, and opinion leaders from across the Americas.       
¡Gracias por su apoyo! Obrigado pelo seu apoio!
We rely on support from people like you, and we look forward to welcoming you at our home this Fall for our Culture Program!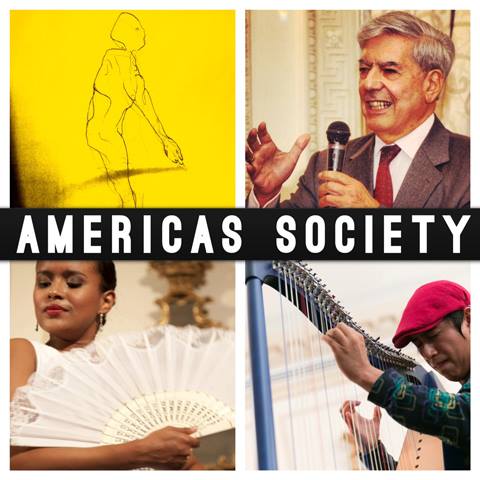 Credit in our Video: C4 Trío, "Zumba que Zumba," 2012.
680 Park Avenue, New York, NY 10065 | Ph: (212) 249-8950 | Email: afleder@as-coa.org