Fund Some Great Blues! 
This is your chance to be a part of making an incredible blues magazine! We're extremely proud to finally announce a blues magazine that's been nearly a year in planning!!
American Blues Scene is one of the most exciting things to hit the blues in a long time:
Not only are we extending our blues music news to a high quality, visually rich print format, but we're also doing our part to help add value to live blues... by giving it away at live blues events! No subscriptions, just gripping blues music news while you get to listen to exhilarating blues musicians! 
The entire magazine is in full color, glossy paper, with bright and vivid ink, dramatic stage photographs, and a number of captivating featured articles from some of the best writers in the blues!! 
American Blues Scene is already widely accepted as the leader in Blues Music news in the digital format.
Our finger is firmly placed on the pulse of the blues! Not only do we put out the very best in entertaining blues music news nearly each and every day, but our entire staff attends and covers dozens of blues festivals & live blues events every year, as well as every major Blues Foundation event, including the IBC and BMAs! We have great relationships with artists and labels that keeps our content fresh and exciting... with a strong eye towards it's rich history, and the many blues men and women that built the music in the first place. We may well be one of the only companies in the world with a considerable budget just to go see live blues!! 
We have assembled the largest blues music news social media fanbase on the planet. ...And these are not just big impressive numbers to look at: The American Blues Scene has grown 100% organically. Every fan is a fan because they love the blues, and want to know more about this amazing genre. We know this because we have over 25,000 very active fans on Facebook, and they tell us.
Simply put, with your help we'll be creating American Blues Scene Magazine in the print format in our continued mission to "Keep The Blues Alive".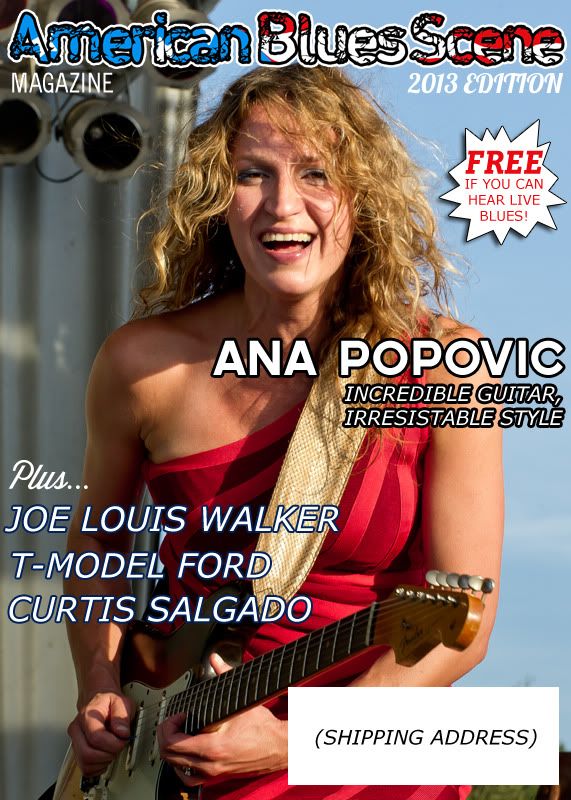 We love the blues and we love writing about the blues.
To make this happen we need your help!
Here's how you can help us Boost The Blues and be a part of blues history:
We need to raise $15,000 to cover the cost of printing & shipping 12,000 copies of the maiden voyage of the American Blues Scene Magazine. We'll be covering the expenses for the writing, photography, artwork, layout, marketing, and more ourselves. 
Please check out some of exciting perks on the right side of this page. Some of these items are one-of-a-kind, and you won't be able to get them anywhere else. contribute what you can. Every dollar will get us closer to this goal. We know there are a lot of blues fans that will be excited to hear about this. It would mean a lot to us if you ask them to help as well!
Even if we don't reach our goal, we are still going to print in the spring. We will just adjust the number of copies to match the amount of money raised.
The American Blues Scene is focused on one thing: Doing our part to preserve and enrich this vital piece of music history! We believe that not only is blues music literally the foundation for nearly all good music, but that the blues is still EXCITING, and there's no shortage of great stories to get excited about!
Other Ways You Can Help:
We realize that some people just can't contribute financially, but that doesn't mean they can't be extremely valuable to this campaign:
Social media is a big part of the lives of many people. You can help us do this by sharing this campaign on Facebook, Twitter and any other social media networks.
Use the Indiegogo share tools whenever possible. They make sharing very easy!
Email or tell a friend about this campaign.