All Men are Thieves is a stylish modern-day film noir set in the heart of San Francisco. The film is a twist on the buddy cop genre, following the relationship of two career criminals who first learn to work together and then become brothers. Vincent, a cautious loner who is conflicted by his family responsibilities finally finds a kindred spirit in Rich, a fast talking smooth criminal with a secret of his own that threatens to destroy their friendship and test to see if blood is thicker than water.


In a world where all men are thieves, family and brotherhood are the only things you can count on.
THIS FILM IS A SHORT CONCEPT FOR A FEATURE FILM TITLED: THE ONCE & FUTURE KING


Sample limited-edition printed photos (No Rest for the Wicked, 2009)

Short Summary
Hi my name is Henry J. Kim, and I am a Bay-Area based filmmaker who has been making films since I was 13 years old. When I was a little kid I originally wanted to be a comic book artist "when I grew up." But my passion for film started one fateful day when my father, who was an architect/general contractor, brought home over 500 VHS tapes from a Video Store client who couldn't pay him. Over the course of several months, I watched movies every day when I came home, and somewhere along the way I decided that this was better for me, that in the end all I wanted to do was tell stories and move people through the art of filmmaking.
Like any true filmmaker I love all genres but currently have been focused on the crime/noir genre in the past few years.

I was particularly affected early on by the film El Mariachi, Robert Rodriguez, and his book Rebel Without a Film Crew, which espoused the values of being totally independent and using your creativity to solve problems in being able to tell effective stories on tiny budgets. In short he inspired me to go out and just do it, and as a result I have taken those guerilla values and applied them into my films.
I have learned a lot from my past two projects, No Rest for the Wicked & At Dawn They Sleep. Each time we pushed ourselves to the limits of sensibility. In No Rest for the Wicked, I did everything that filmschool teaches you NOT to do.. I had a lot of locations, action, car chases, and all sorts of nuttiness. We dared to make a film without considering our limits and came away with a project of extremely high production value that we are very proud of. With At Dawn, we also took that to a new level, also including action against green screen and an even bigger cast and more complex action. But also I was more proud of At Dawn because of the drama and character development we managed to achieve.

Now, this brings us to All Men are Thieves, a new film project that I am personally extremely excited for because it represents what I believe to be the best of all that I've learn thus far. This is the film I was meant to make, and it's going to be the best I've ever made, I'm sure of it. Then again, if I didn't believe that from the beginning, why try in the first place, right?

Our goal is to make the best short crime/drama film yet made in San Francisco. We have everything lined up, the script is ready, the actors are all working for free and now we just need your help!
What We Need & What You Get
We are looking for at least $7,000 in funding, which will be just enough to cover the basic production costs for making the 15 page script I've written come to life.

I can assure you that one of my greatest strengths is the ability to stretch pennies on the dollar, and every penny donated will go far in helping to create an extremely high production value that can match those of Hollywood and beyond!
We are actually not asking for a lot considering the quality we are achieving, and every penny will go simply towards these basic but essential costs:
1. Equipment: Camera, lighting, grip, etc.
2. Locations: Applicable Fees, permits, costs to accomodate.
3. Visual Production Quality: Wardrobe, Set Design, Construction, Props, etc.
4. Meals, Transportation, Lodging: Essential cost for feeding the cast/crew, getting them around, and also making sure they don't sleep on the streets. (Very rude when they are working for free already)
Please see my previous work to really get an idea on the quality of filmmaking we are going for here, I am proud to say that this will not just be some mindless action film with kids running around pointing guns at each other, I am attempting to make a film that will be a stylistic prelude & direct tie-in for the feature film "The Once and Future King." -A feature film in development about family and sacrifice set within a sprawling crime world that spans from San Franisco to Los Angeles.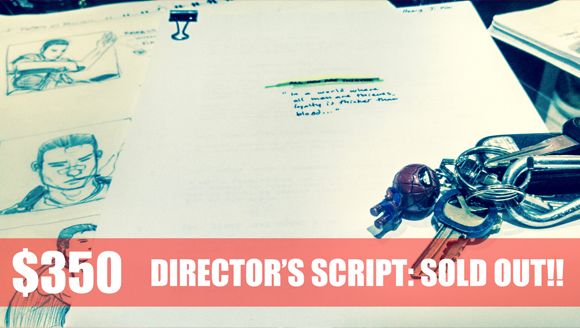 STRECH GOALS:
The first tier of $7,000 will tell a good solid short story about 10-15 minutes in length.
For our stretch goals

$15,000 -AN EXPANDED 30 MINUTE MOVIE (a deeper story with more backstory)
$30,000 -AN EXPANDED 45 MINUTE MOVIE (includes a new plot twist!)
$50,000 -A FULL FEATURE FILM (The Once and Future King)
I have all versions of the script written already, and The Once and Future King was finished earlier this year with the intention of filming in 2014, but if we achieve our ultimate stretch goal early, we'll be able to get started right away!
The Impact
We believe this project is worthy of supporting for two reasons: 1.) There hasn't been any memorable crime dramas set in San Francisco. 2.) Our track record. If you see our past films and compare their budgets to the quality achieved, you can be rest assured that your money will be well used!
Other Ways You Can Help
Some people just can't contribute, but that doesn't mean they can't help:
Ask folks to get the word out and make some noise about your campaign.
Remind them to use the Indiegogo share tools!
And that's all there is to it.