The Video above presents the following usage cases:
1) Mouse emulation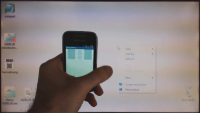 2) Touch pad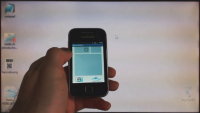 3) Numeric keypad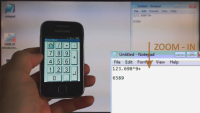 4) Passwords wallet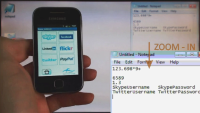 5) PowerPoint remote control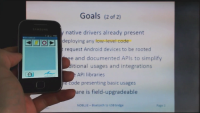 6) Barcode reader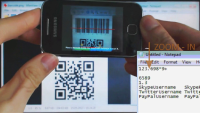 7) Simultaneous Keyboard typing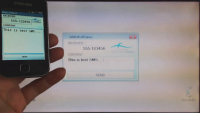 ############################################
Welcome to Campaign of the hiDBLUE product
Product Goals
- Use Android Device to emulate various standard USB devices:
Data Source: ANY Android 2.0 or later Device with Bluetooth present,
Data Destination: ANY Device with USB port, running ANY Operating System that contains standard USB HID (Human Interface Device) drivers.
- Add independent 2-way data flow capabilities for additional features.
- Use only native drivers already present on the system:
Avoid deploying any low-level code,
Do not request Android devices to be rooted.
- Provide free and documented APIs to simplify various additional usages and integrations:
Royalty-free API libraries
Example code presenting basic usages
- Device firmware is field-upgradeable.
Solution Approach
Develop USB Device containing Bluetooth radio:
- On the USB side it is (at the same time) "visible" to host Operating Systems as:
Standard USB keyboard,
Standard USB mouse,
Custom USB HID device.
- On the Bluetooth side it is "visible" to Android Device as native SPP-profile device, supported on Android version 2.0 and later.
Result
- hiDBLUE is a Device that fulfills all listed Product Goals using the described Solution Approach.
- Documentation, APIs, Demo binaries and Code examples available for Free download.
- Provided Demo presents features and basic usages.
Product Status
- hiDBLUE hardware and firmware is fully tested and is mass production-ready.
- Planned Software APIs have successfully completed in-house test cases.
- At the end of successful campaign, the production batch is going to be triggered.
- Android applications will be finalized till the end of hardware production process.
- Some external partners have been queried about their interest to offer various additional hiDBLUE applications. (Major news will be listed here.)
Timelines
We have decided for 60-days Fixed Funding campaign.
Immediately after successful campaign end we can send out 25 devices which were produced in test batch. They will be delivered to you in the mid of August. These devices are fully functional, but have prototype enclosures. This devices batch is interested primarly for developers in a hurry to include this product into their solutions.
At the same time, after the end of the campaign, the production of funded amount of devices will be triggered. Items from this batch will be delivered to you at the mid of October.
Total cost
As listed, perk amounts include VAT and worldwide shipping costs.
The delivery will be shipped from EU. Buyer covers any import fees which might apply according to local legislation.
If you're VAT-registered company within EU, please let us know. VAT amount will be properly compensated.
Product warranty
hiDBLUE product come with a Standard 12 month warranty from the date of shipment.
If you're a developer (individual or team) and would like to use this product in your solutions
You're very welcomed. Visit FLYFISH TECHNOLOGIES web page (http://www.flyfish-tech.com/hiDBLUE) for technical documentation.
If you're targeting also people visiting this page, let us know. We are willing to add this information here.