Patent Pending
If you love your dog, pre-order your dog their very own today!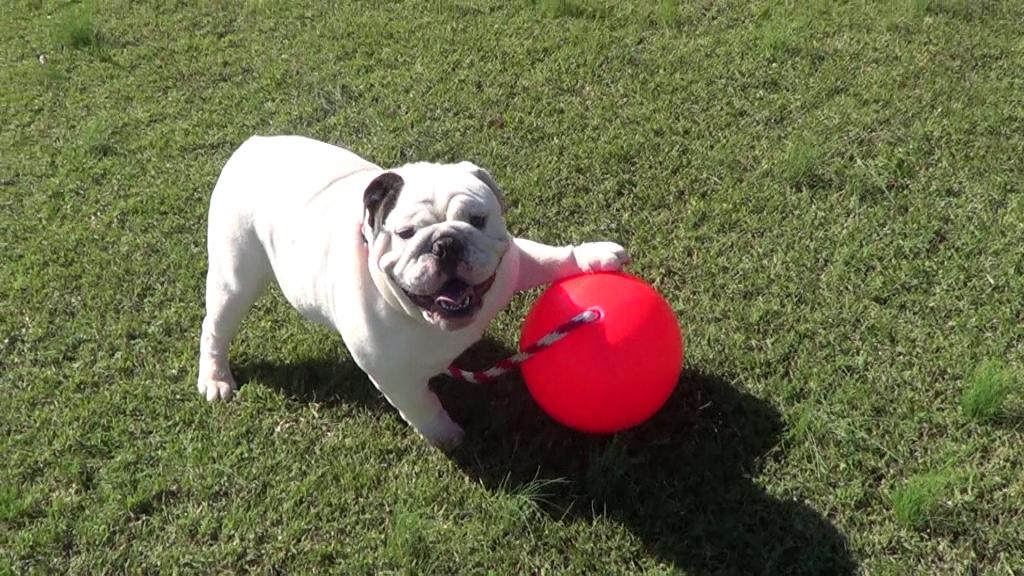 GOAL: The sole purpose of this campaign is a pre-order to help with production costs. We have a facility ready to start production. With your pre-order, you will help make the Tuggo available for any dog that is ready for a long lasting, fun toy that helps promote exercise and build muscle.
It's also for a great cause; $1.00 for every Tuggo sold will be donated to a dog charity!
What is a TUGGO?
The Tuggo is a new one of a kind dog toy I invented that uses weight to provide tension for dogs.  The design is a hard, hollow plastic ball with a rope going through the middle that can be pulled from either side providing the tug-of-war effect. The ball also has a recessed screw cap allowing the ball to be filled with water. The Tuggo weighs approximately 20 pounds when fully filled with water. This weight provides the tension that helps promote exercise and build muscle. The water inside the ball also makes a sloshing sound when the ball is been played with, which keeps dogs interested in the Tuggo. Please view our Youtube video to see dogs in action with a prototype of the Tuggo. It shows proof the dogs LOVE the Tuggo!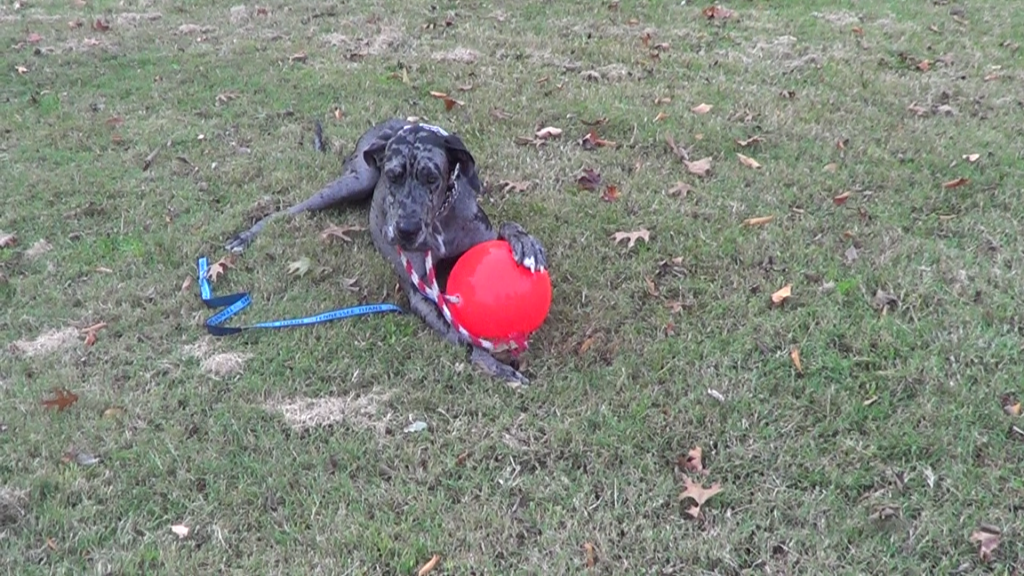 Why buy the Tuggo?
        

One of a kind: No other weighted dog toy is on the market!

        

Dog proof: Very durable - no more money wasted on toys that are chewed up in 5 min. Not a single prototype has been destroyed.

        

Tug-of-war style toy: Rope can be pulled from either side, which is great for multiple dogs.

       

Customizable for your dog:

 

 

Add up to 20 pounds of resistance, weight can vary depending on how much water you want to add for your dog!

 

 

Adjust knots in rope, rope can be tied in different lengths to allow ball to be dragged, pulled or carried!
        

Dogs can play alone: The weight from the water provides a similar tension as an owners arm holding a rope!

        

Centrifugal force: The water sloshing noise inside the ball drives dogs nuts!

        

Charity: $1.00 for every Tuggo sold will be donated to a dog charity. Make your dog happy, while helping me turn this invention into a real product and help dogs everywhere!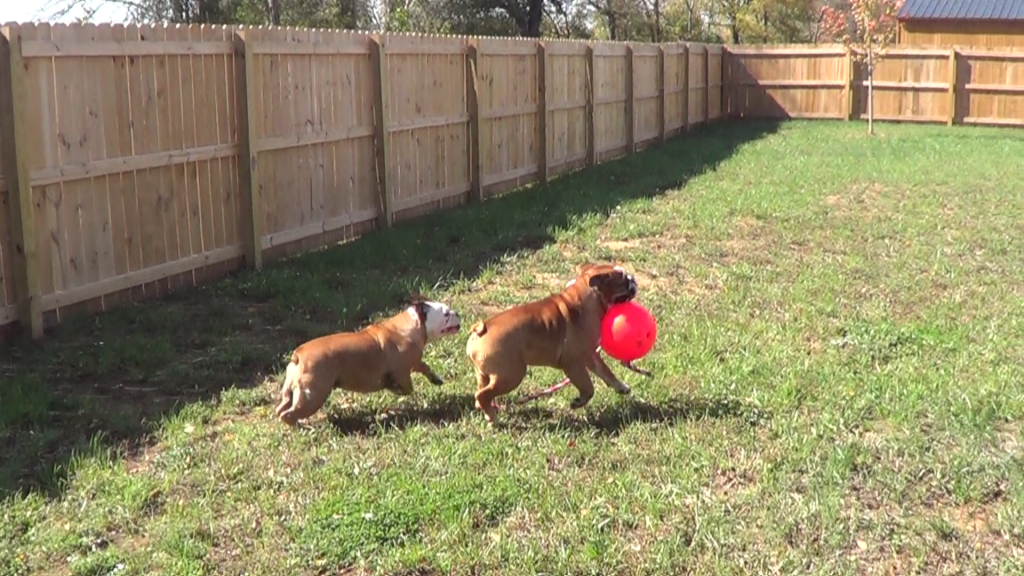 Please share this campaign through Facebook, Twitter, Instagram, blogs or any way you can. Tell anyone you know with a dog. Help me promote this new toy to provide fun for every single dog that needs a long lasting toy.
Please post comments. I will personally be reading every comment. If you have a type of dog that you want to see playing with the toy let me know and I will do my best to find that dog and upload on our Youtube channel.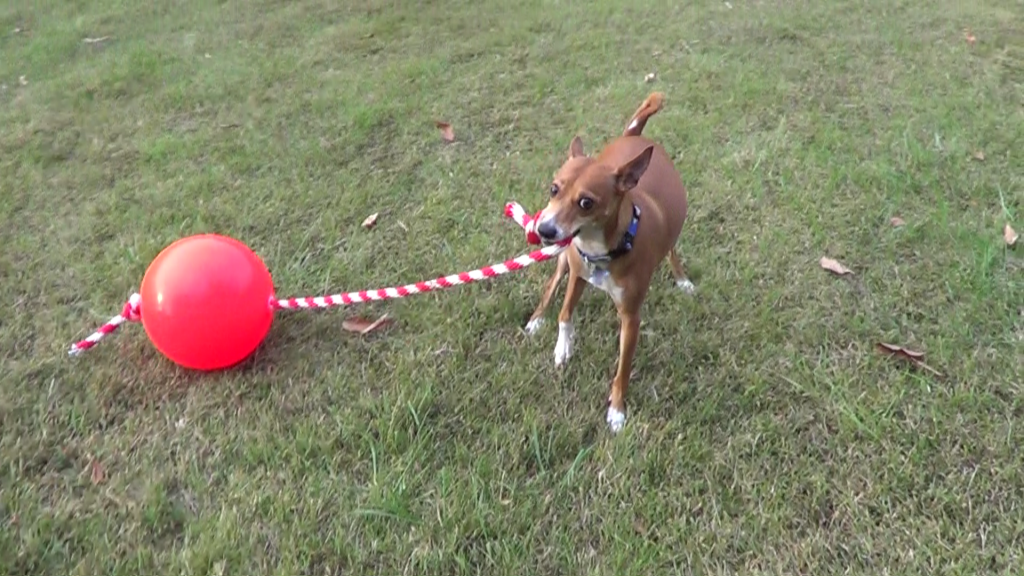 FAQ
If my question isn't answered here, how do I ask?
Just email us – Tuggodogtoy@Gmail.com    
How long will the toy really last?
One of the prototypes, which is not as strong as the real product has lasted over 4 months with 2 large boxer dogs playing with it on a daily basis. 
What size dog is the Tuggo really for?
ANY SIZE DOG!!! This toy was designed for medium to large dogs, but we have had many smaller dogs, and even puppies really enjoy the toy without any water being added. The ball only weighs around 1 pound empty compared to around 20 pounds when full of water.
Can I order a smaller size for my dog?
We are starting with a standard 10" diameter ball. In the future we plan to make a smaller size and even a larger size for really big dogs. Please still order one regardless of the size of your dog. This will help us to build our brand name, and expand to more sizes. Trust me your dog will love the Tuggo regardless of the size!
What colors will be available?
We are starting the first orders with a red Tuggo. In the future we will add more colors.
Were the dogs in the video trained to play with the Tuggo?
The videos were edited but we did not train the dogs to play with the Tuggo. They simply wanted to.
How did you come up with this idea?
Accidently,we started with a bowling ball that was in the yard. My dog wanted to play with the ball but could not bite or get a hold on the ball. My idea was simple, drill a hole, put a rope through allowing a dog to pull and drag the ball. Now that we could not realistically buy and ship bowling balls, we came up with the idea to add water to a hard plastic ball. The Tuggo was born.
Is the Tuggo available in retail stores?
Not yet. With your contribution and help sharing this campaign I expect it will be very soon! We are also hoping to make an infomercial in the near future!
How do I know the metrics are actually being fulfilled?
I have always wanted to launch my own product. I have personally developed this product. We now have tested working prototypes, have a manufacturer lined up, found Indiegogo.com (by accident due to the great Bugasaltcampaign), and filmed this video. With your pre-orders we have no reason not to build a brand name with this one-of-kind dog toy. I will personally be committed to this full-time after launch day. I will be updating our campaign and social media platforms.  I will also be updating our videos adding more and more dogs playing with the Tuggo.
I live in Nashville, can you video my dog?
In the event there are some locals that want to meet up, I would be happy to. Just email me and we can set up a time and place.
I would like to contact for media, celebrity endorsement or press release?
Just email us – Tuggodogtoypress@gmail.com         
I have personally invested a lot of time developing this product. I have shown very few people until now. With your help I want to build a brand name for the TUGGO. Please share and pre-order one today!