NOTE: Bags and our new tees are now available for order on www.activyst.com. Thank you for the support!
CAMPAIGN ACHIEVEMENTS:
25K milestone: soccer field in Nicaragua (Soccer Without Borders)
50K milestone: training programs for soccer team in Uganda (Soccer Without Borders)
68K: female running coach in Ethiopia (Girls Gotta Run)

We're on a mission: to help girls play sports by creating awesome athletic bags for women.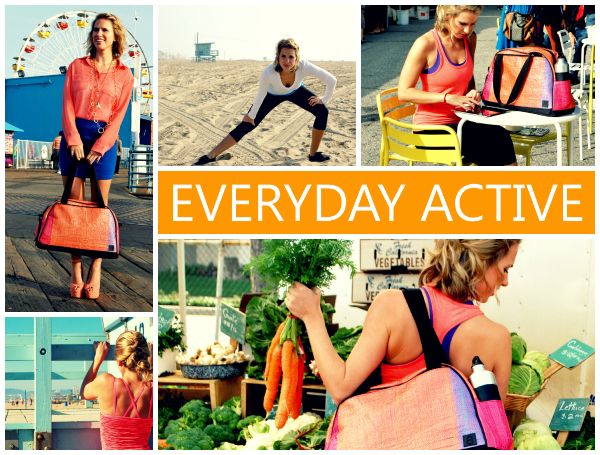 Sports address many issues girls worldwide face. Studies show a girl who plays sports:
Is less likely to get pregnant or engage in risky sexual behavior
Is less likely to stay in an abusive relationship
Has reduced risk of breast cancer, diabetes, osteoporosis and other chronic diseases
Achieves higher levels of education, and does better in school and work
Gains confidence, positive body image, resilience, and leadership skills
Is less likely to suffer from depression
Improving girls' lives in these ways has a ripple effect, impacting communities and... the world. 
Collaborating with a former designer for Betsey Johnson and bagmaker from Quiksilver, we spent over a year creating a functional, yet fashion-forward bag that meets the needs of active women.
Our first line is made of macen, the "material of the people" in Activyst's birthplace of Nicaragua and used for everything from hammocks, to harvesting coffee, to transporting goods. Activyst bags are durable, waterproof, have awesome features, and are pretty cute to boot.
Active Bag Features

Our pride and joy, the Active Bag, has pockets for your shoes, yoga mat, laptop and personal items.
Through bag sales, we fund non-profits providing sports opportunities to girls worldwide. Having worked in international development, we know that each non-profit partner will have unique needs and goals; so we structure bag sales around meeting those specific needs.
Nicaragua Project (Soccer Without Borders)
Through hitting our 25K milestone in this campaign, we raised funds to help Soccer Without Borders (SWB) Nicaragua build a soccer field and support their community center. These projects address a significant barrier to girls' sports in Nicaragua: lack of safe spaces. SWB Nicaragua reaches 130 girls and women ages 7-25, and serves close to 1,200 girls through school outreach.
Uganda Project (Soccer Without Borders)

SWB also has soccer programs for teenage girls in Uganda. It's difficult to keep the girls enrolled, because of outside responsibilities and pressures to find work. Through our 50K milestone in this campaign, we've raised funds to incorporate vocational training classes into the program, adding value for the girls and ensuring they continue to prioritize involvement in the soccer program.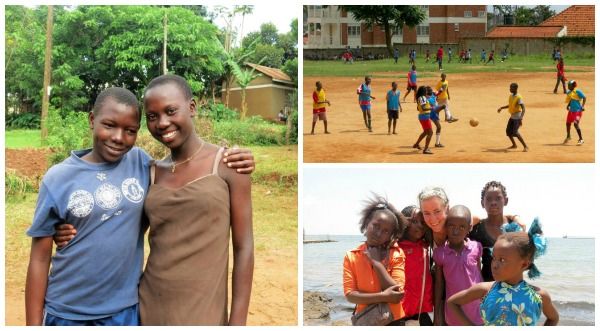 Ethiopia Project (Girls Gotta Run)
Bekoji is an Ethiopian village that has a history of producing world-class distance runners (you've probably seen them in the Olympics). The Girls Gotta Run Foundation is working to make female running a part of this culture. In closing out this campaign at 68K, we will be able to help support the training and funding of Bekoji's first ever female coach!
Here's how this works: you contribute, and at the end of this campaign, we go into production and then ship you your awesome "perk" (in most cases, a bag). We also get the funding to our partners to make the above projects happen. So pick one of the perks below and let's do this!
The Signature Perk: The Active Bag

Our little baby all grown up - we can remember when it was just a prototype. It reflects a focus on functionality (with pockets for about everything) and simple, bold design. You can use it for the gym, or rock it while walking to work or around town. 18 x 12.5 x 7.5, and available in both colors above.
________________________________________________________________________________
Other Perks
Out and About Tote Bag
This all-purpose tote combines classic tote lines with the lively color pop of the macen we love. It has an interior zip pocket and two slip pockets, and is super-versatile for the gym or everyday use. Measures 17 x 12 x 6, and available in our turquoise color combo and coral color combo.   
Freshen Up Cosmetic Bag 

This cosmetic bag can fit your shampoos, make-up, hair brush, and other items you use to freshen up. It has an interior zip pocket to keep things organized. It comes in our bright turquoise color combo and coral color combo, and may brighten up your day too. Measures 12 x 6.5 x 2.5.  
The "Activyst Weekend" in California
A weekend of awesome in Manhattan Beach, CA (near LA): You'll stay 4 days and 3 nights at a beach pad 2 blocks from the water, have an ocean view and deck, and get 2 yoga classes, a surf lesson, use of 2 beach cruisers, and an Active Bag. Restaurants, shops, and endless activity are in walking distance.  We're excited to share one of our favorite places, and hopefully meet you too!

We have backgrounds in international development, business, and law. Katie has worked as a corporate attorney, and with the WHO in Nicaragua on a project promoting gender equality in sport. Leigh worked with a non-profit in international development, before getting her MBA and focusing on sustainable business practices within multiple companies. Blair also has a law degree, and has spent years doing management consulting in the U.S. and abroad. 
We love connecting with people passionate about this cause. You can find us online and get in touch with us through the links below. Thanks for helping more girls play!
Website: www.activyst.com
Email: hi@activyst.com
Facebook: www.facebook.com/activyst
Twitter: www.twitter.com/activyst #activyst #HelpGirlsPlay
Pinterest: www.pinterest.com/activyst
Learn more about the team:  www.activyst.com/team
________________________________________________________________________
 FAQ
I'm having trouble with Paypal or am not sure that my payment went through.  What can I do to complete my contribution?
Sorry to hear about the difficulty!  If you're having any trouble at all contributing via Paypal, or if you want to confirm that your payment went through, please contact us at hi@activyst.com.  We'll do everything we can to smooth it out and make it as simple as possible for you!
How do I pick my bag color?
Don't fret! Here is how Indiegogo works: we receive your contact information when you contribute, and after the campaign, we'll reach out to have you confirm the color you'd like.    
What's the timeline for receiving the bags?
Given the many moving parts coming together for the first time in this inaugural production run, we've estimated that we will ship the bags your way in November. Thank you for your support and patience during the process of building this company!
How much of profits goes to girls' sports projects?

We get asked this a lot and here's the short answer: at least 10%. We've studied our finances and know we can contribute 10% and still be sustainable (we need to give our little company what it needs to grow and "learn to fish", so we can continue supporting girls' sports into the future).

The long answer: we want to contribute more than 10%, but can't know yet whether that's possible, and if so, what %.  Here is where the uncertainty comes in: we won't know our production numbers until this campaign is complete.  A large production run means lower costs per bag, and an increased margin for donations.  Lower production numbers means we're working with less margin.  And there are always unexpected start-up costs for which we need to account.

The bottom line is we're a go for 10%, and are working to increase this number as we transition out of start-up phase and approach economies of scale.  
Can you explain more about the bag cost?
We've learned SO much about bag production, and hope that sharing some info sheds light on the price point.  We've got a bit of a "triple whammy" situation: (i) we're making this run in the U.S. (which we love, but is costly) (ii) we're not producing in huge numbers like the big brands out there (which means higher cost per bag); and (iii) we build in a donation (we're committed to having it be a meaningful percentage).  For Indiegogo, we're also including shipping costs.
And then there's the fact that our bags are legit!  We wanted to make products that are quality enough to stand on their own, independent of the cause. The Active Bag is a highly technical bag with many compartments, is sewn together out of 19 different fabric pieces, and includes over 20 different supplies (thread, zipper, snap, velcro... it's loco!) 
In the end, the Active Bag that has all the features that the leading brands' bags do (you know who they are), and, despite our many "whammies", is competitively priced with them too.