Come, let us tell a story. Let it be rich in the details, full of color and sound and texture. Let there be intrigue and magic, danger and passion. Let animals talk and people fly. We shall have sweet fruit and spiced almonds, dark coffee and golden tea. The gems of the Sultan will tumble through our fingers, shaping our fate. Come join me in a game of A Thousand and One Nights.

Telling stories is innate to humans. We have always told stories and we always will. One of the things I am very proud of in this game is the way it supports storytelling. In this game, there are specific, mechanical incentives for telling a good story. 
Intrique, envy and ambition are also very human. We all have stories about times we had to be careful of how we acted, or things we wanted, or working to reach a goal. You play a Courtier with very human ambitions, trying to balance your desires against your safety within the Sultan's Court.
The way the layers of the game connect creates a level of inventiveness and expressiveness in role-playing that I really love. In the course of the game, each Courtier is called on to portray a character in a Story. The Story level is where the tales of magic lamps and flying carpets and clever servant maids who outsmart bandit chieftans all come to life. And because of this characters-within-characters approach, amazing things can happen in the Story.
I'm ready to print the second edition of A Thousand and One Nights: a game of enticing stories. The writing, the art, the layout, the editing - it's all finished. The next step is getting it printed, and shipping it out. Funds from this campaign go to making that happen.
The details
I'm hoping to raise 1,001 dollars in order to cover a first print run large enough to keep costs down for you and for me. I've set this campaign for flexible funding, which means everything you pledge I can use. All levels of support are great, but I want to share a bit more about these three:

 

Visiting Scholar

I love story-telling, I love role-playing games, and I love books. When I was doing playtesting for the 1st edition, way back in 2005, I ran sessions of the game at various local libraries as part of their summer teen activities. This reward is in gratitude for the openness and enthusiasm of those librarians, and the imagination of the players. I'm looking forward to sending copies of A Thousand and One Nights to public libraries across the country, to support and encourage gaming and reading and libraries full of stories! 

Jeweler to the Court

In A Thousand and One Nights, dice are the gems of the Sultan. It does not matter what size dice they are, only that they are beautiful and remind you of gems and precious stones. Making the game more about the flow of the story and less about the numbers is a real design goal of mine, successfully reached. The antique brass bowls are inscribed on the outside with Arabic-style caligraphy and designs.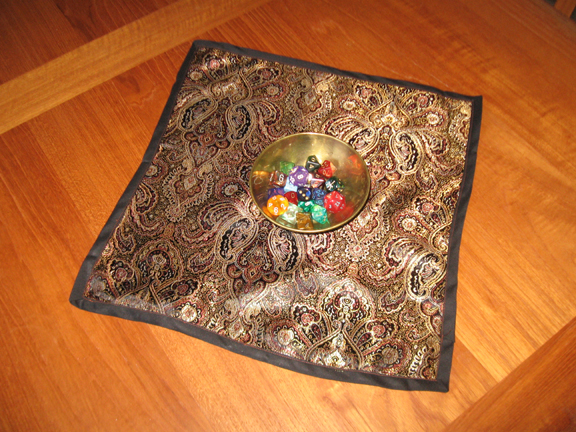 The Sultan's Own Chef
A Thousand and One Nights is a sensual game. As the Sultan's Own Chef, you have a unique opportunity to make your game night into an occasion to remember. This reward includes a booklet of fitting recipes, collected and adapted by Vincent Baker, to create several delightful feasts or one true extravaganza. Shown here: Persian rice with saffron, pistachios and sultanas; butter beans with herbs and golden tomatoes; butternut squash with caramelized small onions and almonds; and a salad of artichokes, oranges and black olives.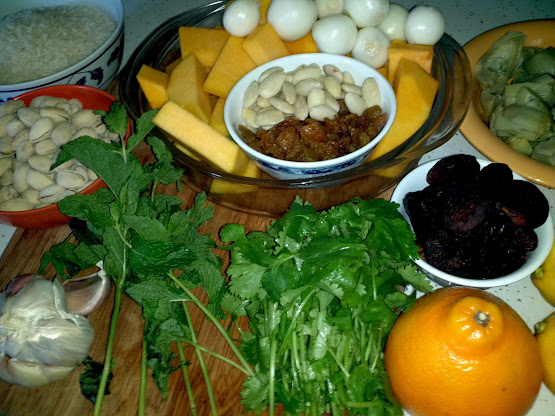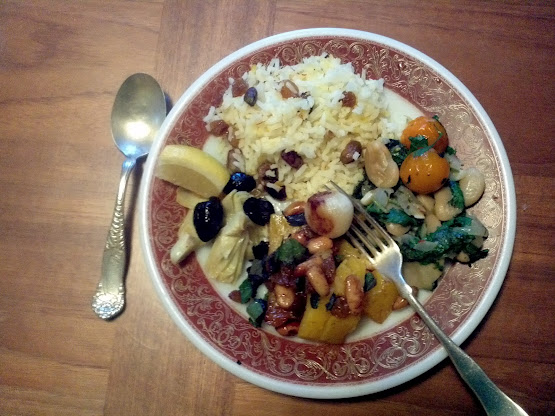 Connect with Vincent to customize your own selection; he'll include meat dishes at your request. For a preview: Persian Rice.
Also included in this reward: The candle is local orgainc beeswax, which releases the scent of honey as it burns. The sweets are fitting to the setting, tasty, and texturally different. The candle's flame, the setting cloth, the sweets and your dice and dishes all provide visual support. In the coming weeks, I intend to have a list of suggested background music up on the Night Sky Games website.

If you have played A Thousand and One Nights, or enjoyed a podcast that mentioned it, or read a review you liked, tell your friends about the game, and about this project! Use the links below to spread the word as wide as the night sky.